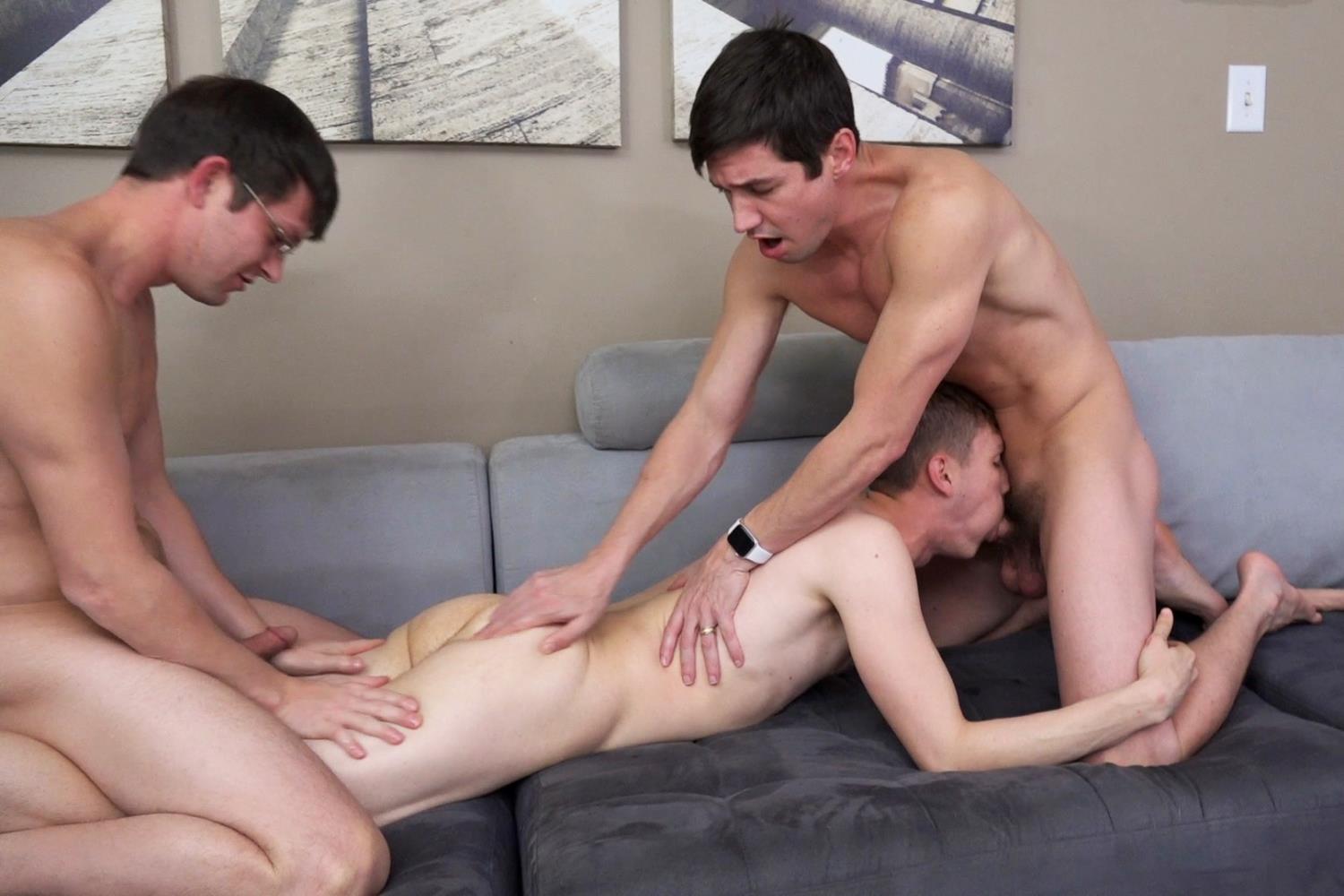 Description
Colby pushes Tyler on his back. On the sofa. "Punish me for not being nice to my Legos," Tyler jokes. "Oh, my God," Colby responds with a laugh. "This got really weird. Really fast." "Make me step on Legos," Tyler continues. "It will be really kinky." They stay away from that. For now. :-) Instead the studs make out. "Suck on my dick," Colby commands. "Lay on your stomach so I can play with your ass." As that's going on, Mickey Knox comes into view. "Do you mind if I put a little massage oil on your skin," he asks Tyler. "Please do," Tyler responds. As Mickey oils up Tyler's back and buns, Colby forces his dick down Tyler's throat. Mickey decides it's time to eat Tyler's hole. After lubing up his tool, Mickey puts the head of his raw dick inside of Tyler. The newbie's moans are muffled because he has Colby's meat in his mouth. The husbands kiss as their johnsons stretch Tyler's holes. He is folded in half as his ass is busted. "Stick your tongue out," Colby says, placing his nuts right above Tyler's mouth. "Put my nuts across your pretty fucking face," Colby whispers. Mickey picks up the fucking speed. Mickey wants Tyler to get on his hands and knees, a position Colby can't resist. So his wood replaces Mickey's. Tyler's eyes roll in in the back of his head as his special spot is rammed. In his first ColbyKnox video, Tyler confessed to enjoying a top choking him. As Colby pounds away, he has a hand on Tyler's throat. Colby pushes Tyler's face on the couch so he can fuck him with one foot on the bottom's face. "Give me that hole," Colby orders. "Choke me harder," Tyler demands. "Fuck my hole." Mickey, who has been operating the camera, comes back on screen. He puts his member in front of Tyler's face. Tyler slurps away. "Fuck. That feels so good," Mickey says. We get an above view of Tyler getting spit-roasted. As Colby wreck's Tyler's hole, he leans in to suck his man's knob. "Your cock in my ass," Tyler sobs. "Goddamn!" Tyler is put on his back. Colby stays inside of him. Mickey gets behind his husband. "What are you doing back there, baby," Colby wonders. "Watching," Mickey replies. As he kneads Colby's butt cheeks, Mickey places the tip of his dick near Colby's hole. He kisses Colby's nuts as he fucks Tyler. Colby is close to nutting, so he gives Mickey another chance at Tyler's booty. "Do you like riding," Mickey asks. "Yes. I like riding," Tyler answers. "Who doesn't like riding?" "Some people don't," Mickey notes. "What. I've yet to meet one," Tyler says in mock outrage. "Where are they? So I can argue." "I would like to engage in spirited debate with them," Colby adds. Tyler sits on Mickey's rod. "Fuck, yeah. Take my cock," Mickey says as he pounds up. "Stroke that fucking dick for me." Mickey picks Tyler up, placing him back on his back. Mickey fucks Tyler so hard the newbie can barely stand up. "I'm out of breath," Tyler explains. "I've not been fucked like that in so long." "You've got one more coming," Mickey explains. "Colby is going to drop that load." "Yes, please," Tyler says. He gets on his knees as Colby gets behind him. "You guys ready to blow your loads with us," Mickey asks the webcam audience. That sound you heard was a collective yelp of "Yes, please!!!!!" :-) Colby breaks Tyler's seal and Mickey sucks Tyler's tool. Tyler leans down to gobble Mickey's meat. Mickey also spreads Tyler's ass cheeks as his man pummels Tyler's hole. "I'm about to breed you," Colby groans. "Fucking cum in me," Tyler pleads. Colby does so, leaving a few drops on Tyler's ass. "It was so hot being one inch away watching his cum drip out of your hole," Mickey observes. He and Tyler now work on their loads. Tyler is over Mickey, his nuts in his mouth. Mickey moans, jerks, and eats Colby's cum out of Tyler's ass. "How's his cum taste," Tyler wonders. "Fucking great," Mickey answers. Tyler let's loose first. His copious cum explosion lands on Mickey's chest, right below his tiddies. "Use my cum as lube," Tyler suggests. Mickey does so, exploding all over his stomach. After the boys calm down, Mickey notes this is a seminal moment in ColbyKnox lore. "That may have been a first," Mickey explains. "Eating your ass as you orgasm. I could feel your hole clenching around my tongue." When Mickey stands up, we see his chest and stomach are glazed with man milk. "It looks like someone spilled a can of condensed milk all over you," Tyler observes. "So we have plenty of sperm here," Mickey says, putting his torso in front of the camera. "If anyone is looking." He confirms this is the first time he has eaten Colby's load out of someone's ass. As the model came. "What do you usually do," Tyler teases. "Just drink it from the cup?" "Straight from the tap," Mickey answers. "Straight from the source."
Reviews
Watching this my first thought this young man is a human pretzel. He can take dick from any direction, so of course I think Colby and Mikey are in control. But that is not true. Tyler, the twink, is totally in control and by way of non-verbal's takes charge and makes the two do what he wants. HOT!
19 year old 5'11" 135 lbs. twink Tyler gets fucked raw by both Colby and Mickey in this both hot and amusing scene! For starters twink Tyler was befuddled about how he was taking cock up his hot twink ass before the scene had even officially started! Before this hot scene ended, twink Tyler had been fucked raw by both Colby and Mickey. By the end of this smoking hot scene, twink Tyler remained befuddled but very well fucked!
Join Colby Knox
Get unlimited access to Colby and Mickey's hottest scenes. New videos every week!
Sign In