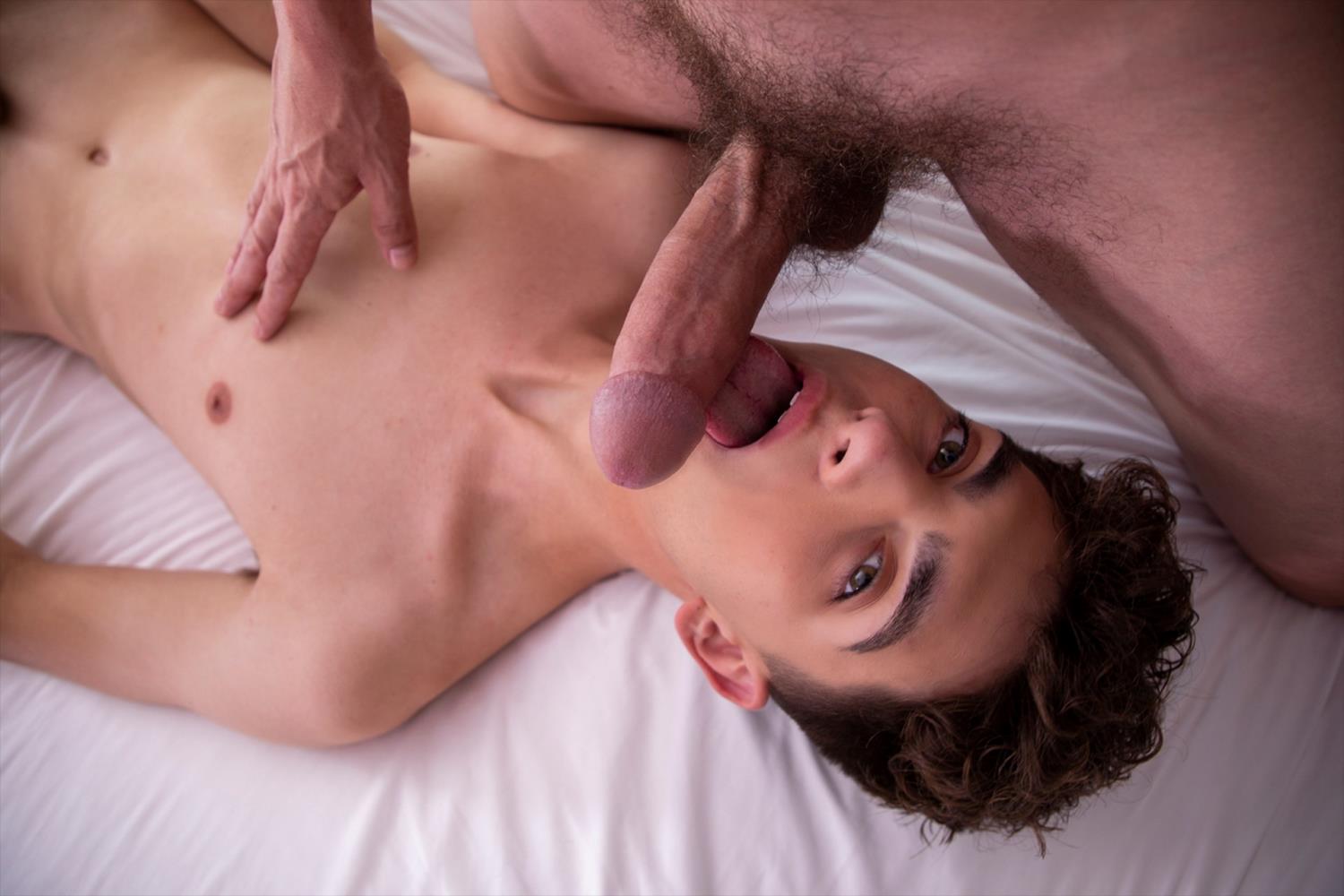 Description
Say hello to Zayne Bright! This is his first time at ColbyKnox and he's in the best position. On his hands and knees being felt up by Colby Chambers. He slaps Zayne's backside. Twice. "Feels good," Colby asks. "Oh, yeah," Zayne replies. Colby pulls down Zayne's shorts so Zayne can feel the full power of those whacks. "You like being on your hands and knees for me," Colby wonders. Zayne has no complaints. :-) "Spank that ass until it's red," Colby says. His handprints are on those pretty butt cheeks. "You ever had the cum fucked out of you," Colby inquires. "Not yet," Zayne answers. "I'm excited." Zayne's hole proves irresistible. Colby licks it a few times. "Your tongue feels so good," Zayne whispers. After getting the hole wet, Colby rubs his bare head on it. "Your ass is so tight," he observes. "Yeah? Massage my hole, Daddy," Zayne replies. Colby returns to eating. "You're going to give me that ass," he wonders. "Let me do what I want to it?" "Whatever you please," Zayne says. He gets on his back, putting his long legs in the air. After a few more licks, Colby puts his meat in Zayne's face. Zayne wants to suck it, but not yet. Colby rubs his balls on the newbie's face. "Lick those big nuts," Colby orders. After swiping the balls down, Zayn slobbers cock. First the shiny head. Then the shaft. Colby positions himself so Zayne can be face fucked. His throat is filled with dick, gagging occasionally. As Zayne expertly services Colby, Colby puts his mouth on Zayne's rod. "I can feel that cock down your throat," Colby murmurs. "Slobber all over it." Zayne's sword swallowing skills are first-rate. However, Colby wants to see how Zayne's tighter opening feels. He gets on his back and Zayne straddles him. Zayne works his ass on Colby's meat. It's a big toy so Zayne needs time to get used to it. "Ride me," Colby orders. Zayne's member points to the ceiling. After Zayne is used to his hole being stretched, Colby takes control. Pushing up. To the balls. "That ass is yours," Zayne moans. "Fill you so full of cum," Colby warns. "Fuck, yeah," Zayne begs. "Stretch me out." Zayne returns to his back so Colby can stretch him out. "Let every inch slide into your asshole," Colby observes. He alternates pounding speeds, making Zayne moan more. He beats his meat as his ass is wrecked. Just as he pops a nut Colby pulls out. Zayne's chest and stomach are splattered with juicy cum from both studs. "I said I was going to breed you," Colby notes. "Better flip over. Gotta keep my promises." Zayne holds on as Colby fills his guts. "Draining my balls into your ass," Colby says as he nuts a second time. This load stays where it should. When he pulls out, there is a great shot of Zayne's ass. We see a cum bubble. Then a few streams of man milk leak down his ass crack. Welcome to ColbyKnox, Zayne!
Reviews
I love the chemistry that Colby and Zayne have in this scene - physical and verbal. Also, props to Colby for giving the best creampies in porn. No pulling out, pumping his cum deep in Zayne's hole. We see Colby's cock pulsing as he ejaculates inside, and we hear Colby grunt. We know Zayne is being bred for real. I'd love to see a list of Colby's top 10 creampies - which holes milked the most seed from his balls. This is how I love to be bred on campus in Austin!
Cute twink Zayne, and his 21 year old, 5'7", 115 lbs. perfect ass for fucking, moves up from jerking off on his cam shows to taking Colby's big cock! The foreplay was smoking hot as Colby repeatedly slapped the hot little ass of Zayne so hard that both of the twink's ass cheeks were red from Colby's hand prints! Zayne was amazing using his lips, tongue and mouth to engulf Colby's big cock! And then the epic fuck as Colby's large endowment ravished the hot little twink ass culminating in a CREAMPIE! So hot to see Colby's cum slowly seep out of Zayne's very well fucked ass! Colby certainly gave Zayne a real life lesson in the difference between jerking off in his cam shows and getting fucked royally in the ColbyKnox bed!
first of all, Zayne is one hot twink and I always enjoy Colby's naked body. The foreplay of this session was amazing. Colby's knob never looked hotter. I loved the ball sucking part of their time together. During the 69 sessions, I found Colby's hot body even more beautiful. Loved Colby saying "lick those big balls" because they are indeed great balls. The cum shots made me cum. Love this guy and love Colby!
Join Colby Knox
Get unlimited access to Colby and Mickey's hottest scenes. New videos every week!
Sign In