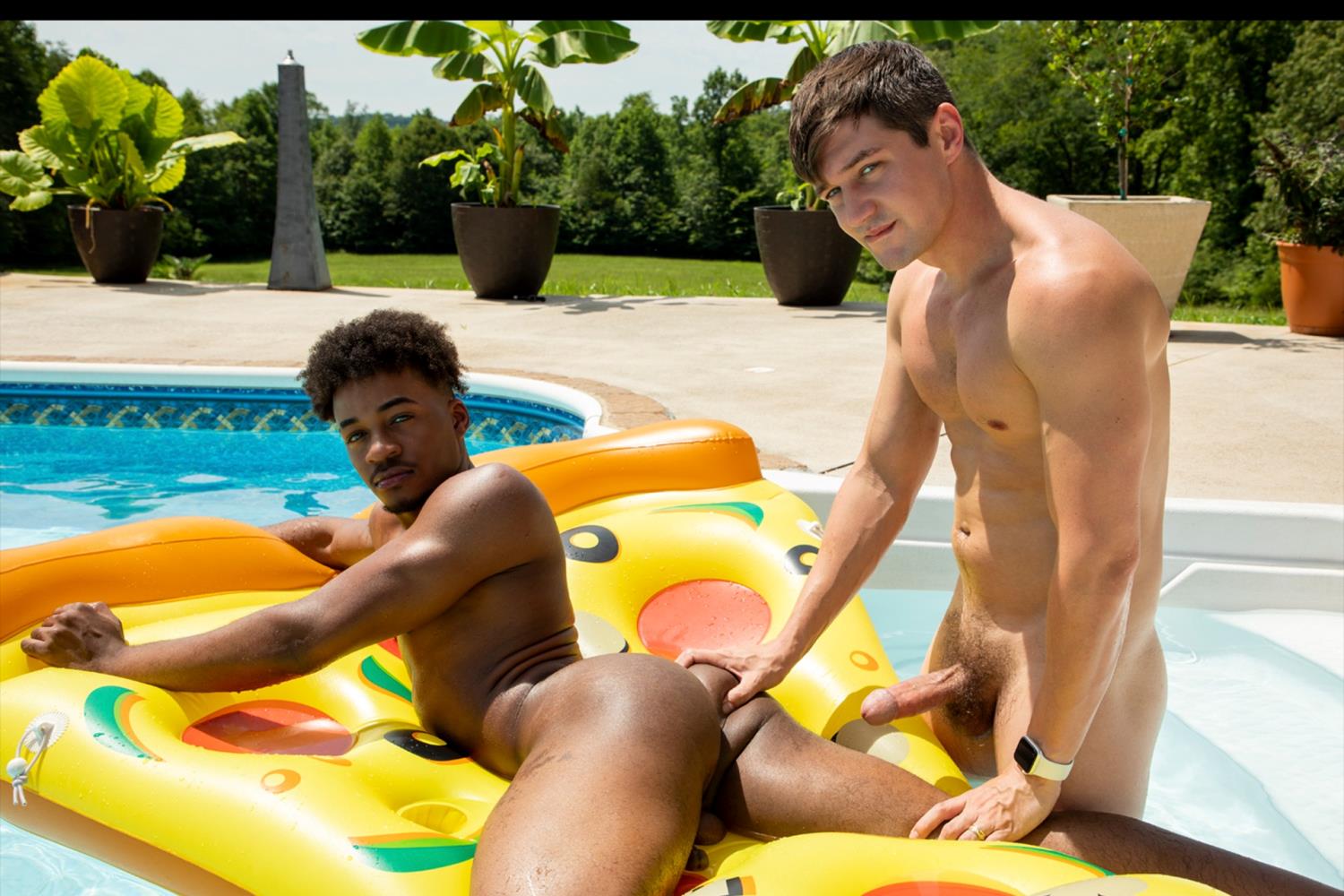 Description
Lucas Angel's name is perfect. From his face, abs, and backside, he's a celestial figure from the heavens. This is his first visit to the ColbyKnox compound. He oils up by the pool. After gently pulling off his swim gear, Lucas lounges on the inflatable pizza slice. Colby Chambers comes on the scene. His eyes focus on Lucas' round, smooth ass. The enlarging of Colby's tool is evidence that he likes what he sees. Like a good host he gets into the pool, licking Lucas' hole. The guest is a bit surprised by the sensation but keeps his legs spread wide, moaning with each slurp. He reaches back to see how far Colby's tongue can go. Colby comes up for air, slapping each cheek. He returns to lapping Lucas' backside, making certain it's wet with pool water and spit. Colby fingers it to see if Lucas can handle something bigger. Before that happens, Colby's rod needs a warm mouth. He leans back, still in the pool, and Lucas opens up. First he licks the head. Then the shaft. He treats Colby's meat like a tasty ice cream cone on a hot summer day. "Suck my dick," Colby demands. Soon enough, Colby's cock is shiny with spit. "I want to fuck you," he whispers. He gets behind Lucas, making sure his shaft parts those perky cheeks. Colby is slow and gentle. At first. Soon that backside gets the best of him and the pounding gets faster. "Fuck, yeah," Colby groans. "Give me that ass." Lucas whimpers but doesn't ask Colby to slow down or stop. "Your ass is incredible," Colby says. He fucks to the balls. Lucas takes each stroke. The studs get out of the pool, heading to a mat. Lucas puts his legs in the air and Colby resumes the fucking. The strokes make Lucas' eyes roll. "Oh, fuck," he groans. "Fuck, yeah," Colby says. "Take that cock." Colby deep drills, causing Lucas to cry out. "Feel good," Colby wonders. Lucas nods yes. "Oh, you're so deep," he sobs. Colby folds Lucas in half. After leaving a wad of spit in his bottom's hole, Colby's dick pushes the saliva deep inside Lucas. He gets on his stomach. That plump booty pointing to the sky. Colby returns, going right to the balls. Lucas covers his mouth because his cries are getting louder. "Give me that ass, Lucas," Colby whispers. Lucas gets on his hands and knees. "Oh, fuck," he squeals. Colby grabs mounds of ass flesh, wrecking Lucas' hole. He arches his back as Colby fills him to the rim. Lucas falls back on the mat and Colby loses it. He leaves a load inside of his pool guest. When he pulls out, cream leaks out of Lucas' used hole. Colby even leaves a few streams of man milk on one of Lucas' butt cheeks. It's time for him to pop too. Colby licks Lucas' nuts as he jerks his dick. His orgasm leaves a messy load on his stomach and shaft. All of this nutting ends with passionate kissing. Welcome to ColbyKnox, Lucas!
Reviews
Colby welcomes Lucas to ColbyKnox with a bang!
How hot is it to see two guys with amazing assets come together. That beautiful round ass and that lovely hard cock come together in perfect union. Lucas has a wonderful perfect round bottom, and that amazing Colby cock is the most I am going to cum scene ever.
Join Colby Knox
Get unlimited access to Colby and Mickey's hottest scenes. New videos every week!
Sign In