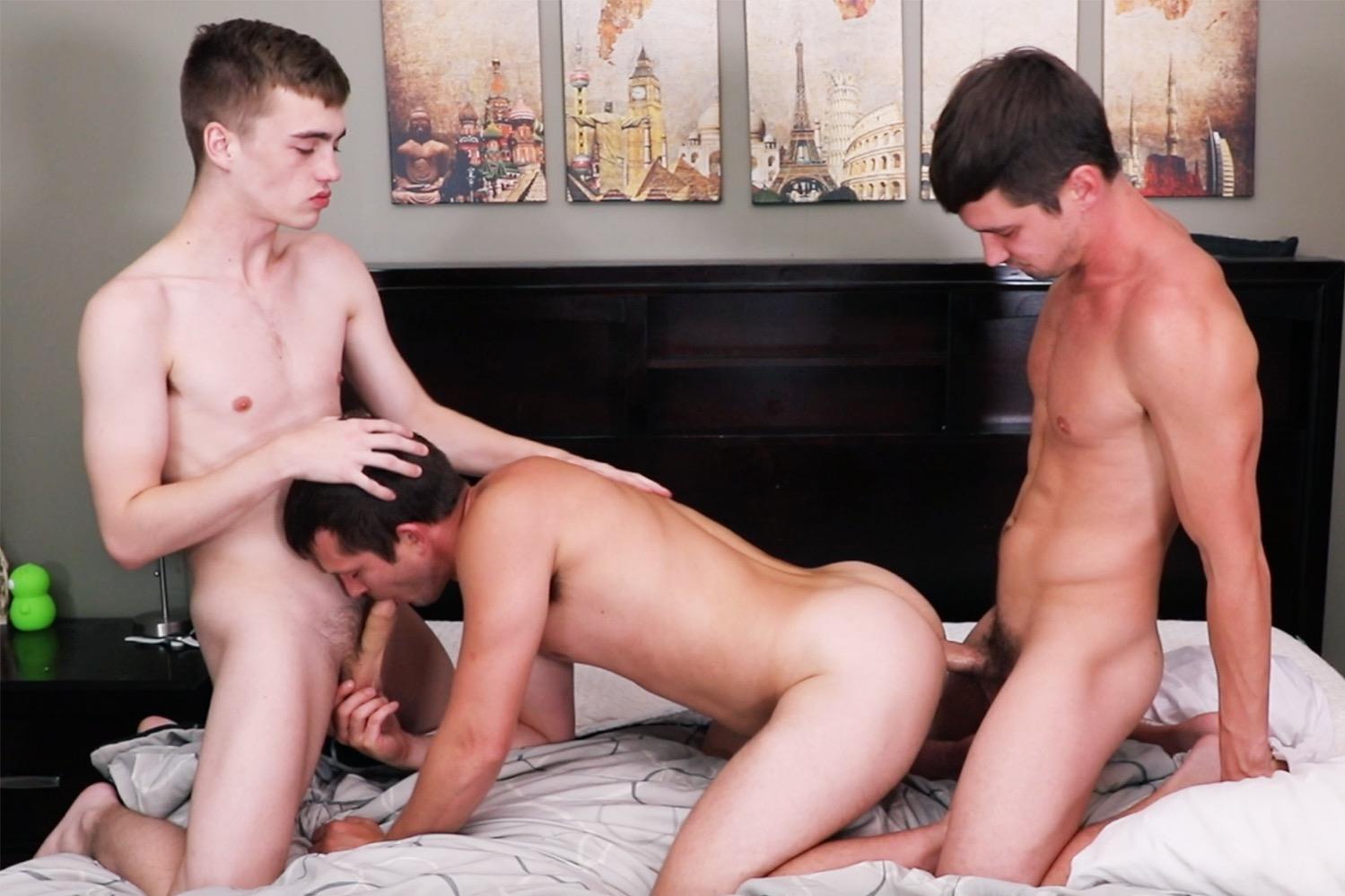 Description
In this new XXX porn scene from ColbyKnox, the boys have unscripted fun with fan favorite, and webcam star, Tannor Reed. Mickey Knox starts everything off by placing Colby Chambers and Tannor Reed across the bed, sucking and slobbering on their throbbing, hard cocks. Colby is the first to get a piece of Tannor's hot little ass, throwing his legs in the air and plunging deep in Tannor's sexy butt cheeks. Mickey gets behind them, playing with Colby's ass while they fuck; Mickey wants to make a "Colby sandwich," but Colby isn't having it on this night. Instead, Colby lets Tannor jump on Mickey's hard dick. Mickey Knox pumps away at the flexible, horny twink. Tannor gets so much dick, so quickly, he needs a breather. Colby takes this opportunity to get himself a piece of his husband's hungry, plump ass. Tannor Reed rejoins the boys, hopping in front of Mickey to get more of that top notch dick sucking Mickey is famous for. Colby winds up climaxing inside of Tannor Reed, delivering an explosive cream pie!!! In an epic finish, Mickey and Tannor explode with hot cum --- at the exact same time!!! Enjoy!!!
Reviews
The guys a are fucking HOT! BUT...lay off the drugs! If the last scene is everybody trying like a mother fucker to cum, while they just jack themselves off...you've got a problem!
"Tannor the Cum Dump" were Tannor's last words in this really hot scene in which pass around bottom Tannor was fucked four times: first by Colby, second by Mickey, third by Colby again and fourth by Mickey again. When the twink needed a short pee break, Colby fucked Mickey for good measure. After Colby fucked Tannor the second time, he shot his load inside of the twink. Technical request: whenever there is an internal cum shot, keep the camera focused on the just fucked ass to record the top's cum seeping out of his bottom's butt. Tannor was one very well fucked twink with an ass full of cum at the end of this great scene!
All I have to say is- " I will have what he had" x 3.... lol - fucking beautiful ! Love Tannor's moans and sounds. He knows that shit is great ! I love that if he wants great sex he just goes to The CK Manor ! Beautiful guys... Thank you. ??-Sherry
Join Colby Knox
Get unlimited access to Colby and Mickey's hottest scenes. New videos every week!
Sign In