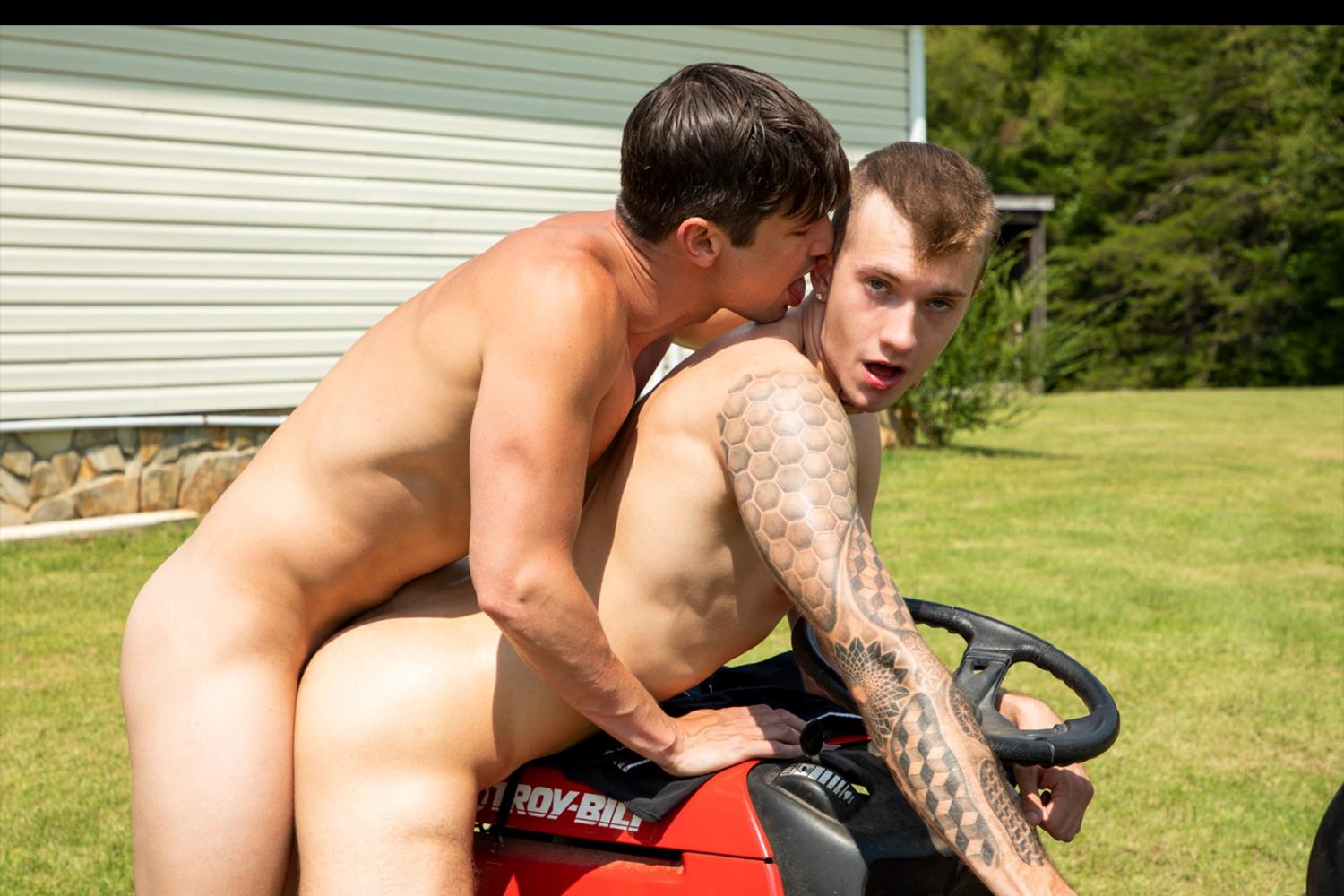 Description
Finn August is riding the lawn mower in the ColbyKnox compound's yard. Husbands Colby Chambers and Mickey Knox stare at the beauty. "The boy mowing our yard is so cute," Colby says to the camera. "We've been watching him go around in circles for the last fifteen minutes and I think I'm going to go chat him up." Mickey grins at his man's strategy, agreeing to hold the camera. Colby runs up and introduces himself. We don't know what he says but it must have been right. Finn stops working, gets on his knees, and pulls down Colby's shorts. "Let me feel that throat," Colby orders. "Go all the way down." Finn swallows all of that Colby cock, gagging in the process. Colby skull fucks, grabbing both sides of Finn's head. "Suck that sweaty nut sac," Colby whispers. Finn stands up and the two studs make out. Colby's fingers play with Finn's booty. That signal is all Finn needs. He puts his hands on the mower, sticking his ass out. Colby gets on his knees, slapping those jiggly cheeks. When he slurps Finn's hole, the yard lad is in heaven. "Just like that," Finn begs. "Your tongue feels so good." Colby is doing a lot of prep work on that hole, licking and lapping. When he stands up, Finn knows what's next. "Stick it in," he moans. Colby does, letting Finn do the initial work. All bottoms need a few moments to get comfortable with Colby's stout rod. "You're so big," Finn exclaims. Colby starts with small strokes. "Give me that ass," he demands. "Stretch me out," Finn replies. That backside brings out the beast in Colby because he rips Finn's T-shirt. "Feels so good," Finn whimpers. "You feel so good." Colby's thrusting speed picks up. Each stroke to the balls. The studs change positions. Finn reclines on the mower. One leg in the air. The other on the side. His hole pointing right to Colby's meat. Colby slowly reenters. Finn jerks his dick as his ass channel is filled. "Fuck, yes," Colby murmurs. "Take my dick." That dick strikes Finn's special spot too many times. He jerks a sizable load that smothers his stomach. "Think you can keep going," Colby wonders. Respectful and appreciative tops are the best. "Yeah. I can go a bit longer," Finn answers. Durable and frisky bottoms are the best. The studs change positions again. We get to see the cum dripping from Finn's abs. He leans against the mower and Colby gets back in. "God. Your ass is perfect," Colby observes, kneading a butt cheek. Colby gently, and slowly, fucks, giving Finn sweet kisses. "God. I'm so close," Colby says with clenched teeth. "You feel so good." Colby gives Finn an afternoon creampie. When he pulls out, Colby shoots more seed on the bottom's cheeks. "Cum filled hole," Colby observes. "It's fucking dripping out." He takes some of that lost man milk, puts it on his bloated dick head, and places the deposit back inside of Finn. Where, of course, it belongs. The studs kiss. "Same time next week," Colby asks "Yeah," Finn replies. "The yard grows fast," Colby says. Probably not fast enough, right?! :-) Welcome to ColbyKnox, Finn!
Reviews
I love the way that Colby just takes control. He drops his pants and is ready to fuck the hot sweaty yard guy. Two hot throbbing cocks and beautiful asses engaging each other in a love session that would make the Pope horny. The cock sucking is amazing, but the butt sex puts you over the top. Came as hard as they did!
I like Finn !! Wow- hot scene….??-Sherry
At 22 years old, 5'11", 160 lbs., Finn's college boy butt is perfect for fucking, and fuck it Colby does! One could see where this hot scene was going, when, mid lawn grass cut, Colby walked out to chat Finn up, and whatever Colby said resulted in Finn dropping to his knees, pulling Colby's cock out and going down on it! The inevitable fuck followed as Colby fucked Finn well! Another college boy sucks and gets fucked by Colby's big cock!
Glad to see you back! I'm a new fan for two weeks now. What i would like the most as a hole hungry is to see more hole after the damages.
Join Colby Knox
Get unlimited access to Colby and Mickey's hottest scenes. New videos every week!
Sign In