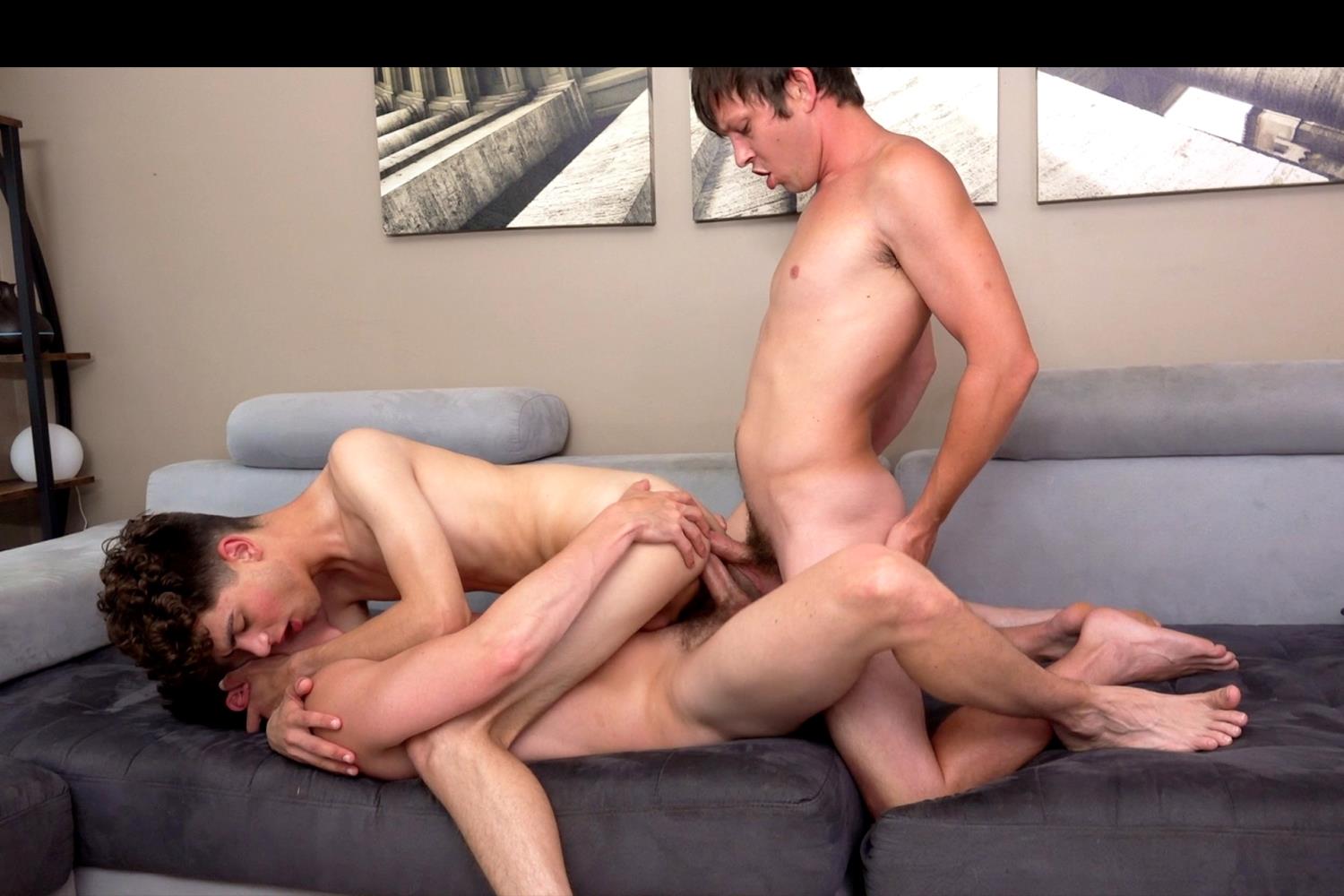 Description
You can't visit the ColbyKnox compound without getting a massage. In today's webcam video, Zayne Bright is on his stomach. On the studio couch. Colby Chambers rubs Zayne's backside. Mickey Knox, Colby's boo, is in charge of everything else. "This is like my favorite thing," Colby says. "To rub on the butt," Mickey wonders. "You know what I'm talking about," Colby jokes. "But, yes." The husbands kiss over Zayne as they knead his skin. Colby finally lets his tongue do some work by licking Zayne's hole. Zayne reaches up to stroke Mickey's meat. Colby partly puts his bare dick head in Zayne's tight opening. Mickey leans down to lick the shaft that isn't inside Zayne. When Colby pulls out, his husband puts some lube on his man's dick. "Just helping you out a little bit," Mickey notes. "Yeah," Colby replies. "It's just part of the service." Zayne opens his mouth, swallowing the dick in front of him. Both his holes are stuffed with man meat. Colby pulls him up, so Zayne is on all-fours. His cock sticks out as he's used at both ends. The husbands switch sides. Mickey taking Zayne's back. Colby the front. As a good host, Colby gets on his back to slurp Zayne's rod. Mickey's fucking tempo picks up. "This is so much fun," he says to the audience. "How do you like that hole," Zayne wonders. "It feels so good," Mickey replies. Colby sits up but Zayne keeps his mouth on Colby's wood. Zayne shows off his swallowing skills, taking Colby to the root. "I think I'm bringing out Mickey's inner top," Zayne observes. "It's in there," Colby answers. He returns to plowing Zayne. Colby puts Zayne on his back and reenters that moist hole. Mickey handles the camera, giving a perfect view of Colby's johnson going in and out. He moans and reaches out to jerk off Mickey. Colby leans in, kissing Zayne as he stuffs him. We see Mickey's hand come from off camera to fondle Colby's big balls. He gets on his back, offering Zayne an opportunity to ride for a bit. Mickey gets back on the couch. He inches up to Zayne's hole, slowly splitting the lad with his stiff cock. Zayne holds on to Colby as he's double stuffed. "Oh, my God," Mickey says. "Just taking it." He eventually pulls out, amazed at what just happened. "Don't think we planned on doing a DP." Mickey says. "I might have mentioned it yesterday," Zayne notes. Colby confirms Zayne's statement. And he returns to filling up Zayne's booty. "I'm literally leaking all over you," Zayne says. Mickey has returned to cameraman duties, offering the best view of Colby pounding up. "You like that tight ass," Zayne wonders. Colby's strokes get harder and faster. He shoots a load inside of Zayne. When he pulls out, Zayne's hole stays open and some of Colby's man juice drips out. Zayne returns to his back and Mickey puts down the camera. He gets back in that soaked hole. Zayne beats his meat as he's rammed. "Stroke that fat cock," Mickey whispers. He slows up but each stroke is to the balls. Zayne is so ready to burst. Mickey gets on his side so he can give Zayne's spot the right taps. The fucking, and caressing of his nuts, make Zayne pop. His man juice glazes his smooth stomach. "I can't believe how much you came," Mickey notes. "Yeah," Zayne replies. "It kept coming. " It just kept going like a sprinkler," Mickey adds. He's the last to nut. The view is perfect. He sees Zayne's glittering hole and Zayne fingers Mickey. After a few strokes, a surge of semen lands on Mickey's chest. How much juice did you lose?
Reviews
Young Zayne is 5'7", weighs only 115 lbs. and has a hot little ass perfect for fucking. I stopped counting after Colby and Mickey fucked cute little Zayne three times each and included a DP and a cream pie from Colby inside Zayne. Amazingly Zayne appeared rock hard while taking all that cock! Zayne is hot, so please bring him back for more!
I love your bedroom eyes Mickey
I love this site because they provide so much Varity for our sexual appetites. This scene was so fucking hot, so much so that I think it could be the best one yet. First of all, love Mikey's hairy pits and they were prevalent. Was not so much impressed by the double fuck but by Mikey's doggie fuck. Damn that was hot. He pounded that ass and Zayne loved it. The passion is unbelievable.
Join Colby Knox
Get unlimited access to Colby and Mickey's hottest scenes. New videos every week!
Sign In