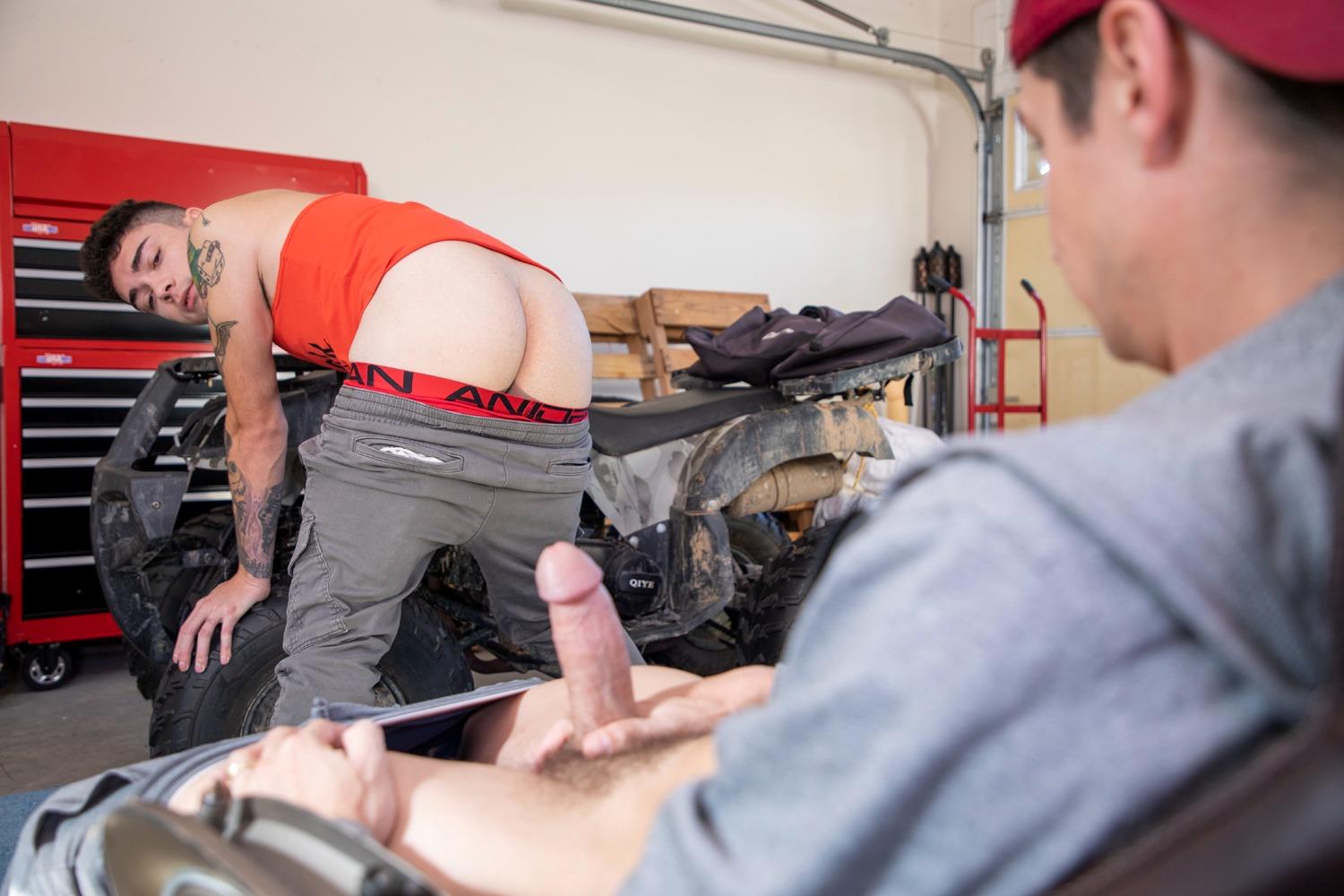 Description
In this ColbyKnox scene, Ashtin Bates works on a four wheeler. Sitting behind him is Colby Chambers, scrolling a cell. He wants to know how long before Ashtin is finished. From Colby's expression it's obvious he wants to "work" on Ashtin. This is only natural because Ashtin shows serious, and cute, ass crack. Colby takes a few photos. "Can't wait for you to get it back together," Colby says. "It will be fun to ride it." Colby grabs his tool, giving all his attention to Ashtin's goods. "We have to go out," Ashtin remarks, focusing on his work. "Maybe tomorrow or later on." "I would love to ride you," Colby replies, stroking his meat. "I mean I would love to go on a ride with you." Ashtin notices the linguistic slip. "You want to ride me or the four wheeler," he wonders. Colby doesn't answer. He continues to pleasure himself, staring at Ashtin's alluring ass. Ashtin finally turns around; he discovers Colby wants to play. Ashtin stands up and pulls his pants down. Colby hits his knees, burying his face in Ashtin's crack. "Fuck, yeah," Ashtin whispers. "Spit on it. You like that," he wonders. "Oh, yeah. I fucking love it," Colby replies. His tongue makes Ashtin's man hole slippery and juicy. Soon Ashtin gets on his knees, staring at Colby's thick cock. Ashtin's blow job is messy. Drool falls from his mouth. "Yeah. Suck my cock," Colby orders. "That's so good." Ashtin looks up, making sure Colby is happy with his tongue work. Ashtin's mouth magic is slow and deliberate. Colby pulls him up, placing kisses on his mouth. Ashtin bends over and Colby works his raw tool into Ashtin's man hole. "Oh. It feels so fucking big," he moans. He backs his sweet ass up, taking everything Colby can offer. "Goddam. Your ass is so fucking tight," Colby notes, taking control as he pounds into Ashtin. As the fucking speed increases, Colby slaps a cheek. "Does that dick feel good," he asks. "Oh, fuck me," Ashtin sighs. Colby spits on Ashtin's ass to add more lubrication. The fucking speed picks up. Colby rips Ashtin's shirt. "Oh fuck me," Ashtin bellows. "It's fucking good." Colby goes to the balls and that pushes him over the edge. "I'm going to fucking come in you," he says. "Come in me," Ashtin mutters. Colby deposits his jizz in Ashtin's hole. Colby takes a finger and scoops some of his seed from Ashtin's juicy tunnel He feeds it to Ashtin, who laps it up. Colby still wants to play. So Ashtin gets on the four wheeler, spreading his fine legs. Colby gets back inside and Ashtin rides that Colby cock. "Goddamn. It feels so good," Colby sighs.. Ashtin jerks his meat, letting Colby do some of the work. "Spit on me," Ashtin says. Colby leaves two wads on Ashtin's cheek. "Stroke that cock for me," Colby instructs. "Keep fucking me," Ashtin answers. "Come for me," Colby says. "Ashtin eyes are closed as he strokes himself. "I'm close," he explains. His jizz spurts out, leaving puddles on his stomach. "That was so hot," Colby states. "Got that ride sooner than expected." Any bets both preferred what just happened compared to anything the four wheeler can do?
Reviews
This scene made me so fucking horny. Love the ass crack view that Colby was getting. Then he pulls out that great cock and Ashtin turns to see. Nobody in the porn industry like Colby. The dick sucking was amazing, but the ass fucking was hot as hell.
Who can resist Colby's juicy hard dick? Ashtin can't! In fact he can't get enough of it. I wish I had a mechanic as willing as Ashtin! Such a hot scene. I love it when Colby breeds a new ass and owns it. Very hot seductive scene. Bring Ashtin back for more fun and get Mickey buried deep inside him and/or a three way with the boys!
While servicing Colby's vehicle bending over showing ass crack, Ashtin inadvertently prick teases customer Colby into a hot suck and fuck session concluding with the mechanic's ass full of Colby's cum.
Join Colby Knox
Get unlimited access to Colby and Mickey's hottest scenes. New videos every week!
Sign In