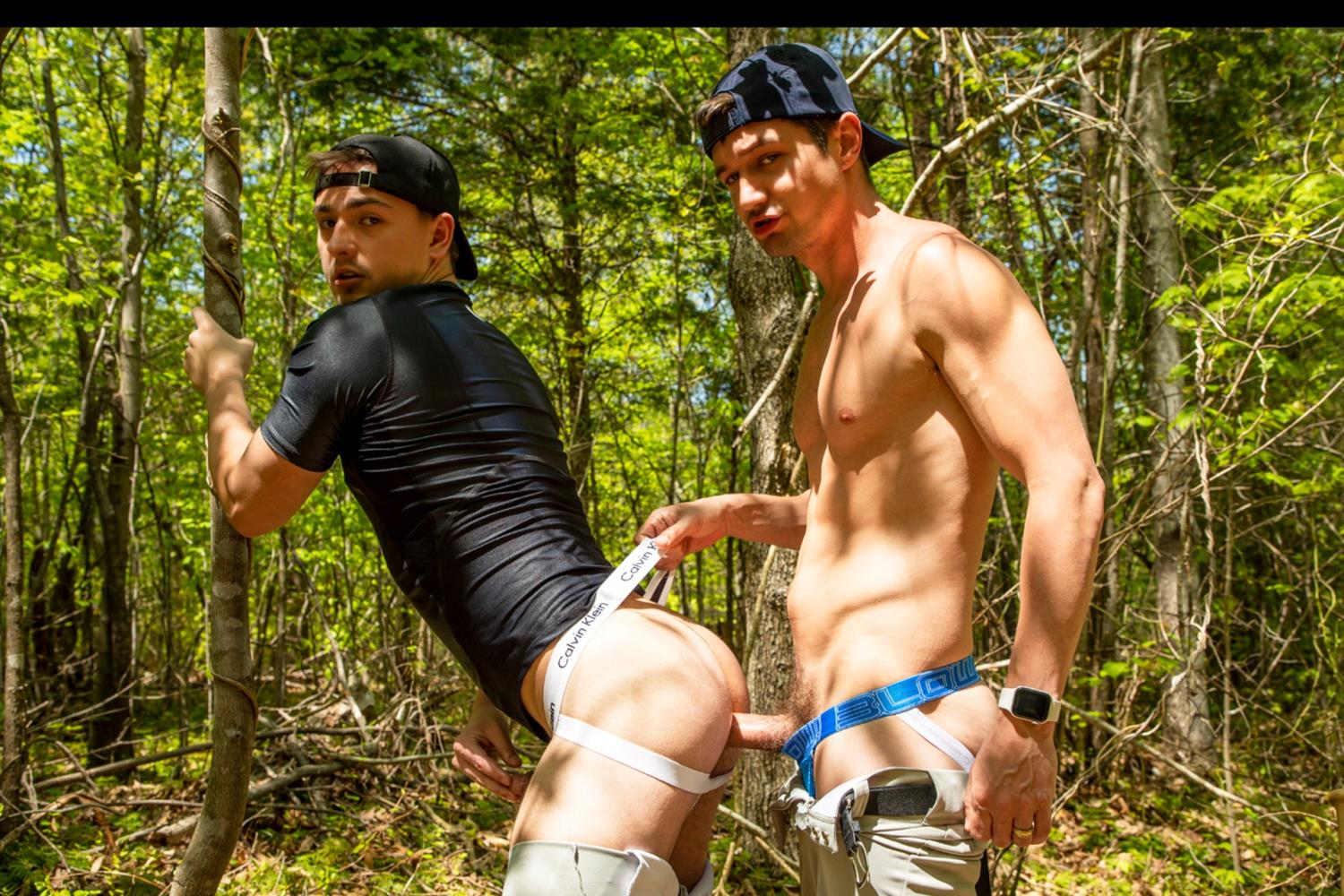 Description
Colby Chambers and Masyn Thorne are wearing America's pastime uniforms. Colby gives Masyn pitching lessons. He notices Masyn looks ripped and toned. Hard not to see all those muscles with the tight T-shirt Masyn wears. "Thanks, man," he says. "Trying to get ready for the season. Staying away from the beer." His legs are sore. Colby gives a thigh a quick rub. "Pretty hot," he says. Masyn wants one more demonstration on how to throw. He stands behind Colby, watching all that cake. "Nice and soft," Masyn says, staring at Colby's backside. He understands that phrase isn't appropriate and quickly corrects himself. "Nice throw, man." Practice ends and the two are prepared to go their separate ways. Colby suggests Masyn comes with him. He lives near and it's an easy walk through the woods. Like Stephen Sondheim wrote: all journeys start into the woods. Colby stops on the path, puts down the equipment, and pulls out his hefty slab of beef. "You want to fuck around," he asks. "Fuck yeah, man," Masyn greedily replies. He walks over to grab Colby's cock. The baseball studs make out. "I've wanted to fuck you since you joined the team," Colby explains. Masyn hits his knees, swallowing everything Colby offers. He slowly face fucks him. "That's a big fucking dick," Masyn says. "It tastes so fucking good." Pre-cum and spit fall out of Masyn's mouth. "Fuck, dude. I'm crying," he explains. Both studs are now shirtless. Masyn's gullet is stretched. "Fuck. You're making me choke, dude," he moans. Colby pulls Masyn up. He leans against a tree, sticking out the backside that has earned Colby's attention. Colby pulls down Masyn's pants and immediately eats Masyn out. "Eat that fucking hole," he demands. "Tongue fuck me, bro." Colby pulls back so he can give those ass cheeks a slap. "Bury yourself in there, dude," Masyn begs. "Stick your fucking cheeks in my face," Colby commands. All that rimming gets Masyn hot and bothered. "I need you to fuck me, dude," he whispers. Colby stands up. There's no lube but there is plenty of spit. Colby works his bare dick in that hairy hole. "Fuck. That's a big piece of man meat," Masyn exclaims. "Open that ass up for me," Colby orders. Masyn arches his back, giving Colby easier access. "Tight fucking cheeks," he whispers. Masyn holds to the tree as his butt hole is stretched. Colby gives him a chance to take control. Masyn grinds his booty against Colby's pelvis. "I've got a fucking thick cock in me," Masyn mutters. "Take the whole fucking thing," Colby demands. He wants to know if Masyn wants to sit on it. You know he does. "Let me bounce on it," Masyn says, going up and down. "That big fucking man meat in my straight ass" Masyn swivels his ass, letting the shaft stretch him out. "It hurts so fucking good." he whispers. When he stands up it's obvious Masyn is grooving to having his ass wrecked. His rod stands straight out, plump and full. He gets on his hands and knees, holding on to the bucket. "You're going to let me have it," Colby wonders. He reinserts his meat, fucking to the balls. Masyn cries at each down stroke. That jock ass pushes Colby to the limit. Coach might not like it, but Masyn gets a creampie. Colby makes sure Masyn gets as much man milk as possible in his guts. "Fuck that cum in that hole," he pleads. Soon it's his time to bust. He jerks his dick, shooting juice all over the baseball equipment. The spent studs quickly dress because Jack is waiting for them. Wait for part two to see what happens when they all get together.
Reviews
Colby/Knox excels in jock themed videos as does Masyn himself. Add to that the fact that Masyn began his gay porn career as an arrogant top, and now still has the "tude" but now takes it up his hot young ass, and we have the recipe for this great scene. Baseball jock Masyn was begging Colby to shoot his load inside of him and breed him and then to fuck the cum out of him. Ask and ye shall receive Masyn!
Colby and Masyn have such great screen chemistry and are both super hot and get off on each other. Keep bringing Masyn back!! Super hot!
These two never disappoint! love that hairy hole. Colby's hairy hole is hot too!
Love the baseball story line. Balls, bats and dugouts are all gay places to play. I love how Colby just whipped out his dick and said "do you want to play around?". Love that hairy hole and bare back with finally "that man meat" was the key that made me blow my load!
Join Colby Knox
Get unlimited access to Colby and Mickey's hottest scenes. New videos every week!
Sign In