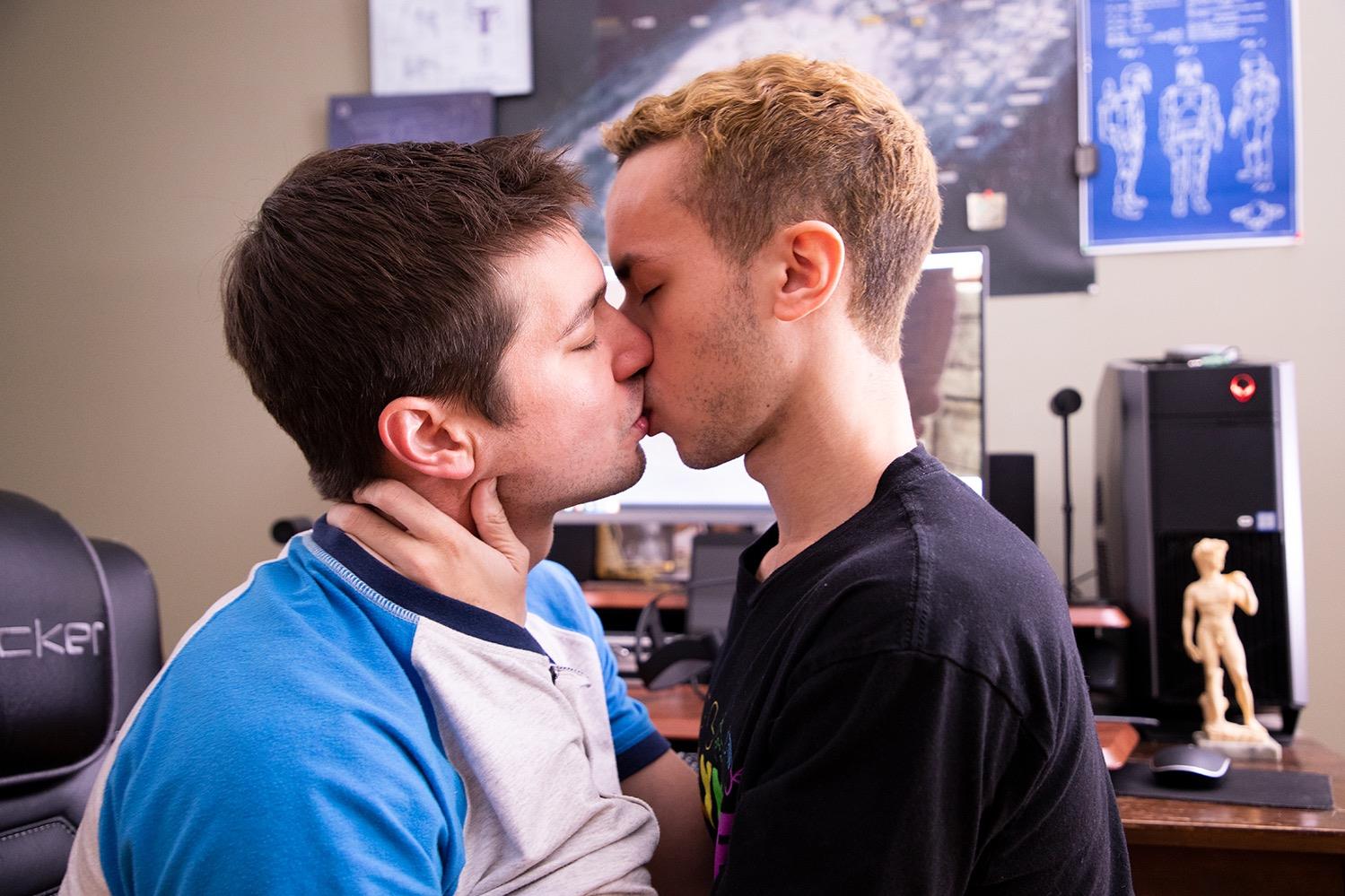 Description
In this gay porn video from the boys at ColbyKnox, Colby Chambers invites one of his sexy gamer friends Jae Wilde over to test drive his brand new VR rig. However, once Colby sets him up, he wants to take advantage of the situation. Colby takes a seat in his chair, conveniently located just behind Jae as he plays the game. Jae Wilde is so into the game that Colby casually pulls his dick out as he watches the young twink have some fun. Of course, watching is not enough. Colby gets up and comes as close to touching Jae's ass as someone can without actually touching it. He puts his dick right around Jae's crack, intoxicated with the perverse fun he's having with his hot young friend. Eventually, Colby Chambers is caught red-handed by Jae Wilde!!! To Colby's pleasant surprise, Jae Wilde's outrage doesn't last very long because he's overcome with pure lust. The two boys make out, feeling up on each other's sexy, toned bodies. Colby, overwhelmed with pure desire for what Jae has to offer, bends him over the bed and begins feasting on the pretty twink's tight, welcoming hole. Jae Wilde loves the new dynamic between him and his older friend; he begs for Colby to penetrate him. Colby Chambers obliges, shoving his big, throbbing cock in between the boy's tight, warm butt cheeks. Colby Chambers puts Jae in a number of different positions, taking his time to get him warmed up. Then he pounds away until both climax in a moan filled explosion of lust and joy.
Reviews
Having been fucked by Mickey in his first scene, Jae brings his young hot little ass back to experience Colby's big cock. Colby's rimming and fingering caused Jae to exclaim "Just fuck me already!" And did Colby ever give that hot little ass a workout, fucking Jae in many positions, fucking the cum out of Jae and apparently cumming inside of Jae's ass. Excellent camera work except at the end. The camera should have zoomed in to record Colby's cum slowly seeping out of Jae's well fucked ass. Jae is the latest of a long line of college boys to get fucked in that ColbyKnox bed. Weighing only 130 lbs., Jae has the perfect little ass for fucking. Great scene!
Everything fits here - and you could have watched the two actors even longer. A big compliment to the cameraman for the great overall and close-ups.
Damn Colby !!!!! That's all I need to say is it's all said in the orgasms.... Holy Fuck Jae reacted beautifully to Colby's massive dick. Oh and Mickey that close up camera work you did on Colby's dick jezzzzz that was great.... Great idea for a scene. Always thinking you two. Loved it.. ??-Sherry
Join Colby Knox
Get unlimited access to Colby and Mickey's hottest scenes. New videos every week!
Sign In