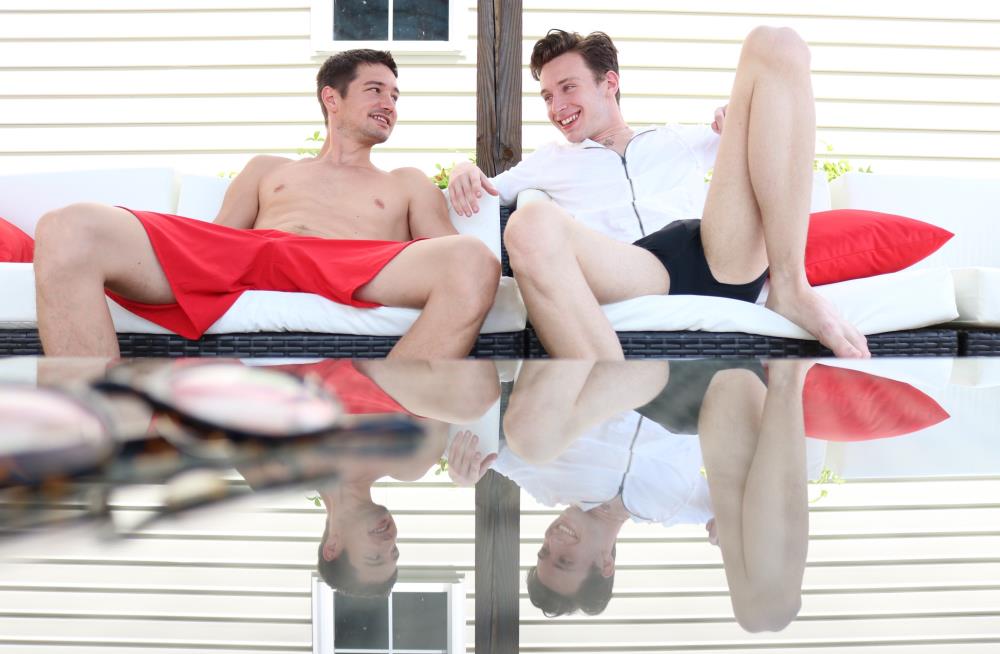 Description
Colby Chambers has new friend Payne Alexander over teaching him a few phrases of his native tongue. In this hot gay porn, these two studs participate in a tutoring session that has Colby struggling to master a few new words while Payne gets a good laugh out of his efforts. The laughter is short lived as Colby turns to a subject he knows much more about and he is soon expertly rolling his tongue on Payne's hot cock. Colby reaches across the couch and pulls Payne in for a kiss and the action heats up from there. He pushes him back against the couch and moves on top of him kissing, licking and pulling off his clothes. Payne climbs onto the back of the couch cushion presenting his long, thick shaft for Colby to swallow. Colby gets right to work sucking that cock and does his best to take it all down his throat. Not to be outdone, Payne deep throats Colby's meaty cock getting him hard for a much needed ass stretching session. Colby lies back on the couch and presents his throbbing cock to Payne and he knows exactly how to work it down his throat. These two are hot for each other and that translated into some good hard fucking. With face spitting, hair pulling, throat choking action, Colby aggressively buries his cock deep inside of Payne's ass for a fuck he will long remember. Climbing onto his cock, Payne sits on Colby's cock taking him balls deep inside. Riding up and down on that hard cock, Colby picks him up and pushes him down on his back. Colby continues to thrust his throbbing cock inside without skipping a stroke. Pushing Payne's knees against his chest, Colby has worked himself into position to deliver a hard ass pounding. The action moves to Payne getting fucked on his knees before Colby pulls his cock out and shoots a giant load of cum all over his ass.
Reviews
nice scene! Hope you guys plan to have Payne come back. Would love to see him in a 3 way with you guys or have him top one of your other guys.
Finally a scene of passion with hair pulling one spit ,one half slap and tried chocking Colby still needs to break free.Also a scene cannot be 5 stars unless there is cum eating and we know Colby treats cum like its kryptonite.
Also room for one more hot handsome college student bottom in the Colby Knox stable. Colby has an ability to get a college student naked with Colby's dick up the student's butt almost before the kid realizes what has just happened. Let's see more of Payne Alexander!
Hot ~ Hot ~ Hot scene!!! Colby is at 100% and Payne will be going places.
Payne, welcome to the Colbyknox family. Your accent is definitely sexy so I can relate to the setup for this scene. Well done team.
Join Colby Knox
Get unlimited access to Colby and Mickey's hottest scenes. New videos every week!
Sign In