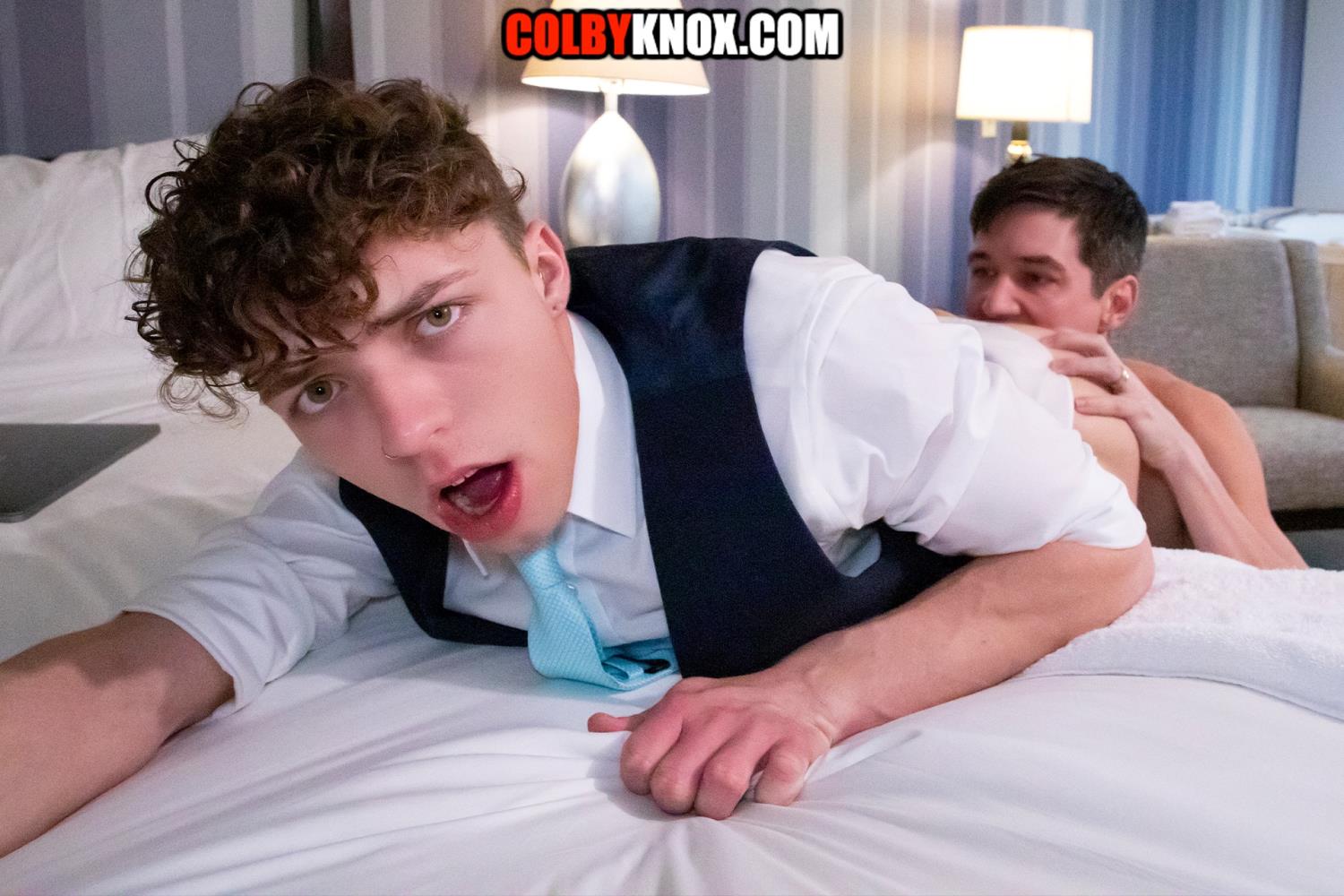 Description
Today's ColbyKnox video has a special storyline. Colby Chambers is in his hotel, at the GayVN Awards, having some "alone time." He's interrupted by a knock on the door. Colby covers up. Jack Valor plays a helpful hotel employee, delivering towels. Colby is intrigued by the vest wearing cutie. "Have you had any luck in Vegas yet," "bellhop" Jack wonders. Colby takes the clue by removing his towel, stroking his massive tool. "I was hoping to get lucky this morning," he replies. Jack turns around. His pretty eyes are a little shocked, and impressed by what he sees. "Are you into it," Colby asks. "I'm definitely into it," Jack answers. He strolls over, grabbing Colby's cock. The two kiss. "I saw you when I checked in," Colby confesses. "And I have ordered towels for the last four days, straight, hoping you would make it up here." Persistence wins out! Always! :-) "I wish I had came sooner," Jack says, before moving in for another smooch. He pulls away to swallow Colby's shaft. He grabs the back of Jack's head. "Did you come here to service me," Colby wonders. "Pick up that phone and dial you up whenever I'm horny?" Jack's replies are muffled grunts. "Suck my cock, you fucking little towel boy," Colby demands. Jack tries to swallow everything Colby has. "Let me feel those throat muscles," Colby says. When Jack comes up for air, threads of spit hang from his mouth. His eyes water from all the effort. Colby pulls him up; Jack turns around, leaning on the bed. Colby knows what he wants. He pulls Jack's pants down, exposing Jack's plump rump. Colby's tongue dives between the ass cheeks. "Whose hole is that," Colby wonders. "Is it my hole?" "It's your hole," Jack says. "Fuck, please. It's so good." Colby fingers Jack. "You are so fucking tight, boy," Colby observes. He stands up, teasing Jack's butt portal with his bloated head. "Please fuck me," Jack begs. "I want it so bad. Give it to me. Please." Colby works his raw dick inside. "Look at those butt cheeks quiver," he observes. He's slow at first, letting Jack get used to his hefty johnson. "You're my fuck boy for the day," Colby asks. "I want to be your fuck boy," Jack whimpers. His back is arched. Each stroke fills him to the rim. "Use my hole," Jack moans. That is exactly what Colby does. After slapping one of Jack's cheeks, Colby makes a demand. "Come ride it," he says. He sits on a chair, stroking his tool. Jack loses his pants and walks over. "Sit your fucking ass down," Colby whispers. He guides the tip back inside his towel boy. "Bounce on that dick," Colby commands. Like a pogo stick, Jack goes up and down. "You feel so fucking good," Jack sobs. "Service that dick," Colby replies. He grabs both cheeks, smacking them. "I want it so deep," Jack murmurs. "You want my cum in you," Colby wonders. "Yes, sir," Jack replies. "Go lay on the bed," Colby says. Jack doesn't need to be told twice. He slowly pulls himself off Colby's shaft. Next, Jack is naked, on the bed. His legs spread. Colby saddles up for one last round. "You fucking spread wide," Colby notes. "Like a fucking gymnast." "Use my hole," Jack begs. Colby does, making each stroke open Jack up more than he already is. "Fuck you're so deep," Jack moans. The pounding turns faster and harder. "Take my cock," Colby orders, making Jack's knees touch the mattress. "Use my hole, sir," Jack pleads. He pounds his meat as Colby pounds his hole. "Give it to me," Jack whispers. His legs shake as his hole is wrecked. All that fucking makes him bust a messy load all over his muscled stomach. It's Colby's turn to bust next. He's gentle with the deep dicking but that man hole proves irresistible. He picks up the pace. He creampies Jack, flooding his guts with cum. When he pulls out man milk covers Jack's ass opening. Colby reenters, making sure his juice remains inside Jack for the rest of his shift. "It's been a pretty lucky trip," Colby says, taking us back to the question that started this fuck-fest. "I say so," Jack smiles. "Let me know if you run out of towels again." Any bets on how many towels Colby used in Vegas?! :-)
Reviews
All I could think of during the last part was, the bellhop got his tip.(of that dick!) sorry. Great video.
This is fantasy come true for anyone who has ever eyed the hot young ass of a young male hotel bellhop. Colby lusted after Jack at check in and has been ordering extra towels every morning to get hot young Jack into his room. In comes young Jack with the towels, Jack gets a glance of Colby's rock hard cock goes down on it and thereafter Colby takes young Jack to pound town and shoots his load inside of Jack's hot little ass. Mid fuck Jack blurts out: "I'm your little service boy!" Jack recently went from long to much shorter hair, and his new hairdo helped him look more like the hotel bellboy he portrayed in this great fantasy fuck scene!
Even though good friends have daily relationships like Jack and Colby a little fantasy is always fun. Who hasn't fantasized about the wait staff at a hotel? We lust after the pool guy and the front desk service or that bar tender with the great ass. Loved watching Colby play out this everyman's fantasy with Jack. "I noticed you when you checked in and have been ordering towels for four days hoping you might come to my room." The sex is great, and the cocks look delicious but the fantasy of these familiar two acting out new story lines; frankly I am still hard.
Join Colby Knox
Get unlimited access to Colby and Mickey's hottest scenes. New videos every week!
Sign In