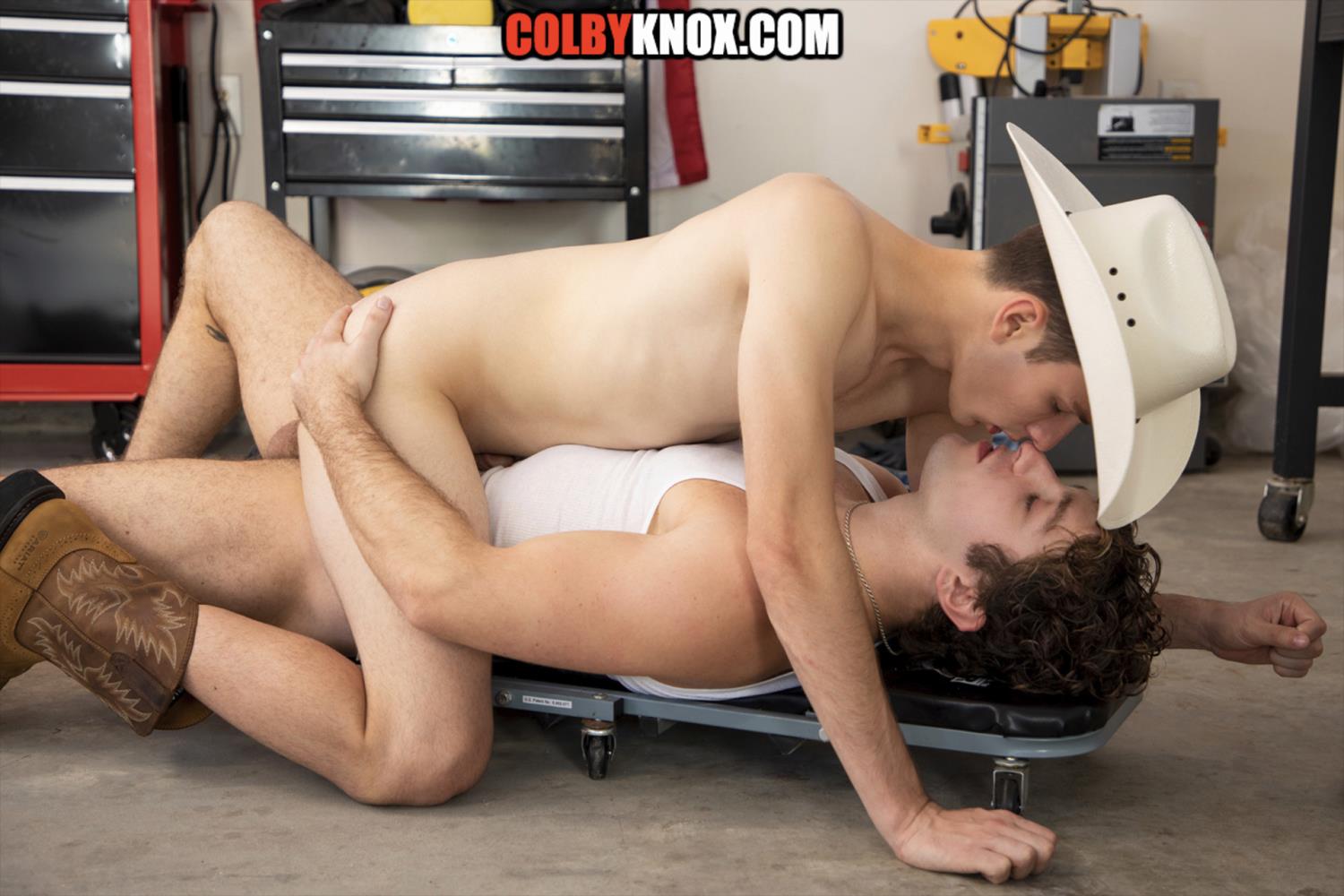 Description
Let's be upfront: cowboys are sexy as hell! No matter if they are on screen or working the rodeo circuit, cowboys make most of us weak in the knees. From the boots, chaps, and hats, they are walking symbols of sexy. This week's ColbyKnox video is about how a good cowboy can handle a "rough" ride. Calvin Banks is tinkering in the garage. Tyler Tanner strolls in, wearing a Stetson, jeans (holes in the knees, of course), and a Wrangler T-shirt. "You excited for the rodeo this weekend," Calvin wonders. "I'm a little nervous," Tyler confesses. "I'm supposed to be riding this bull but I've never ridden anything before." "How can I help you with that," Calvin says. "I was hoping you could help me practice," Tyler answers. "I could maybe ride you." Cowboys know how to fix problems! Calvin is willing to do what he can. The two studs make out. "I'll take this for a ride," Calvin says, slapping Tyler's ass. "I wish you would," the cowboy whispers. "Be your little cowgirl." Tyler gets on his knees. When he pulls Calvin's cock out, it's plump and ready to play. The cowboy swallows. Or at least tries to. "You better get it wet before you can ride it," Calvin advises. Tyler can barely breathe with all the meat in his gullet. "Work every bit of it," Calvin instructs. Tyler stands up and leans against the work bench. His jeans are pulled down and Calvin turns that cake into a meal. "Make it nice and wet," Tyler moans. "Lube me up with your spit." His pretty man hole is getting rimmed perfectly. Calvin stands up. He's not been licking that ass for nothing. His rod is hard and needs a tight place to rest. He gently enters Tyler, allowing him to get used to it. Calvin starts to fuck. "Put it in me," Tyler whimpers. His own dick sticks straight out as Calvin plugs away. He pulls out to play with Tyler's hole but returns to pounding booty. "The bull is going to fuck you harder than this," Calvin says. He fills his rancher up to the balls. If Tyler is going to be prepared for his bronc, he must learn to ride. Calvin gets on his back and Tyler takes a seat on his instructor's meat. "Open up for it," Calvin orders. "Show me how you're going to ride that bull." Tyler's spot is getting jammed; his dick points to the ceiling. He moans to the gods but doesn't get off that shaft. "You're so deep," he whispers. Tyler proves he can ride, but can he handle it on his hands and knees? He gets on all fours and Calvin returns home. "That's a deep dick," Calvin says. "It's really deep," Tyler replies. Calvin rides his cowpoke. "Arch that back," he orders. Tyler takes the poking. His legs shake. His hole is wrecked. Calvin pulls out so he can place a wad of spit in Tyler's ass canal. Then he gets back to fucking his cowhand. "I'm going to keep fucking you until I blow," Calvin explains. Tyler is here to see a job done. He gets on his back and Calvin stands over him, jerking his tool. Calvin covers Tyler's face with seed. Glazing it like a tasty doughnut. Calvin puts his meat in Tyler's mouth as the cowman beats his own tool. Tyler pumps a load on his smooth stomach. "I think you're ready for your rodeo," Calvin says. Do you think Tyler is ready to ride some more? :-)
Reviews
Adorable. "I have to ride this, like, bull ..." something not said by any rodeo cowboy, ever. The jeans were wrong for a bull-rider, and we didn't get to see his boots until much later (boots he would have had to remove to get his pants off and then put back on for the fucking). Illogical? -- sure, but it's all in good fun. We're used to seeing Calvin deflower twinks so this was refreshing in its depiction of a hungry bottom looking to ride Calvin. A corny scene but amusing.
Calvin Banks, simply one of the best!
Twink Tyler, the perfect bottom at 19 years old, 5'11", 135 lbs., previously bottomed for Colby and his second scene bottomed in a mini gang bang for both Colby and Mickey! Those scenes were hot, but this scene was even hotter due to a weird plot of twink Tyler wearing his cowboy hat approaching well endowed Calvin and requesting that he ride Calvin's big cock to prepare him for his first time riding bulls at the rodeo in a few days. But what a smoking hot scene that cheesy plot set up for us as, wearing his cowboy hat, Tyler became Calvin's "cowgirl" as the big thick cock plundered the hot twink ass and prepped him to "ride the bulls" in just a few days!
Such a great time watching the cowboy ride the bull. Tyler's hot twink body with the cowboy hat and boots was smoking hot. There is a great kissing session that wreaks of passion and then butt fucking starts. I love the passionate kiss just before Calvin asks, "you ready to ride the bull?" It gets hotter as that twink little ass gets nailed by that wonderfully hairy bull. Love Calvin's pits and hairy legs. Cum was great.
Join Colby Knox
Get unlimited access to Colby and Mickey's hottest scenes. New videos every week!
Sign In