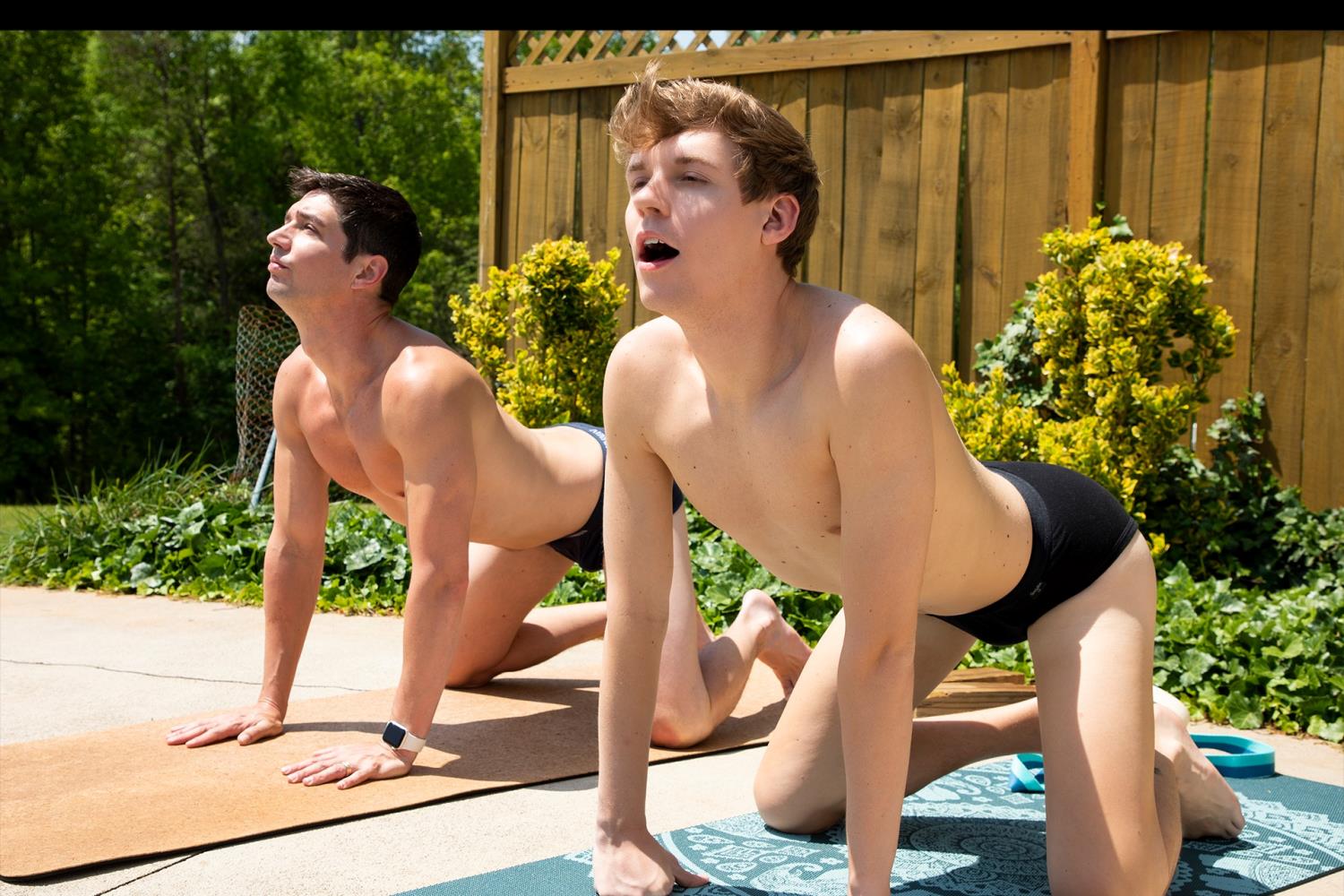 Description
He's back! Jack Bailey has returned to the ColbyKnox house. In this week's update, the sexy stud is learning about yoga from Colby Chambers. They are outside, by the pool, in the Sukhasana pose. The pair, both in black underwear, get on all fours. "Really arch your back," Colby suggests. He can't help himself. Seeing Jack's booty in that position causes him to pull Jack's underwear aside and lick that sweet hole. "That feels so good," Jack whispers. Colby caresses Jack's back as his tongue passes between those pale cheeks. "Eat that ass," Jack begs. Colby stands up. His cock stretches the underwear's fabric. When he pulls them down, his stiff rod is right in Jack's face. He opens wide, swallowing all he can. "Suck my dick," Colby murmurs. "You're so fucking hot." Jack happily chokes down all the meat. Even when face fucked. When he pulls away, spit spills from his mouth. "Use that throat and that fucking body," Colby whispers. He gets rid of his underwear. "All the way down," he orders. "Fuck," Jack exclaims. "It's so big." He almost loses an eye when Colby smacks his face with his bloated head. :-) "You like my dick," Colby wonders. "Want it inside you?" "Yes, sir," Jack replies. Colby spreads lube on his meat. He saddles up behind Jack; raw dick stretches his pupil's man hole. Colby fucks slowly. But the pace picks up. Each stroke to the balls. Jack's eyes roll back. "Moan for me," Colby commands. Each time Jack's "special spot" is poked, he offers a seductive grin. "Fuck that ass," he begs. "Are you a good boy," Colby wonders. "I'm a fucking good boy," Jack replies. Colby gets on his back so Jack can take an "afternoon ride." :-) He loudly moans when perching on Colby's tool. "Fuck, yeah," Colby says. "Work that ass." Jack jerks his johnson as he goes up and down. Colby spreads Jack's cheeks apart, pounding up. "Give me that hole," Colby directs. "Get on your back for me." "Yes, sir," Jack whimpers. With Jack's legs in the air, Colby reenters his student. "Fuck. You're so big," Jack declares on a down stroke. "That feels so good." He gets on his side and Colby returns to filling Jack up. "Does it feel good," Colby wonders. "It really feels fucking good," Jack replies. "Fuck my ass." Colby puts a hand on Jack's booty to have the best leverage as he pumps away. "Stretch my pussy out," Jack blurts. His pussy can only take so much. Jack's load shoots out, cum landing on his chest, arm, and stomach. Colby stays inside his bottom toy. "Going to let me come in you," he asks. "Yes, sir," Jack whispers. He gets up, arching his back again. "Going to worship that ass," Colby murmurs. Jack's dick drips man milk from his lost load. The camera gives a great view under Colby and Jack. We see Colby's tool sliding in, and out, of Jack's hole. "Take my dick," Colby orders. "Fuck. I'm going to breed you." The yoga teacher is true to his word. He deposits man milk deep inside Jack, coating his insides. When Colby's slick dick slips out, cum drops away from Jack's hole. White goo coats the space between Jack's nuts and hole. "How did you like your introduction to yoga," Colby asks. "It was pretty great," Jack replies. "I'm definitely going to come again." Teacher and student kiss. They are probably planning the next session! :-)
Reviews
Love this one. Yoga master leading and outside-in in sex class should be an actual thing. I will say, my dirty dog form is really terrible and I could really use a rock solid adjustment to get things right Master Colby. I'd accept young Jack as an instructor if he has been studying extra hard. Jack's eruption and the following prostate massage...I think...prove my thoughts on the benefits of yoga master that can exercise the mind and body inside and out! Great job guys...this one is fantastic!
Young twink Jack signs up for a yoga lesson with Colby and winds up with his hot ass fucked and a load of Colby's cum up his hot twink butt! Jack said that he would like another "yoga lesson" again soon!
Join Colby Knox
Get unlimited access to Colby and Mickey's hottest scenes. New videos every week!
Sign In