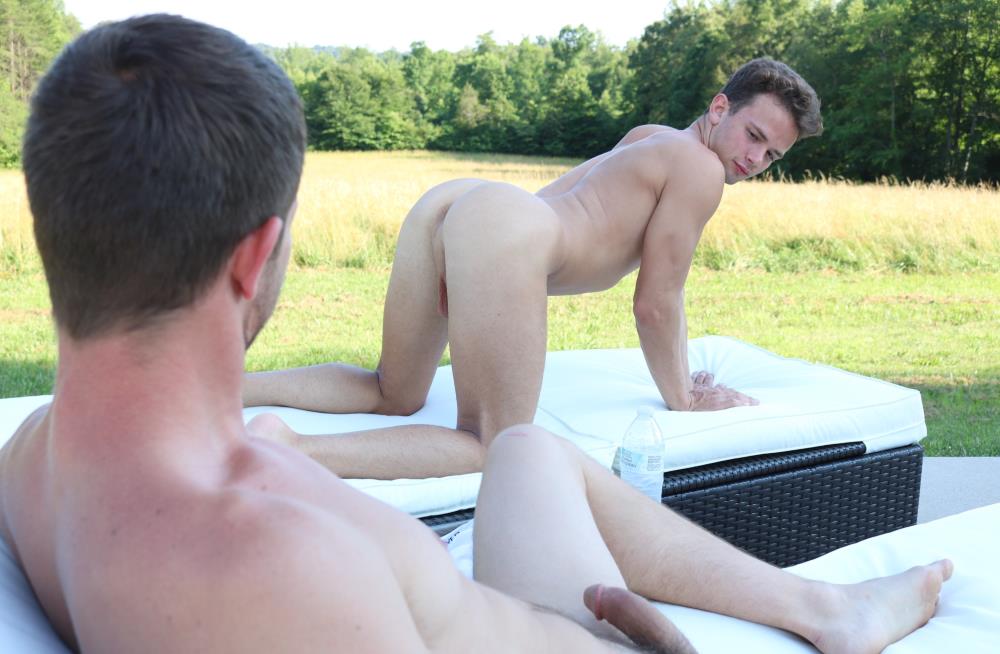 Description
Mickey Knox's friend Logan Cross is in town and the two find themselves enjoying a lazy afternoon outside catching some rays. Logan gets restless and he can't help but stare at the huge bulge in Mickey's pants. That bulge has him tugging at his cock and rubbing his shorts before he pulls his cock out and starts stroking. Fantasizing about Mickey's cock has Logan stroking his own cock and squirming with lust in the sun. Mickey soon finds that Logan is massaging a hard throbbing cock and that brings his cock to full erection and wanting some attention. Mickey pulls his shorts down and starts rubbing his throbbing cock while staring at Logan's big cock. The two become voyeurs putting on one hell of a show for each other poolside. Hard cock stroking, finger probing, and lustful attention seeking has Mickey and Logan sweating it out in the sun. Logan pulls his legs up and starts fingering his hole with one hand while the other continues to stroke his hard cock. This has Mickey aroused and hard stroking his cock while he pulls on his low hanging balls. Logan repositions to get on his knees with his ass in the air towards Colby. He shoves two fingers in his ass working his hole while he continues to stroke his thick meat. Mickey puts two fingers in his mouth, rubbing them in and out while he long strokes his dick. It's Mickey's turn to get on his knees and he quickly starts teasing his tight man hole with his fingers. Using his own spit as lube, he starts fingering his tight ass with one then two fingers, putting on a show for Logan. Thrusting in and out of his tight man hole with his fingers has Logan excited and he explodes with a huge load of cum all over his smooth chest. Mickey is ready to shoot his load and he starts intensely stroking his cock while Logan continues to show off his ass. Grinding into the lounger, sticking his ass in the air, Logan is giving Mickey excellent inspiration to shoot his load. Mickey finally strokes out a huge load of warm cum all over his chest. No need for sunscreen here, just pass the lube as these friends are rubbing out thick loads of hot cum on their chests.
Reviews
Desire is what runs all of this. Watching it raw is hot.
What happened after these two cooled off in the pool: did their sexual desire for each other return with the presivous force ?
I didn't know this is what I needed from my porn until I saw this clip. It is so incredibly hot and I like that it shows that masturbation and especially ass play can be it's own event especially with a buddy to watch and be watched by. 10/10 for creativity, setting and sexiness.
Join Colby Knox
Get unlimited access to Colby and Mickey's hottest scenes. New videos every week!
Sign In