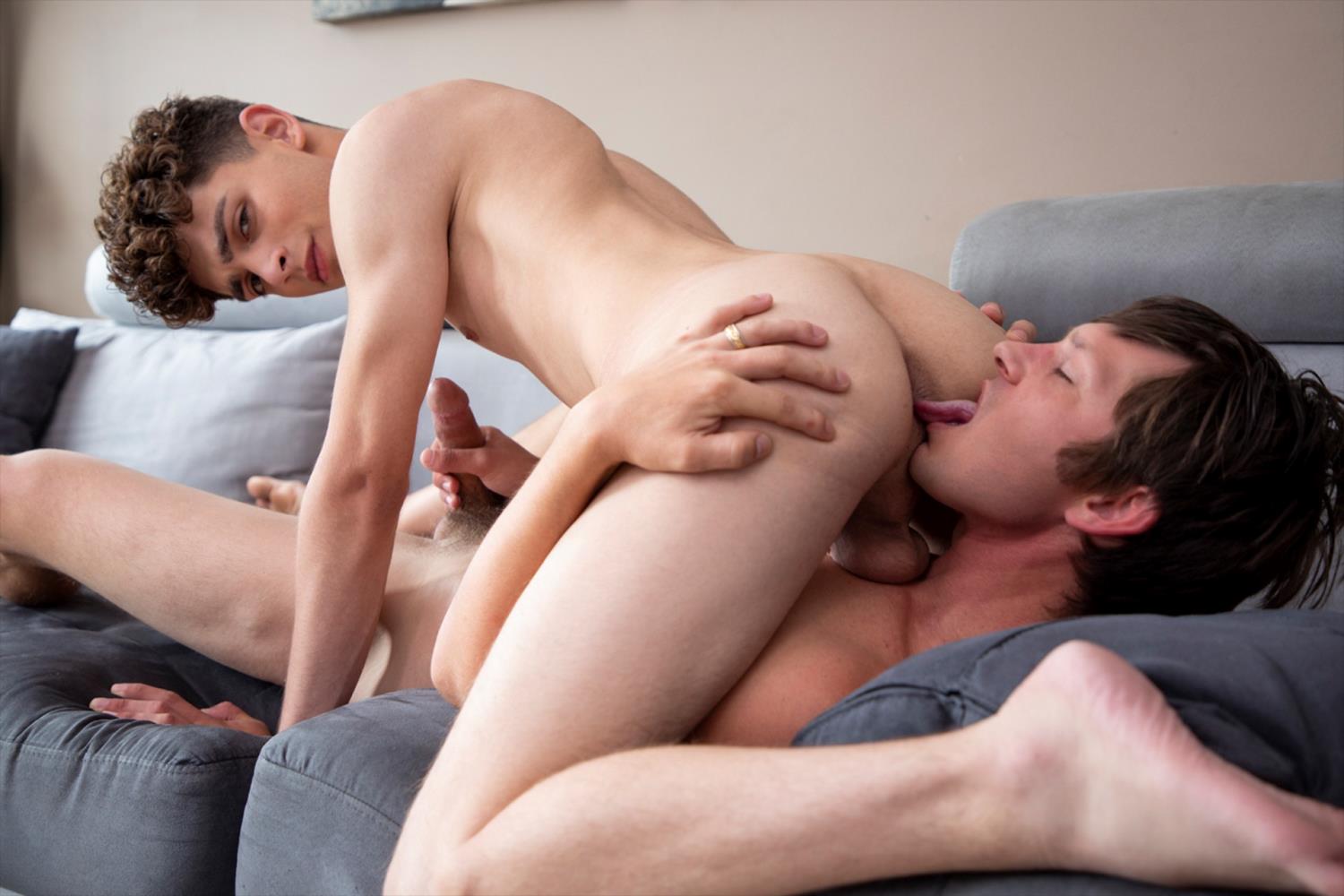 Description
A few weeks back Zayne Bright played with Colby Chambers. In today's update Zayne and Mickey Knox, Colby's husband, get a chance to have some sexy fun. The scene begins with a serious make out session. "You're so fucking cute," Mickey says between kisses. Soon enough he loses his underwear and Zayne grabs Mickey's shaft. Zayne puts his head in Mickey's lap, swallowing all of the meat. "I love playing with your hole," Mickey says, fingering Zayne. "Not as much as sucking this dick," Zayne replies. He licks Mickey's cum heavy nuts. "Can't wait to taste your ass," Mickey notes as Zayne's spit covers his dick. The lads switch things up. Zayne gets on top of Mickey, giving him a chance to do some rimming. Mickey's tongue works its magic. "Fuck. Look at that ass," he says, kneading Zayne's butt cheeks. "I can't wait for you to be inside it," Zayne exclaims. Mickey's tongue gets Zayne ready for something a bit bigger and harder. Mickey alternates between his tongue and fingers, causing Zayne to moan even more. Mickey decides he wants to take Zayne doggy. The cutie gets on his hands and knees. Mickey gets out the lube, continuing to munch Zayne's backside. "Look at that beautiful hole," Mickey notes. He slowly parts Zayne's cheeks with raw dick. Once in, he fucks to the balls. Zayne moans with each stroke, biting his lip as he's filled. "Look at that beautiful butt," Mickey says. He slaps the cheeks to show his approval. "And it's all yours," Zayne groans. Mickey pulls out to rim some more. Zayne's booty is too sweet to stay out for too long. The strokes are harder when Mickey returns. Zayne falls on his stomach, holding the couch edge. The studs change up. Mickey sits and Zayne rides. His rod is flat on his stomach, hard from the pounding. "Oh, fuck yeah," Zayne whispers as Mickey pounds upward. "Fuck you are so hard," Mickey observes. "Because that dick feels so good," Zayne replies. He gets on his back. "You like that ass," Zayne wonders. Mickey offers his trademark grin, and some strokes, as answers. Zayne pulls his pud as his guts are smashed. When his prostate can't take anymore he loses a load. The cum splatters his stomach and the couch. Mickey pulls out to lick the mouthwatering mess off Zayne's dick and stomach. After getting a taste he stands over Zayne, jerking his johnson. Mickey's irst shot lands on Zayne's chest. He licks some of his man milk up and they kissing. Don't go anywhere! Stay for the post-scene interview. The 21-year-old talks about his year in the industry, travels, and hobbies. Make sure to visit Zayne's Twitter account, @ZayneBrightXXX, and say hello!
Reviews
At 21 years old, 5'7", 115 lbs., Zayne has the perfect hot little twink ass for bottoming, and Mickey fully fucked it! Talk about being type cast, in the post sex interview Zayne said that he has overwhelmingly bottomed in his over 30 studio scenes but tops more than bottoms in his private life! Zayne really seems to have enjoyed his two scenes at ColbyKnox, having been first fucked and cream pied by Colby, and then in this scene getting thoroughly fucked by Mickey! He is one hot cute kid and would love to see him return, perhaps to top someone like Gabe!
Join Colby Knox
Get unlimited access to Colby and Mickey's hottest scenes. New videos every week!
Sign In