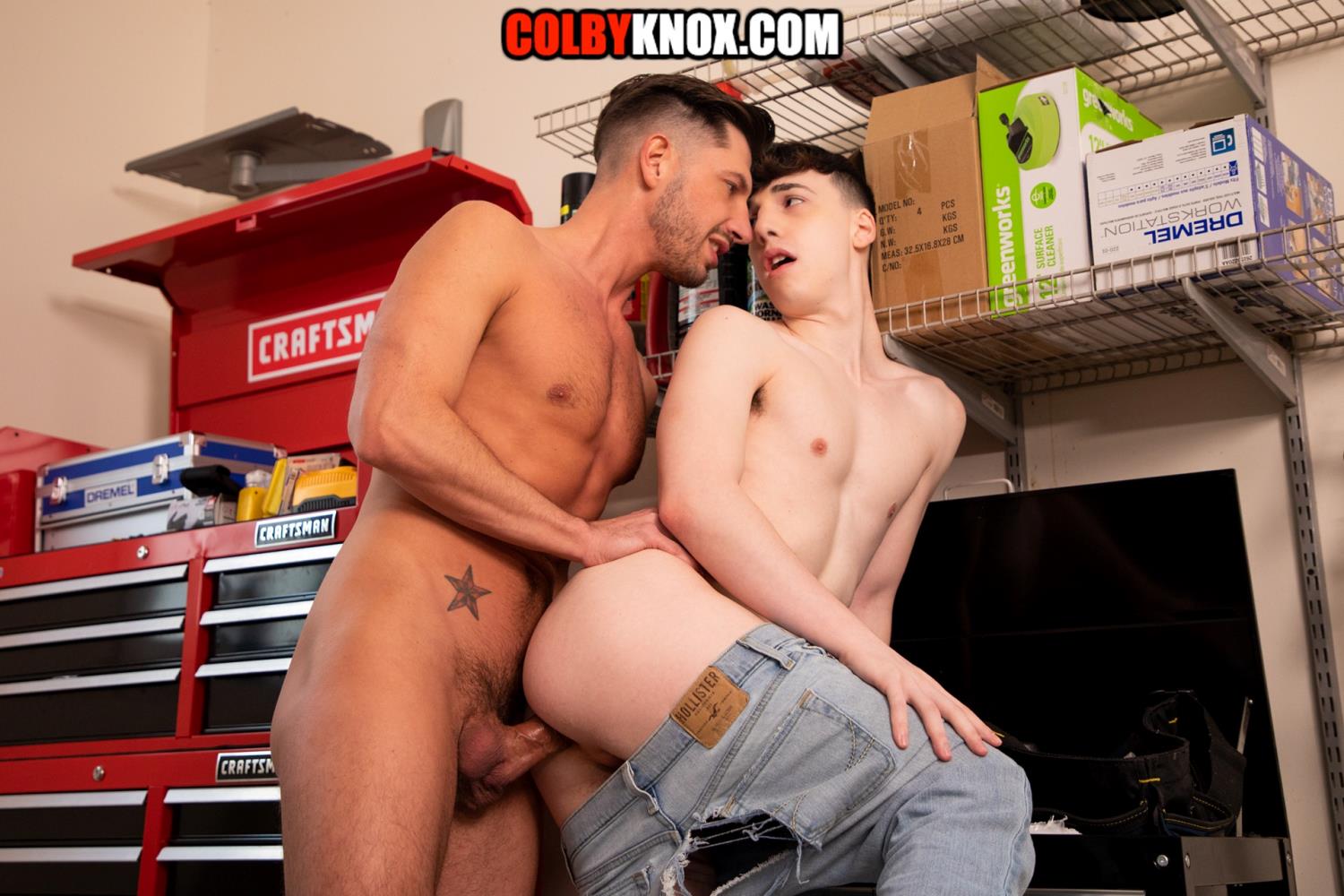 Description
Poor Troye Jacobs. What does he have to do to get Jordan Starr's attention?! The studs are in the ColbyKnox workroom. Jordan tinkers with something on a bench. As for Troye, he's on the floor. His jeans have a noticeable hole in them, showing off cute red underwear. He looks in Jordan's direction with "fuck me now" eyes. Jordan glances down and smiles. He returns to work. Troye makes the hole in his pants bigger. "Why don't you take a break," he suggests. "Come help me out." Jordan saunters over. "Well. While you're down there," he says. Troye first kisses Jordan's smooth stomach. He turns his attention to Jordan's tool. "You want that," Jordan wonders. Troye does. Can you blame him? :-) Jordan pulls out his hard, and hefty, rod. When it bobbles up and down, Troye is impressed. He swallows as much as his throat can fit. "Is that what you wanted," Jordan asks. Troye mumbles "yes." Jordan drops his jeans to the floor as Troye licks his nuts. "Get in there," Jordan encourages, guiding Troye with his hand. He face fucks Troye. "You taste so good," Troye whispers, coming up for air. "Damn. That's a big dick." "It's what you wanted," Jordan replies. Drool and precum coat Troye's lips. Jordan leans down, smacking Troye's backside. "I want that," Jordan notes. He pulls Troye up and they make out. "Let me taste you now," Jordan says. Troye leans on the tool cabinet, sticking out his tasty ass. Jordan rips the jeans more, pulls down Troye's underwear, and dives between the succulent cheeks. "It feels so good," Troye whispers. "Does that hole taste good?" "Fuck, yeah," Jordan exclaims. "Your tongue feels so fucking good on my hole," Troye moans. "Tongue that hole." Jordan licks it like ice cream. He spits on the hole, fingering it next. "Stretch that hole out," Troye cries. "Fuck. I want that cock so bad. I want it really bad." "You want me inside you," Jordan asks. "Yes. Please," Troye replies. He shakes his booty to prove his point. Jordan spits on his johnson. He slowly stuffs his raw meat inside Troye's guts. The pounding is to the balls. "Is this what you wanted," Jordan inquires. "Yes, sir," Troye sobs. The fucking gets harder and Troye's eyes roll back in his head. "You like those long strokes," Jordan wonders. "Such a good hole." "Such a good dick," Troye says. He grabs a shelf to keep his balance. "Right there," he whispers. "That's the spot." It's time for Troye to do some riding. Jordan takes a seat and Troye straddles him, reinserting Jordan's cock. Troye's dick points straight to the ceiling as he goes up and down. "You got it," Jordan says as Troye whimpers. "Good boy. That hole is so good." Jordan picks Troye up and puts him on his back (on the floor). One of Troye's legs is on Jordan's shoulder. "Fill that hole," Troye begs as Jordan opens him up again. "You like that," Jordan asks. "Yes, sir," Troye sighs. He gets on his stomach. Jordan reenters, causing Troye's feet to point to the ceiling. "Give me that dick, Daddy," he murmurs. "Please fuck me." Jordan nibbles an ear as he wrecks that hole. "It's so deep," Troye sighs. "Use that hole." Jordan pulls out, coating Troye's butt cheeks with man milk. He then fucks Troye more. "Fuck that load in me," Troy whimpers. He gets on his back and Jordan finger fucks him again. Troye jerks his tool, shooting juicy cum all over his stomach. The scene closes with kissing. What other "work" can Jordan and Troye do? :-)
Reviews
Twink Troye did all he could do to seduce 30 something top Jordan into fucking his hot little twink ass ranging from wiggling his butt to making the tear in the seat of his jeans even bigger! Mission accomplished as twink Troye got to first suck Jordan's big cock and then to take it up his hot little twink ass! Troye really wanted Jordan's big cock, Jordan really wanted Troye's hot twink ass, and both got what they wanted! Hot scene in which these two really looked hot together!
I know that there are porn studios that are flashier and spend more money than ColbyKnox and there are porn stars that are flashier and more polished than Colby Chambers but in neither case does more mean better. Not only is Colby a great looking and very talented porn actor he seems like the kind of guy that you would simply like to just be friends with.
Oh wow. That is my first thought in watching Troye and Jordan. My first thought is how I love to watch contrasts. That hot little twink with the perfectly white skin and that beautiful, tanned Jordan loving every inch of Troye's body. I love the age difference of that beautiful guy in his twenties with that gorgeous guy in his early thirties. Then, here is what I love about porn. We watch me do what we love to do. First, Troye tempts with that hot underwear covered ass peeking through ripped jeans. Troye's first reaction go for that nice, flat, hairy torso and lick it like it was a piece of candy. Then he sucks that cock; a cock that is larger than the profile. Then Jordan lifts his hot body then mounts him and his ass envelopes that cock with ease. The fucking is hot and the cum shots remarkable. GREAT SCENE.
Join Colby Knox
Get unlimited access to Colby and Mickey's hottest scenes. New videos every week!
Sign In