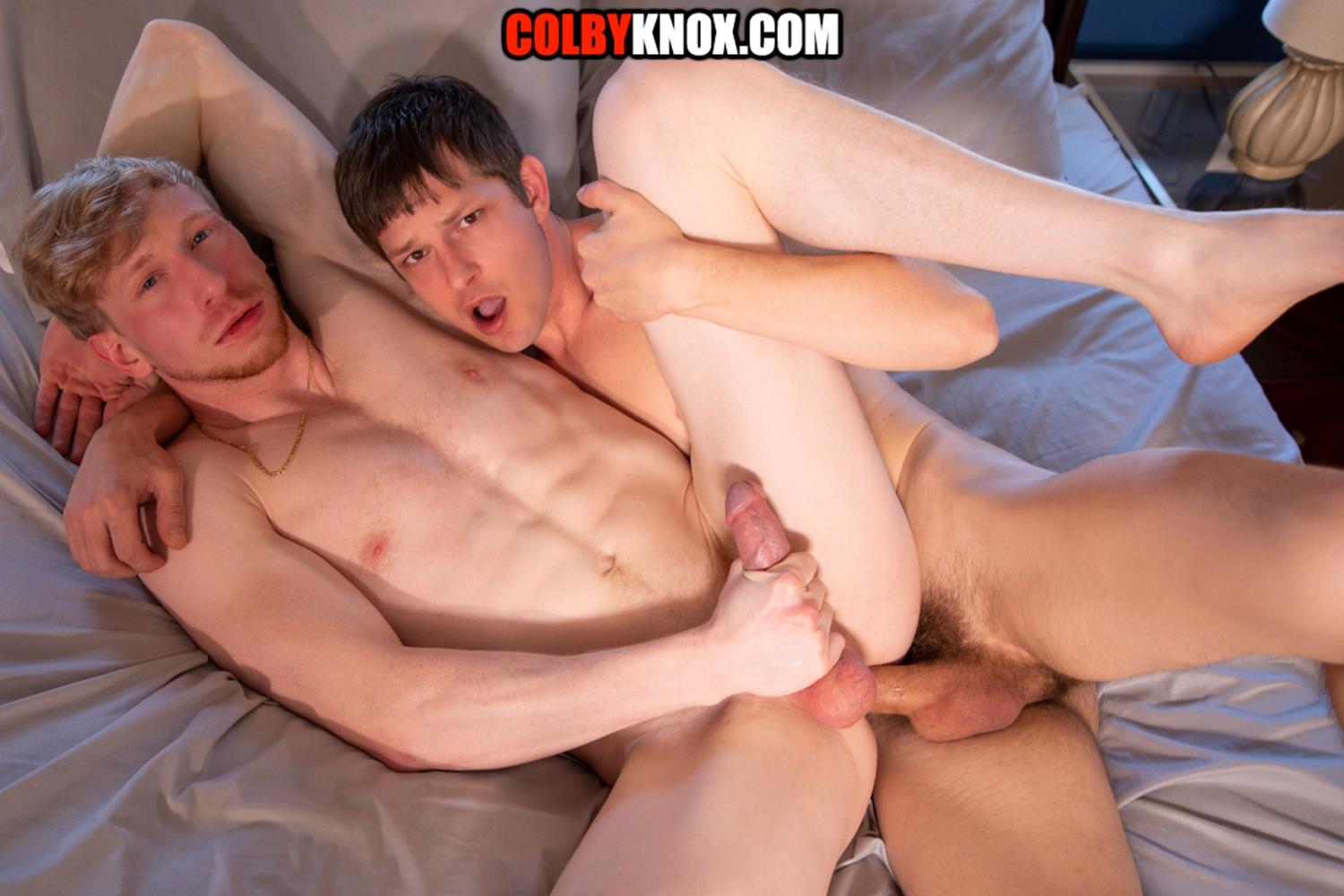 Description
This week gay porn star Jesse Stone visits the ColbyKnox compound. Next to him, on a studio bed, is a smiling Mickey Knox. After Mickey gives a brief introduction, the studs make out. While kissing, they stroke each other's cocks. When underwear is removed, we see the smooching has made the lads hard. Mickey is the first to demonstrate his oral skills. Jesse face fucks that sweet mouth. Mickey gags but doesn't stop from making his scene partner happy. "You taste so good," Mickey says, coming up for air. He returns to servicing Jesse. "Oh, shit," he gasps. "Go for it. Suck that dick." Mickey gets on his back. Jesse on top. This allows Jesse to suck Mickey's meat. Jesse makes it to the base, gurgling for air. Mickey can't do that because his gullet is packed with dick. He moves up to eat Jesse out. Look how Jesse arches his back when Mickey tongues him. "Oh, fuck yeah," Mickey observes. "You have such a nice hole." Jesse wants more of Mickey's mouth on his johnson. "Fucking take it," he orders, slamming the shaft down Mickey's throat. "Such a good mouth." "Want to fuck me," Mickey wonders. Jesse approves of this plan. :-) Mickey gets on his hands and knees. Jesse shuffles behind him, pointing his bare beef towards Mickey's hole. He lets Mickey do the initial insertion work. "It's nice and hard for that ass," Jesse explains. Soon he takes over, causing Mickey to cry to the gods. "Give me that fucking cock," he yowls. Jesse fucks balls deep. "That feels so good," Mickey moans. "Give me that dick, Jesse." He fucks deep and long, grabbing Mickey's hips. Mickey returns to his back. Jesse sucks him off. He then slowly squats on Mickey's raw dick. "Such a nice ass," Mickey whispers. He grabs both cheeks as Jesse goes up and down. He holds on as Mickey fills him up. "Fuck, yes," Jesse moans. "I love that cock." That beautiful booty gets what it craves. Jesse goes on his side. His rod is about to burst. Mickey reenters, fucking to the balls. "Oh, God," Jesse sobs. "You're fucking hitting my fucking spot." He brings his knees closer to his chest, letting Mickey slam as hard as he wants. Mickey perfectly wrecks the hole. "Jerk that cock for me," he demands. "That's so hot." Jesse nuts first. "Oh, fuck," he cries. "I'm going to fucking come. Fuck me like that." His juice shoots out, coating his abs. Mickey sucks the seed on Jesse's dick, licks up all the spent cum, and gives Jesse a sloppy kiss. They decide Mickey should lose his load on Jesse's ass. He gets on his stomach and Mickey jerks over all the mouthwatering cake. "That sweet fucking hole," Mickey murmurs. He explodes all over Jesse's back and butt. "Want to slide it in," Jesse wonders. Mickey shoves his cock back inside. "You covered my back," Jesse notes after more kissing. "I did," Mickey answers. "So much cum." Stay right where you are because Mickey interviews Jesse. He's a "true verse," bottoming and topping with equal pleasure. He's from Reno, Nevada. Loves to ski and a medium rare steak. "Welcum" to ColbyKnox, Jesse!
Reviews
Jesse is a truly beautiful guy. His porcelain skin and toned body, not to mention the shape and size of his dick, are superb. It would e great to see him in a group scene with some of the younger guys.
Jesse and Mickey's performance makes this an amazing scene. Flipfucks are always great and given how much these two were into each other, it made it even better. Wish you had zoomed in on Mickey's face during the 69 ... think I saw a tear in his eye but he kept on giving an ace bj to Jesse none the less.
Wow Mikey can suck a cock like no one else alive. He took Jessie's big cock with ease and enjoyed it. Then the two did 69 and fuck they both swallow cock like a showman. The fucking is outstanding and the cum shots made me shake with ecstasy. Damn blonde and brunette make a great show because both can take a dick like it was their job. Wait, it is.
Join Colby Knox
Get unlimited access to Colby and Mickey's hottest scenes. New videos every week!
Sign In