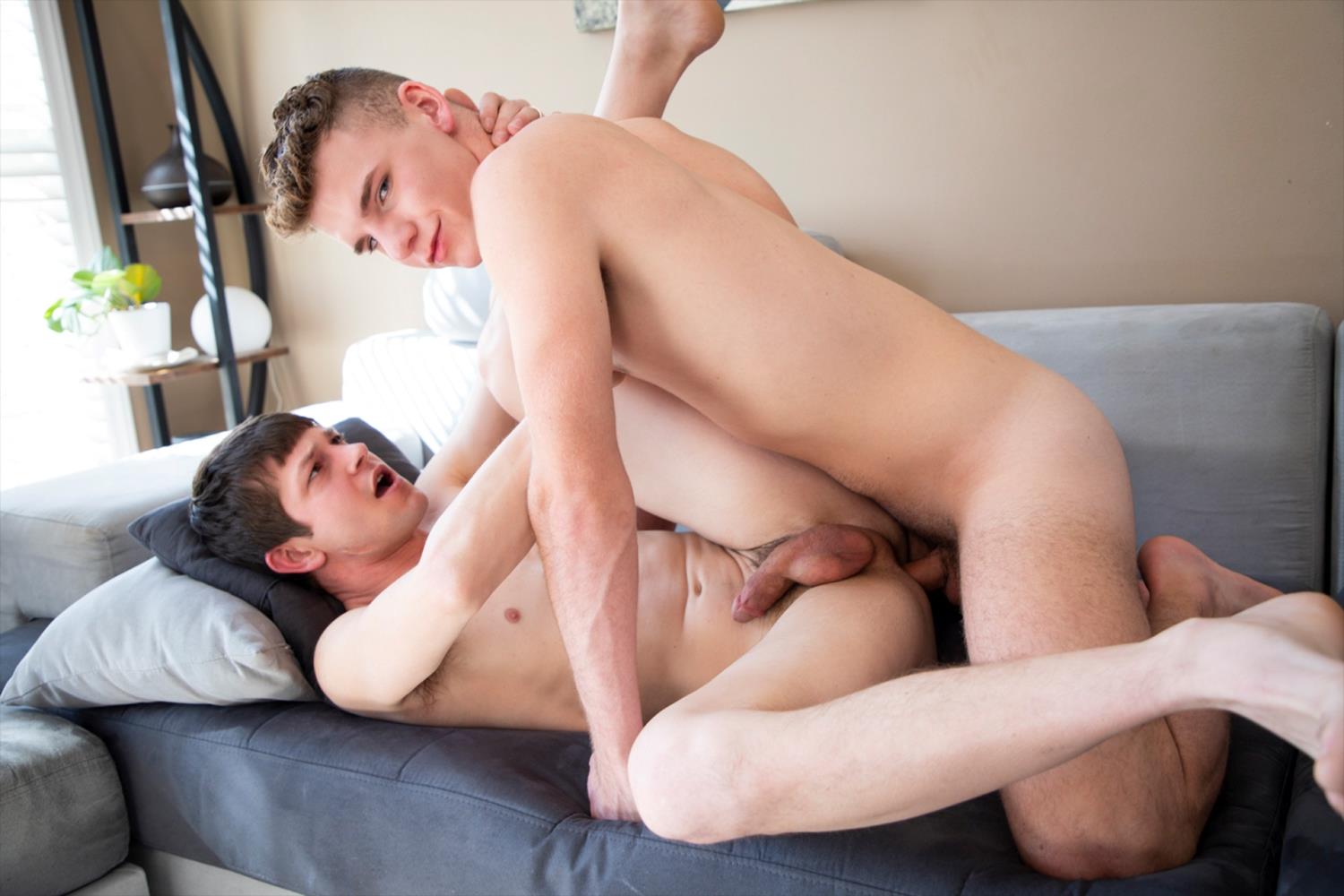 Description
Jack Waters has returned! This time the sexy stud shares the ColbyKnox couch with Mickey Knox. Colby Chambers, Mickey's man, is in charge of a photo shoot featuring Jack and Mickey. The studs are in underwear as Colby takes pictures. Colby gets a call and leaves the room. "I just want to go ahead and do it," Mickey says, caressing Jack's chest. "Do you think he's going to be gone long," Jack asks. "I'm sure we can just do it again when he gets back," Mickey suggests. "Do you think," Jack replies. They lean in, gently kissing. "You're so fucking sexy," Mickey says. He nibbles his way to Jack's crotch. Jack's Calvin's are lost. This makes it easy for Mickey to swallow Jack's johnson. "It's so good," Mickey explains, coming up for air. "It feels so good," Jack counters. Mickey works to the base, lapping Jack's nuts. Although he gags, Mickey keeps sucking. Jack wants to try something different. He stands up. Mickey remains on the ground, his back against the sofa. His sweet mouth is open and Jack fucks it. His balls graze Mickey's lips. "There we go," Jack whispers. "Open up that throat." "Making my eyes water," Mickey retorts, coming up for air. Jack wants to eat his scene partner out. Mickey gets on the sofa. On his hands and knees. Jack licks the man hole, going as deep as his tongue can go. "Get me ready for that hard cock," Mickey moans. Jack nibbles a butt cheek. Smacks the other. "Want to fuck me," Mickey wonders. "You ready," Jack counters. Mickey uses some natural lube, spit, on his hole. Jack saddles up, carefully inserting his rare rod. "You're ready for it," he says with a chuckle. "That feels good," Mickey exclaims. "I've been wanting your cock all morning." Jack laughs, fucking to the balls. He places his hands on Mickey's arch and pounds away. "Give me that fucking dick," Mickey orders. Jack stuffs Mickey's booty with hard cock, causing Mickey to moan. His special spot is getting reamed. "You going to let me sit on it," Mickey wonders. "Sure. I want to take a break," Jack says. He sits down and Mickey squats on Jack's shaft. He pulls his butt cheeks apart to give Jack more access. This makes Jack pound up. Look at Mickey's eyes. They widen with each stroke. He's getting deeply reamed. "Fuck me," he begs. "Oh, my god. That fat dick feels so good." "You're riding that dick," Jack notes. Mickey gets on his back. "You're pounding me so good," he utters. He throws his head back when Jack reenters. Jack deep drills but keeps it slow. At first. Gradually the speed increases. Mickey whimpers with each down stroke. Jack pounds away, wrecking Mickey's tight hole. He pops a load. The first stream of jizz hits the top of his chest. The rest leaves a trail of cum on his chest and stomach. Jack pulls out, beating his dick over Mickey's face. A wad of man milk lands on Mickey's tongue. He swirls it around his mouth before licking Jack's rod clean. Jack snuggles close to Mickey (who just wiped the cum and sweat from his face). "We should probably get cleaned up so we can do it again when he gets back," Jack suggests. Colby returns. "I'm sorry about that guys," he says. "You all ready to knock this out." Mickey and Jack offer mischievous smiles. "Yeah. Let's knock this out," Jack replies. "Let's do this," Mickey says, shaking his tool.
Reviews
Having bottomed for Colby in his Colby/Knox debut, 19 year old Jack is in a revenge fuck mood in this his second Colby/Knox scene with Mickey, the other half. And fuck Mickey well the teen does, smiling most of the time! Hot ending of Jack granting Mickey's request that the teen should his load on Mickey's stuck out tongue! With excellent aim, Jack turns Mickey's tongue white as he drinks the teen's load directly from the spout! Great scene! How about a flip fuck three way next time with both Colby and Mickey bedding twink teen Jack!
Can't say I've seen Jack in a top role but he does great in this scene with Mickey. Enjoyed the entire session ... Next time a flip fuck?
Join Colby Knox
Get unlimited access to Colby and Mickey's hottest scenes. New videos every week!
Sign In