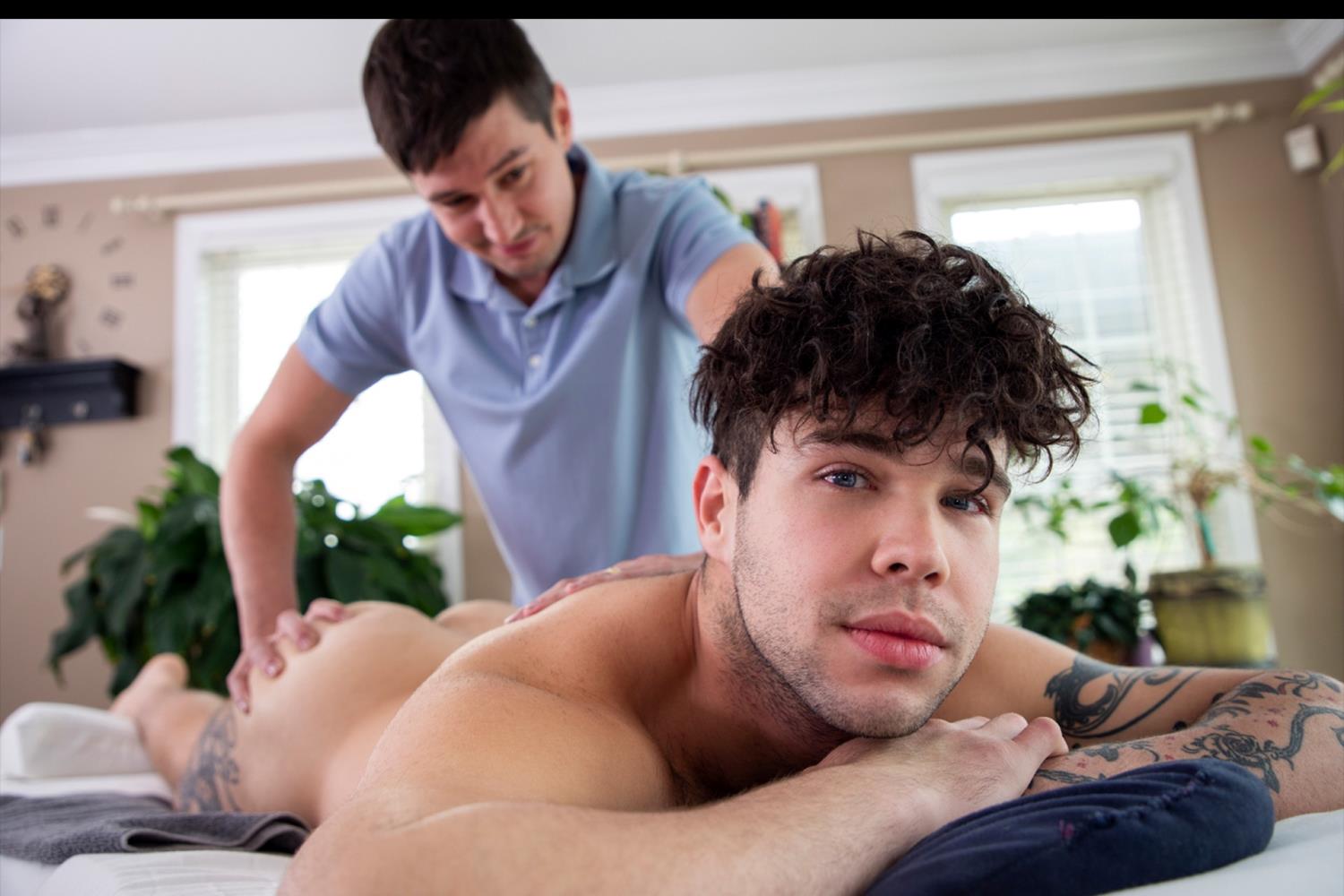 Description
Colby Chambers has a reputation for a few things. His passion for creampies. And his massage skills. This ColbyKnox video has both. It starts with Colby's magic hands on Joseph Castlian's back and plump rump. The towel covering Joseph's ass can't hide its beauty. Soon it's removed so Colby can give those cheeks the attention they deserve. Working on Joseph's back makes blood rush to Colby's dick. When he releases it from his pants, he stands in front of Joseph. Up to this point he's been enjoying Colby's sturdy hands. However, Joseph can't dismiss the sturdy meat in his face. He opens his mouth, swallowing what he can. "Fuck, yeah. Suck my dick," Colby whispers. When Joseph reaches the pubes, Colby gently face fucks him. Joseph pays close attention to the head, licking it like an extra scoop of ice cream. "Jeez. It's so fucking big," he observes. "It feels so good," Colby says, stroking Joseph's locks of hair. "Fuck. It's so hard," Joseph murmurs. "It's hard for you," Colby replies. He takes off his clothes, jumping on the table. He spreads Joseph's thick thighs apart and eats out his guest's man hole. Colby puts his face right between those round cheeks, slapping them for good measure. "Cheeks smacking me in the face," Colby observes. "It's fucking hot." It's time for Joseph's tight hole to be opened. Colby slowly works the uncovered head in. Then the shaft. After a few moments he slowly fucks. Joseph takes each stroke. Eyes closed. "Fuck. That dick is so big," he groans. "You like that tight ass?" "Yes. I fucking love it," Colby replies. "Tight fucking muscle butt." "It feels so good," Joseph whimpers. Colby pounds to the balls, making Joseph's eyes roll. Colby pounds as deep as he can. "It's so fucking thick," Joseph sobs. That Colby girth, baby. "Fuck. It's so deep," Joseph groans. He's getting properly wrecked. "Why don't you flip around on your back for me," Colby suggests. Getting fucked on his back means we get to see Joseph's sexy chest hair. "You ready for more," Colby asks. The only answer he gets is Joseph's whimper when Colby reenters. He puts Joseph's leg straight up, picking up the speed. "Fuck that dick is so big," Joseph sighs. He takes every stroke. This makes Colby fuck harder. "Tight isn't it." Joseph asks "So fucking tight," Colby replies. He wants to fuck in one more position. Joseph gets off the table. Colby gets behind him, nibbling on his neck. He gets back in that tight hole, fucking from the back. That thick booty swallows up Colby's meat. He slows down, trying to extend the pleasure. "Fuck. I love that cock," Joseph groans. Colby fucks a juicy load out of Joseph, streams of seed landing on the floor. Right after that, Colby nuts. He fills Joseph up, glazing those buns with tasty jizz. Colby wonders if Joseph feels relaxed. After being boned like that who wouldn't be nice and calm? Welcome to ColbyKnox, Joseph!
Reviews
I prefer dick close up cum shot and creampies
Omg- that was hot- soooooo much cum ! Wow… That Colby knows how to take them there. ??-Sherry
At 5'8", 115 ls., Cuban immigrant Joseph has the perfect little ass for fucking! And Colby fucked it well!
But tired of seeing the same dick-close up cum shot. Plenty of people like being able to see the guy's facial expressions, body, and dick the screen when they're cumming. We've seen a close up of his dick cumming a million times. It's not going to like that different. Some variety please!
First of all, I love a hairy man. The offering of Colby's cock was so hot and then the gradual move to sex was arousing. Colby literally fucks the cum out of him. Another scene please!
Join Colby Knox
Get unlimited access to Colby and Mickey's hottest scenes. New videos every week!
Sign In