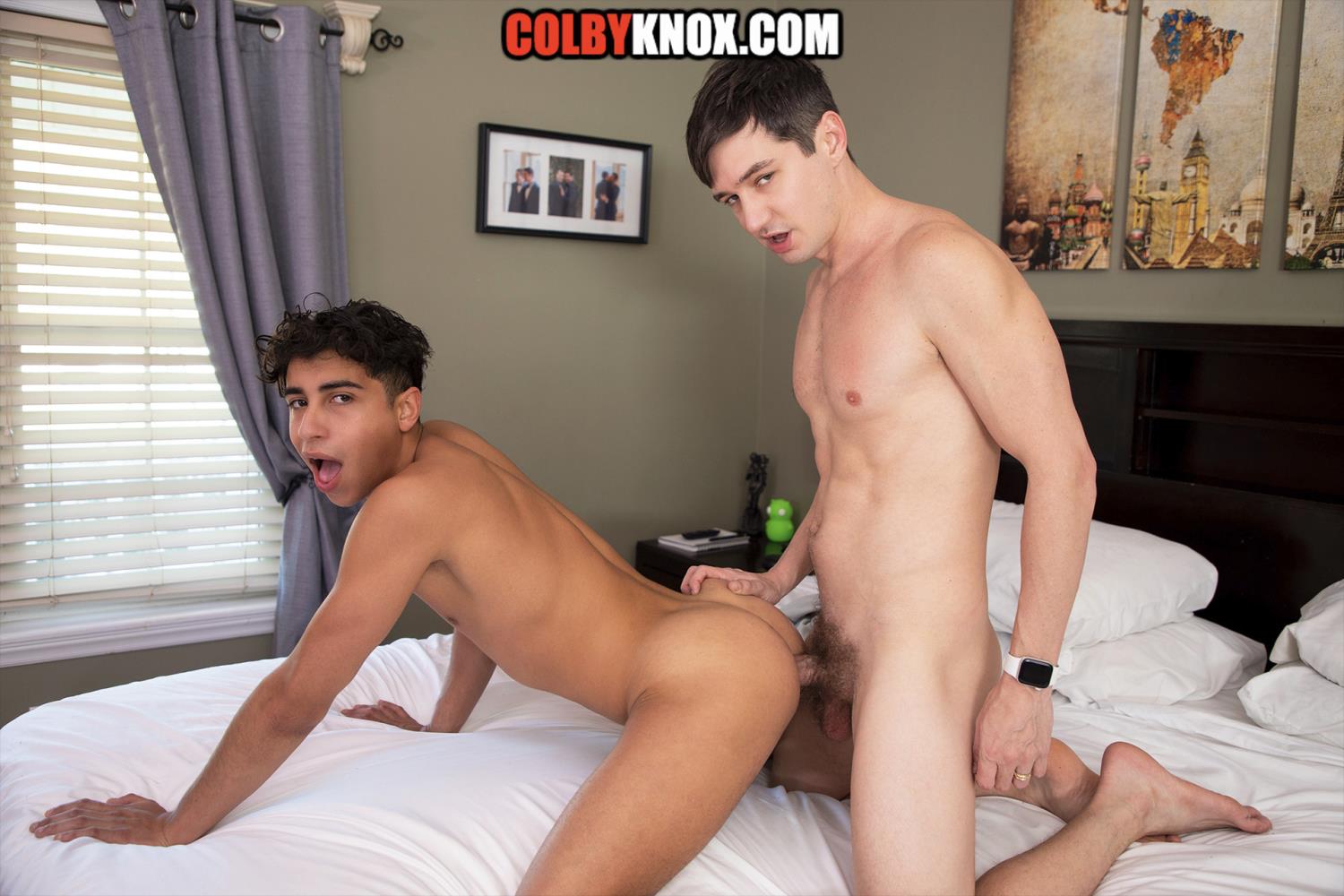 Description
This week's ColbyKnox release starts off hot with Gabe Bradshaw getting his ass ate out by Colby Chambers. Colby spends a minute tongue-fucking and poking at Gabe's hole, preparing him for what's to come. "Oh yeah play with my hole!" Gabe cries out. "Fuck, I'm so hard" Colby exclaims as he removes his yoga pants and underwear, revealing his thick, fully erect cock. Colby lays down and lubes up his cock, letting Gabe slide down onto it. The two get right to work, Colby furiously thrusting into Gabe, as Gabe bounces on his dick while moaning out loud. "Oh my God! Fuck you're so fucking hard! Oh my God! That feels so fucking good baby!" We love how vocal Gabe gets. :-) It isn't long before Colby is pounding the hell out of Gabe's tight ass as fast as he can. "Oh yeah I'm gonna cum! Oh yeah!" Colby fills up Gabe's ass with his cum, pulls his cock out of Gabe's hole and sprays more cum all over the place. Not done, Colby swiftly puts his dick back in and keeps fucking Gabe at a fast pace. The two then switch over to doggy style. "Yeah put it back in me," Gabe cries out before screaming out loud as his ass gets filled with Colby's hard cock once more. Colby then grabs Gabe's arms and holds them in place behind Gabe's back. "Oh fuck! OH FUCK!" Gabe repeats as he cums all over the bed, still getting fucked hard by Colby. Colby's not giving Gabe a chance to take a break, he's chasing his next nut. Colby is soon lying over Gabe, fucking him hard at an inhumane pace. "Fuck yes!" "Oh yeah!" they both scream out as Colby pulls his cock out once more to cum all over Gabe's drenched ass. The two soon switch over to missionary, with Colby chocking Gabe as Gabe jerks his cock. It's not long before Gabe's ready to cum a second time. "Oh my God you're gonna make me cum baby!" Gabe cries out as he cums all over his stomach. After two more minutes of fucking Gabe, Colby ejaculates all over him, adding to the cum all over Gabe's dick and stomach. Five cumshots in one scene! Hell yeah!
Reviews
Colby said at the outset that his balls were full and that he needed to fuck and shoot cum! Did he ever as his first massive cum shot started inside of Gabe for a cream pie, then Colby pulled out and kept cumming on Gabe's butt and then reinserted for the end of his cum shot for a breeding! That's amazing to have one lengthy cum shot start as a cream pie and end as a breeding! Colby's second cum shot was a breeding! And at the end of the scene, Colby had a third cum shot! So by the end of the scene, Colby did wind up with his balls totally drained of cum and Gabe with an ass full of cum!
I so appreciate you adding in some hand over mouth scenes! The entire scene was hot. Chemistry was really good between these two. Love it! hand-over-mouth
How do I start to write a review? Everything about this session is hot, passionate, and to an extent controlling. Colby takes charge from the very start. Such great rimming and prepping for what is to come. But the passion of the actual fuck is what is so amazing. Points I loved most: Colby's passion as he leans into Gabe and gently fucks him while breathing on his face. Thought I would explode then and there. But then he pumps hard and pumps slow, varying the pace at a porn star's best. Colby, this is your finest hour.
Join Colby Knox
Get unlimited access to Colby and Mickey's hottest scenes. New videos every week!
Sign In