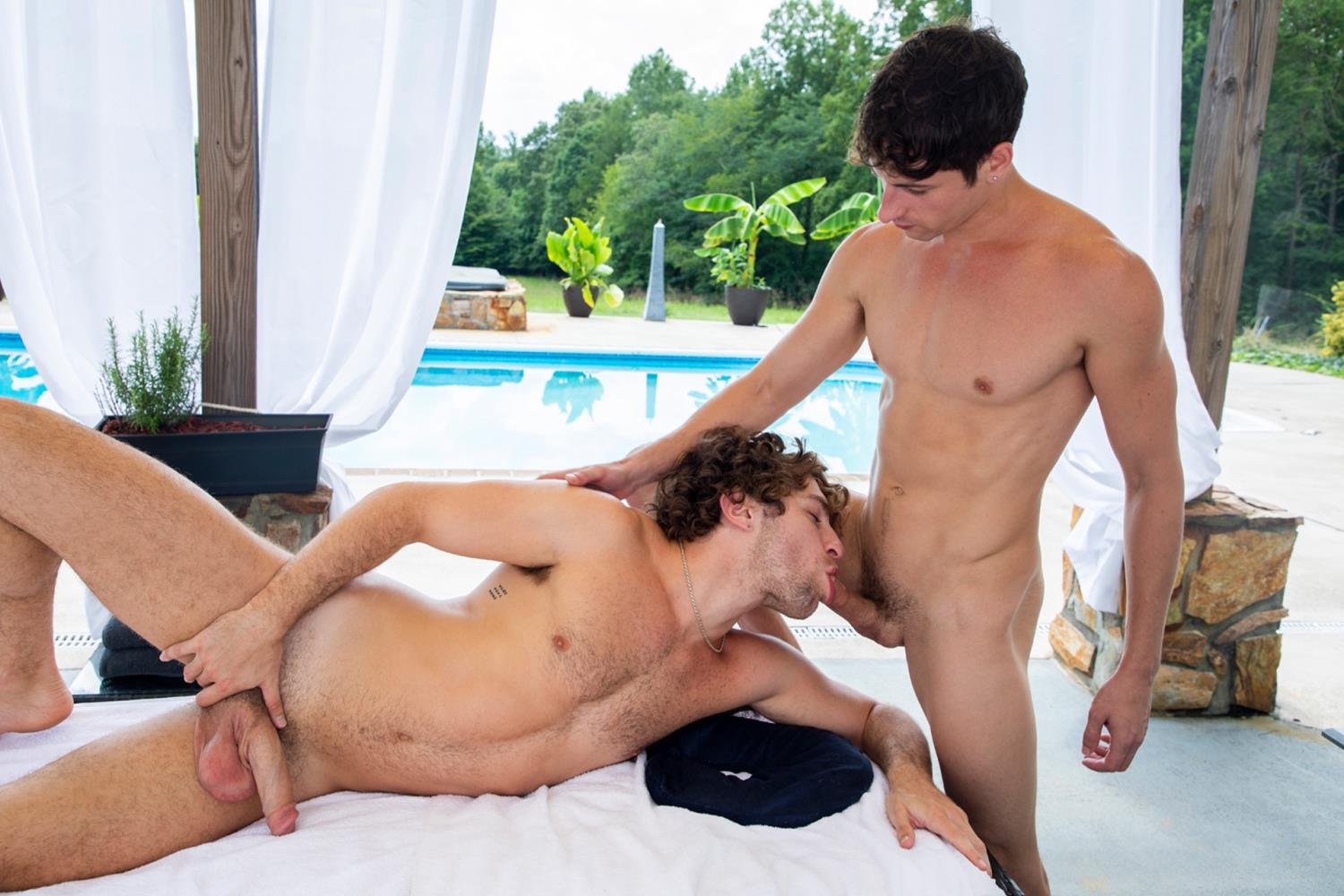 Description
Calvin Banks. Taylor Reign. Massage oil. And the ColbyKnox pool. What else do we need? These site favorites make everything better! In today's video update, Calvin is on his stomach. Taylor stands over him, massaging the hunk's back. "How's the pressure," Taylor wonders. Calvin mumbles contentment. A towel covers his ass, but Taylor carefully removes it. He rubs those perfect legs. "It feels so good," Calvin mumbles. Taylor gets on the table, removing his shirt and kneading Calvin's cake. All of this rubbing makes both lads horny. Taylor stands in front of Taylor and Calvin unzips his shorts. When Taylor's tool pops out, Calvin knows the deal. He opens his mouth, sucking away. Swallows up to the balls. Spit dribbles from his mouth as Taylor reaches down to play with Calvin's booty. "Do you want to get on your back," Taylor asks. Calvin does and the studs make out, swapping spit. Taylor puts his rod back in Calvin's gullet. His hefty slab of beef is swallowed as the hotties 69. Eventually Taylor munches Calvin's hole. "Flip back over," Taylor gently demands. Calvin, a self-proclaimed "big dick bottom," can't wait to have his taint busted. "Show that ass to me," Taylor says. Calvin fingers his hole, getting it ready for a bigger treat. Taylor works his way into the tight opening, making Calvin moan. Those moans get louder when Taylor plunges down. "Fuck, yes," Calvin mutters. "Stretch it out. Oh, my God. You are right there." Taylor goes as deep as possible, making certain Calvin feels each stroke. "Fucking give it to me," he whimpers. Calvin gets on his hands and knees. Taylor has a little snack of that ass but soon renews to filling Calvin up. "Fuck. That feels good," Calvin says. "Right there. Fucking pound me like that." Calvin wants his ass wrecked and abused. "Take that dick," Taylor orders. Calvin loves getting his asshole stuffed, but he wants to do the same. "Give me yours now," he whispers. Taylor puts his legs in the air, offering his hole for Calvin's use. He fingers Taylor first, preparing him for the onslaught. Taylor gave. Now he takes. "Fuck. That's a big dick," he whimpers. Calvin's bulky nuts slam against Taylor's perfect ass. He folds himself in half, giving Calvin more access. "You're going to cum for me," Calvin wonders. Taylor beats his meat, his spot getting pulverized. He loses a load, man juice hitting his abs and fingers. Calvin is next. He pulls out of Taylor's hole. A stream shoots past Taylor, who is impressed with all the seed Calvin loses. He puts his tool back inside Taylor and the studs kiss. The last image is Calvin gripping Taylor's man juice covered rod. Both are spent and tired. Hope you are too!
Reviews
This scene is perfect in so many ways. Great performers, sizzling chemistry and a massage table. Awesome idea for a video. And Calvin and Taylor don't disappoint.
A longstanding tradition in gay porn is for a massage serving as foreplay to great male on male sex! Taylor and Calvin show us exactly that in this hot scene!
The two have great chemistry and are beautiful together. These men are so much hotter than the twinks! They know that it is all about mutual pleasure. BTW...Mickey needs a hair cut in recent videos...
Another dream scene for me !! WOW… clean- up by the pool lol. Beautiful scene- great job by all. Thank you CK's.. ??-Sherry
Most times, the massage expect of a scene is simply build up to the sex. But Taylor's rub down of Calvin's body was like an explorer mapping out the beauty of his discovery. He slowly explores Calvin's manly features with careful timing for the viewer to enjoy. He caresses the back and ass and moves up and down those wonderful legs. Then Calvin explores Taylor's cock with his tongue. I love the contrast of the two beautiful bodies: one smooth with a clean shave, the other hairy with a bit of a beard. The moaning was sensual, and the brief verbal interaction was hot arousing. Both men came with an explosion of cum. HOT.
Welcome back. Hope we'll see more ass after the damages.
Join Colby Knox
Get unlimited access to Colby and Mickey's hottest scenes. New videos every week!
Sign In