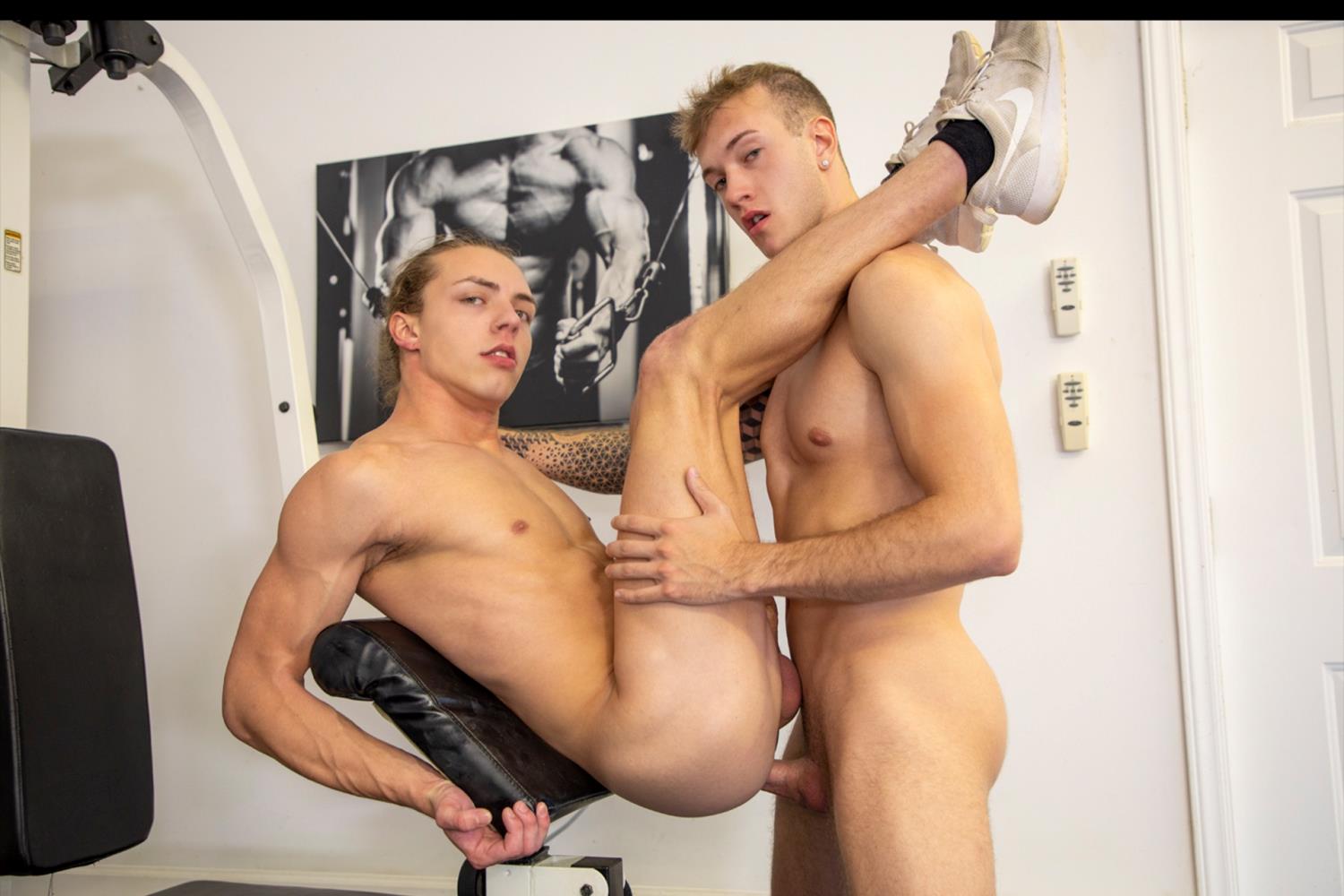 Description
Colby Chambers and Mickey Knox play an intense video game. As they work the consoles, August Finn and Jack Valor text each other. Jack sends a tasty dick pic. August texts back with a shot of his ass, wondering if Jack wants to meet in the gym. The answer, of course, is yes! "Im going to do my workout," Jack announces to the group. He leaves the room. Mickey wonders if Finn wants to play the game. He declines because there is another "game" on his mind. Mickey and Colby smile as Finn leaves. Soon we are in the ColbyKnox gym. Finn and Jack are topless, making out. "Let me taste it," Jack whispers. He hits his knees, pulls down Finn's shorts, and swallows. "Just like that," Finn instructs. Jack's nose hits Finn's bush. "You're so hot," Finn says. Jack gulps all of Finn's meat. After feasting Finn's front, Jack wants to see what Finn's back looks like. "Bend over for me," Jack instructs. Finn gets on all fours, tossing his shorts. Jack immediately eats him out. "Fuck. Your ass is perfect," Jack notes. "You like it," Finn wonders. Jack's tongue work answers. "Spread it open," Finn demands. Jack is trying to. His whole face is between Finn's butt cheeks. Jack's rimming reminds Finn his gym buddy has the best booty around. "I want to fuck you so bad," Finn says. Jack loses his shorts, getting on his hands and knees. Finn lubes up, sliding that bare dick inside. Finn pounds to the balls. "Your ass feels so good," Finn says with a smile. "Oh, my god," Jack whispers. "It's so deep." Giving is as good as receiving. Jack wants a chance to have a few rounds with Finn's backside. He is up for that. So he leans against the weight machine. Jack places a hand in the small of Finn's back, guiding his raw rod into Finn's tight hole. "You like that," Jack wonders. "It feels so good," Finn answers. Jack fucks to the balls, making sure Finn's insides are stretched. "It feels so good," Finn groans with a smile. "Your hole it so tight," Jack notes. Finn wants more time giving it to Jack so Jack puts those sexy legs in the air. Finn reenters and Jack is in heaven. "Give it to me," he moans. Finn takes off Jack's shoes and sucks on his toes as he fucks. "Pound me," Jack begs. The studs return to the bench. Finn slobbers on Jack's nuts. He also gives Jack's sexy toes the mouth work they need. Know how sexy Jack is? He makes Finn lose a sloppy load as Finn sucks his feet. A real messy and juicy, load. Cum lands all over the gym floor. Jack is next. He is finger fucked as he beats his meat. His man juice explosion lands all over his chest and stomach. Finn licks some of it up and gives Jack a kiss. "That was a pretty good workout," Finn says. It sure was!
Reviews
Finn getting off on Jack's feet like that is hot as hell.
Jack is a stunning top. He's hot as all hell as a bottom but wow...
Wow !!! Two sexy young hot studs together !! Damn these two are Hot !! Beautiful… Thank you.. -Sherry
Finn August, 22 years old, 5'11", 160 lbs. and Jack Valor, 21 years old, 5'9", 135 lbs. do a flip fuck. Both have hot butts perfect for taking cock, yet both were good tops as well with shooting a huge load of cum! I prefer Jack with his hair flowing and shoulder length than it tied up into that bun. Two hot twink butts very well fucked!
Join Colby Knox
Get unlimited access to Colby and Mickey's hottest scenes. New videos every week!
Sign In