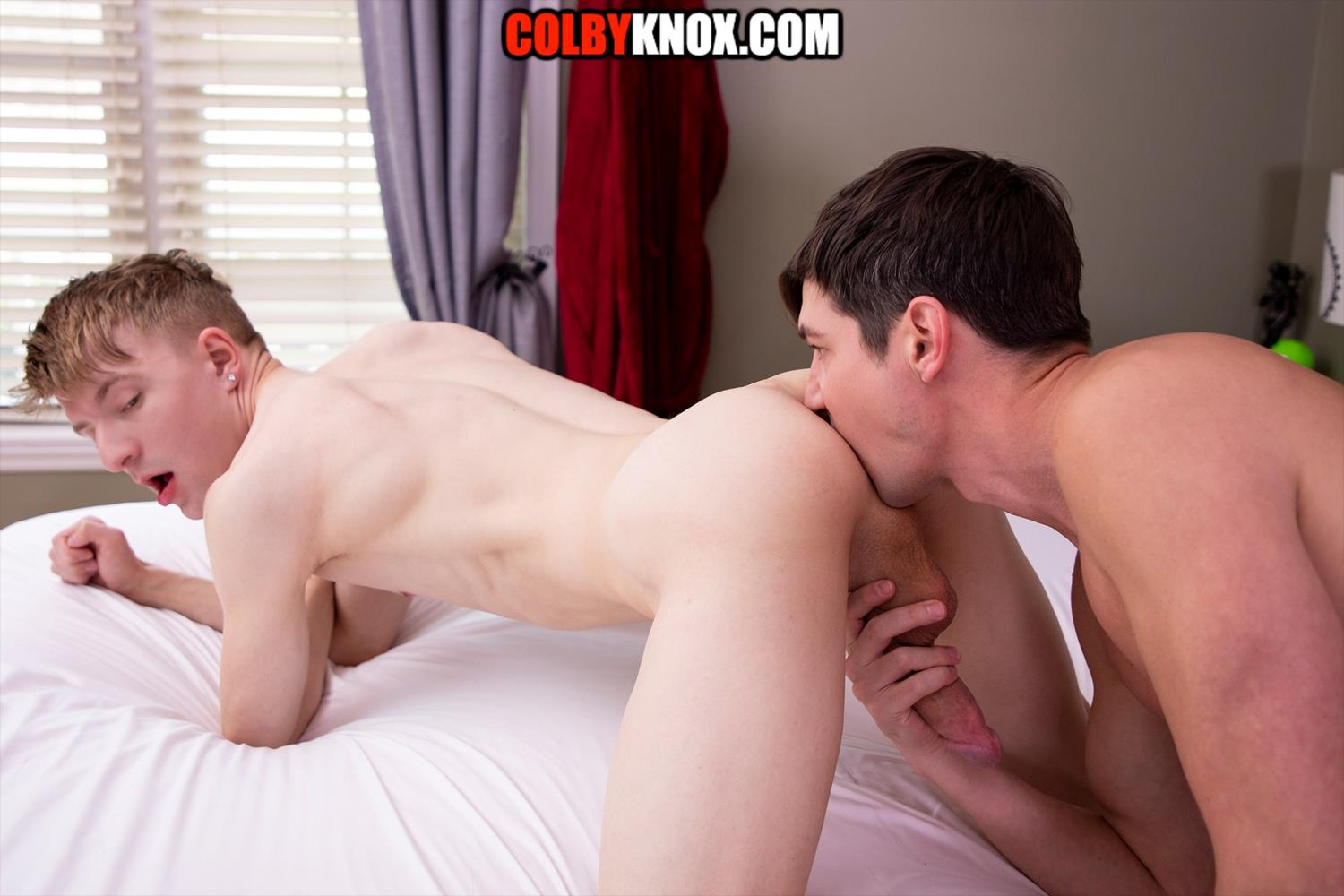 Description
Chris Keaton has returned! In this week's ColbyKnox update, he's paired with Colby Chambers. Mickey Knox had a chance with the newbie a few weeks back. Now his man has "plans" for Chris. The two first lock lips. The "newcummer" reaches down, grabbing Colby's shaft. Chris takes off his shirt; Colby loses his pants. Opening wide, Chris swallows Colby's shaft. He gags and gurgles, trying to reach Colby's bush. "Oh, fuck yeah, Colby says, gently pushing Chris' head down farther. Chris comes up for air, takes a few breaths, and returns to giving a juicy blow job. When he comes up a second time, drool hangs from his mouth. Colby cleans all that with a kiss. "Lick my balls," he commands. Chris gives them a few licks before returning to the main course. "That's so hot," Colby notes. "Your slobber dripping on my dick." Chris' mouth works magic, swallowing Colby's tool. He treats the head like a lollipop, swirling his tongue around it. "So fucking hot," Colby says with encouragement. "Slobber all over it." Colby gets on his knees, reaching over to knead Chris' backside. "Let me fuck your throat," Colby whispers. As Chris gets Colby's cock wet, Colby plays with the newbie's hole. We get a perfect view of Colby's fingers toying with Chris' tight little ass. It's time for Colby to eat. He pushes Chris on his stomach and dives into the cake. To make the munching easier, he pulls off Chris' pants. Colby's tongue works around Chris' opening, getting it ready for what's to come. Colby, always the giving top, pulls on Chris' meat as he eats him out. When he slaps his meat on that slick man hole, Chris pushes back. He wants to be dicked down. He gets on his side. Colby is gentle, letting Chris get used to the thick intruder. The pounding pace slowly picks up. As Chris is stretched out he gets deep kisses. His moans turn louder when Colby jerks his plump staff. "Fuck me," Chris whispers. Colby is. Right to the balls. "You want that first load," Colby wonders. "Fuck me," Chris repeats. His insides are coated with Colby's cum. "Pump that fucking load in you," Colby exclaims before pulling out and leaving man milk on Chris' nuts. He puts his shaft back inside the newbie to push that cream deeper inside. Chris then gets on his hands and knees. "Pump that load into you," Colby notes. Chris murmurs his pleasure at that plan. He takes the pounding. Each stroke, biting the sheet as his hole is remade. Colby smacks those ass cheeks as he fucks. Chris gets on his back, jerking his cock as Colby opens him up for another deposit. "I'm going to cum," Chris murmurs. His load lands on his stomach. Seeing Chris bust one pushes Colby over the edge. He pulls out and dumps load number two on Chris' stomach. Stay right where you are because there's an interview with Chris.
Reviews
27 year old, 5'10", 140 lbs. Chris has the perfect hot little ass for bottoming! As a former realtor, the obvious role play scene for Chris would be to portray the realtor he once was and see what Chris would do to "close the sale" of real property to a hot young affluent gay prospective buyer! I could definitely see buying a house from Chris and enjoying his full realtor services!
The make out session was short but hot with deep kissing and tongue action. But the cock sucking was amazing. Colby's cock was so delightful that Chris' mouth was literally watering all over that man sized shaft. The Southern boy in Colby comes out as she says that like "slobber all over it" and "I am going to put it in deep." The time the two had together resulted in one man cumming once and another twice.
I love that Colby loves to kiss. Chris is fun ! Great scene. Love you guys…. Sherry
Join Colby Knox
Get unlimited access to Colby and Mickey's hottest scenes. New videos every week!
Sign In