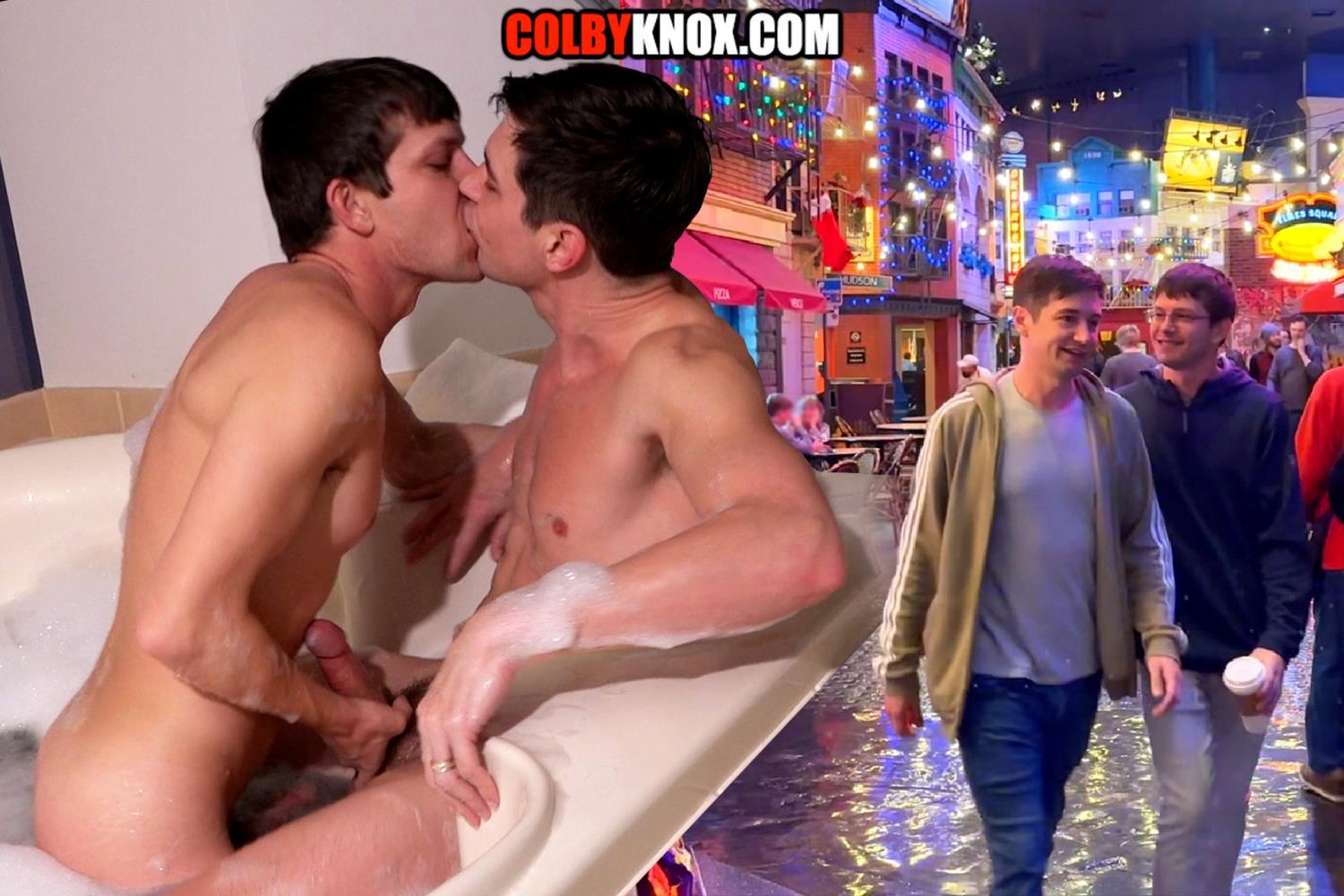 Description
When the year started, Colby Chambers and Mickey Knox visited Las Vegas for the GayVN Awards. They were able to see old friends, make new ones, and win "Favorite Camming Couple." This week's update begins with a montage of the couple enjoying Sin City's spectacles. How many ColbyKnox performers do you recognize? Naming the hot husbands is cheating. :-) The video opening comes to an end. Colby and Mickey are in a hotel bathtub, filled with bubbles. They eagerly kiss. Mickey strokes his man's big ol' tool. Colby reaches back, massaging Mickey's rump. "Spread those sudsy cheeks," Colby says. "You are so hard," Mickey replies. "You have such a nice fucking cock." There's more making out. Colby gets on the tub's edge, his dick pointing up. His man opens his mouth, swallowing to the root. "It feels so good," Colby whispers. He grabs the back of Mickey's head, guiding him. When it comes to Colby's cock, Mickey doesn't need any direction. He licks those hefty balls. "Hold there," Colby instructs as Mickey returns to the shaft. "As deep as you can. It's going to be in your ass in a minute." Mickey comes up for air. He leans over, giving Colby a perfect view of his wet ass. Colby puts some suds on those plump cheeks. He eats Mickey out. "Fuck. That feels so fucking good," Mickey moans. "Get that hole ready for you." Colby smacks that sweet ass. "Yeah. Spank me," Mickey begs. "Make it nice and red." Colby gets back to munching. "I'm precumming so much," Mickey notes. "Let's fill this tub up." Colby's tongue has prepared Mickey for an anal assault. He lubes Colby up and slowly squats on that hefty, and bare, slab of beef. Mickey groans and grunts. However, he's not going to be delayed from his mission. "Fuck. You're so thick," he whimpers. Mickey needs more lube to make it fit into his tight ass. He arches his back, grinding down on his man's slick bush. "Spank my ass as I sit on it," Mickey begs. He leans over, placing his hands on the wall. This gives Colby a chance to control the fucking. He's slow at first, pulling his johnson all the way out. Only to ram it back in, causing his husband to sob. "Fuck me. Fuck my ass," Mickey pleads. Colby picks up speed, going balls deep. "Want me to spank your ass," Colby asks. "Yes, sir," Mickey yowls. Colby is in "wreck some ass" mode. Ramming into his man, making sure Mickey remembers (and dreams) of each stroke. "You fucking animal." Mickey wails. "You're so fucking good." Colby grabs Mickey's hips, pounding as hard as possible. Mickey pulls on his shaft. It's now a "contest" to see who blows first. "Ram it as deep as you can," Mickey implores. "You're going to make me cum." He's true to his word. Three spurts of cum shoot out, landing in the bath water. Colby remains inside of Mickey, ready to bust too. He slowly fucks. Deep and long strokes. "I'm going to fucking breed you," Colby says. He's also true to his word, giving Mickey a juicy creampie. Mickey shows his man milk filled hole to the camera. Colby takes some of that juice and reinserts it, coating Mickey's insides. The tired cuties sit back in the tub. "Love you, baby," Colby says. "I love you, baby," Mickey answers. "This has been fun," Colby replies. Yes! It has!
Reviews
So is the Luxor the dump everyone says it is?
Thanks for alittle taste of your Vegas ! WOW…… loved this scene. - it was more than a scene. It's a part of your life you are sharing with friends. Beautiful it was. I mean- A+. You know I love you both. Thank you…! ??-Sherry
Wow, that was breathtaking. Love your wet scenes, whether in the shower, in the tub or at the beach. Something extra special here- the raw passion could have set the water on fire xx
I just love Colby and MIkey. They are a couple who despite their work with other men proof themselves to be a couple that is madly in love with one another. Their travel videos are clear testimony of their affection. Congratulations on the award, by the way. The sex was amazing. So real, so natural and so incredibly passionate, they are truly connected. My favorite position was Colby fucking Mikey in a true dog leaning in to kiss him on the back. That was sexy as hell. So glad to have a subscription to ColbyKnox.
I loved this - checking out what you guys were doing during the times we weren't together. The hot tub loving is perfect and super hot just like you two. Love you two so much ... Lori
Join Colby Knox
Get unlimited access to Colby and Mickey's hottest scenes. New videos every week!
Sign In