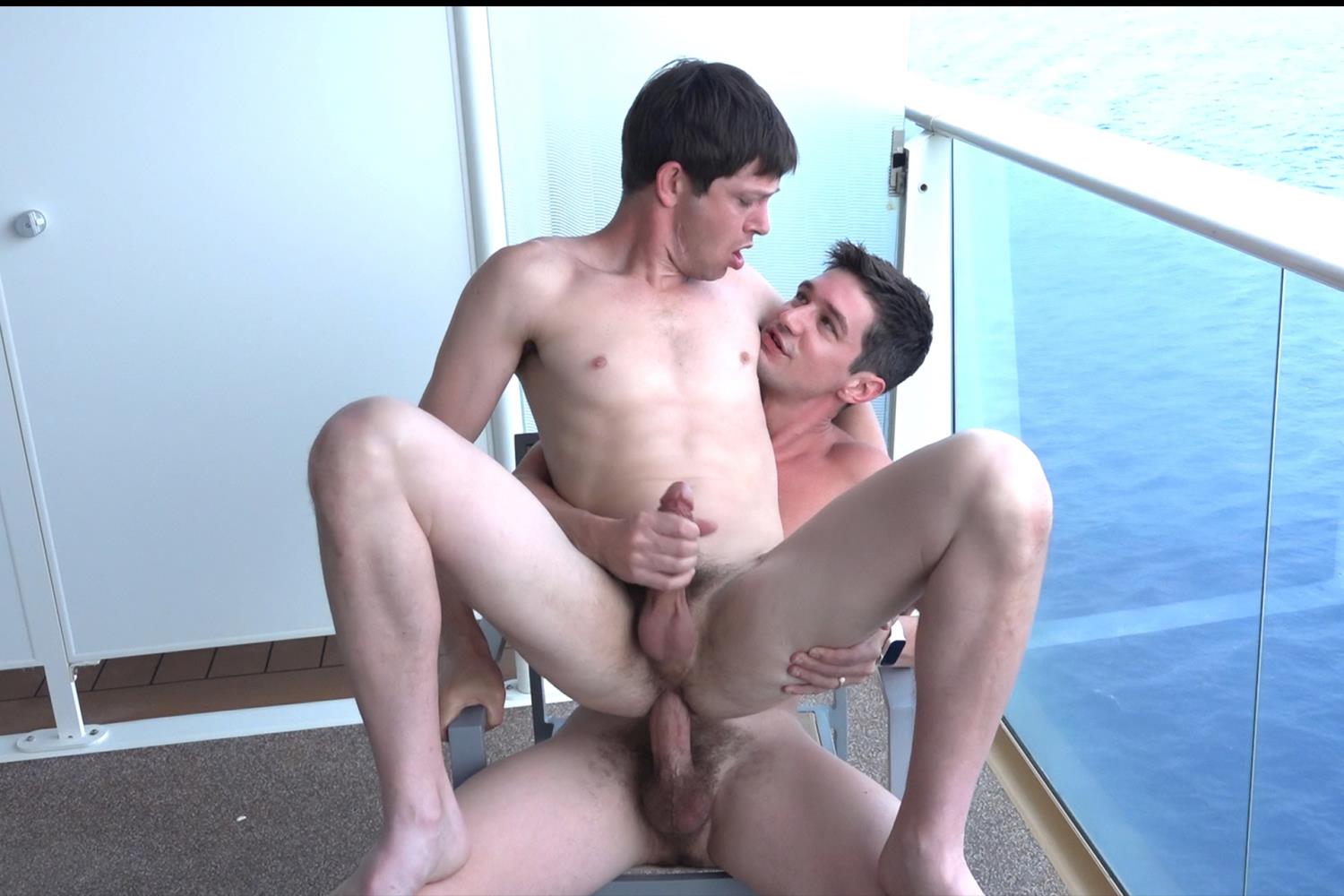 Description
Colby Chambers and Mickey Knox had a magnificent time on their Big Gay Cruise to Mexico. Just take a look at the opening montage of this week's update. It starts with Mickey, announcing, "We're on a boat!" From there we get glimpses of falling balloons, people sipping tasty beverages, Mickey and Colby kissing in a pool, and every type of imaginable amusement involving water. How many ColbyKnox models did you recognize? :-) The video then segues to a cabin. Colby is naked, sitting in a comfortable chair. His cock is ready for attention. Mickey is on his knees (shirtless). The husbands kiss. Colby reaches for his man's backside, pulling the shorts down. When they stop smooching, Mickey gives Colby's meat oral caresses. "Fuck yeah, baby," Colby whispers. "Slobber that cock." Mickey's tongue swirls on the bloated head. "Suck that big dick," Colby commands. "Take your tongue and run it all the way up from my balls to the tip. Lick those nuts." Mickey expertly does what's asked. :-) He's pulled up. Mickey's shorts are removed and he puts his knees on the chair. Colby gets behind him, devouring his man's hole. Mickey's butt cheeks turn red from the slaps. "Oh, God," he says. "I'm so fucking hard." "Get that cock pumped while I'm eating your ass," Colby asks. He tongue fucks Mickey. "Oh, my God," Mickey observes. "I'm dripping so much. Lick my balls." Colby reaches for lube. He inserts his rigid tool in Mickey's man hole. "Take it all for me," Colby instructs. "All the way to my balls." "Yes, sir," Mickey sobs. "You're almost there," Colby answers. "There you go. There's a whole fucking dick inside of you." The couple move to the balcony. Mickey is on a patio chair. Colby is right behind him, stuffing his husband good and proper. At first Colby is gentle. Then the fucking turns forceful. Mickey's eyes widen with each stroke. The shock of Colby's thick shaft, filling him up, leaves Mickey speechless. His toes curl. He bites his hand. Colby leans in to kiss him. He covers Mickey's mouth to muffle all the sounds. Colby's balls slap against Mickey's taint hole. Look at the waves of emotions on Mickey's face. One instant he looks like he can't take one more thrust. The very next, he needs more dick. The couple move away from the chair and Mickey grabs the balcony's railing. Colby pulls all the way out and plunges back inside. They return to the patio chair. This time Colby takes a seat. Mickey straddles him, lowering himself on his man's rod. Mickey's ass is getting Colby close to nutting. He puts his feet on Colby's thighs. He strokes Mickey as he rides. They get up for some final strokes. Mickey arches his back as Colby reenters. Mickey grits his teeth, whimpering as his ass is wrecked. Colby comes. He coats Mickey's insides with man juice. When he pulls out, cum drips on Mickey's butt cheeks. He and Mickey make out as Mickey jerks his meat. He so needs to bust. Colby gets on his knees; under his man. This position proves too irresistible for Mickey. He shoots a load that glazes Colby's forehead, hair, shoulder, and ear. Mickey laps up the juicy mess, swallowing it all. They kiss. As they head back to the room Colby looks into the camera and says, "Big Gay Cruise!" The best way to travel the seas!
Reviews
This is the first video I watched with Colby Knox. I wanted to watch this one first because I was on this cruise as well. Oh if I could have been a fly on the wall for any of this... HUFF. but watching these two enjoy their first cruise together in this video adds a bit of magic in their eyes. Doing something they haven't done before for the first time together and on film... watching them both use each other and giving a final pleasure in the way each other likes is fukkin hot. learning that mickey likes to give facials partly for the expression and Colby like to breed deep... yeah...
Colby you have the prettiest cock in porn ! Damn it's beautiful. I can see why Mickey loves it so much… The cruise looked like a blast ! Thanks for sharing .. love you guys…-Sherry
Mickeys love of sucking cock is truly inspirational
You two are incredible. Especially trying to keep quiet on your balcony. So in tune with each other, it hardly needs words. And Colby- a facial! Gorgeous of you to do that for Mickey
Join Colby Knox
Get unlimited access to Colby and Mickey's hottest scenes. New videos every week!
Sign In