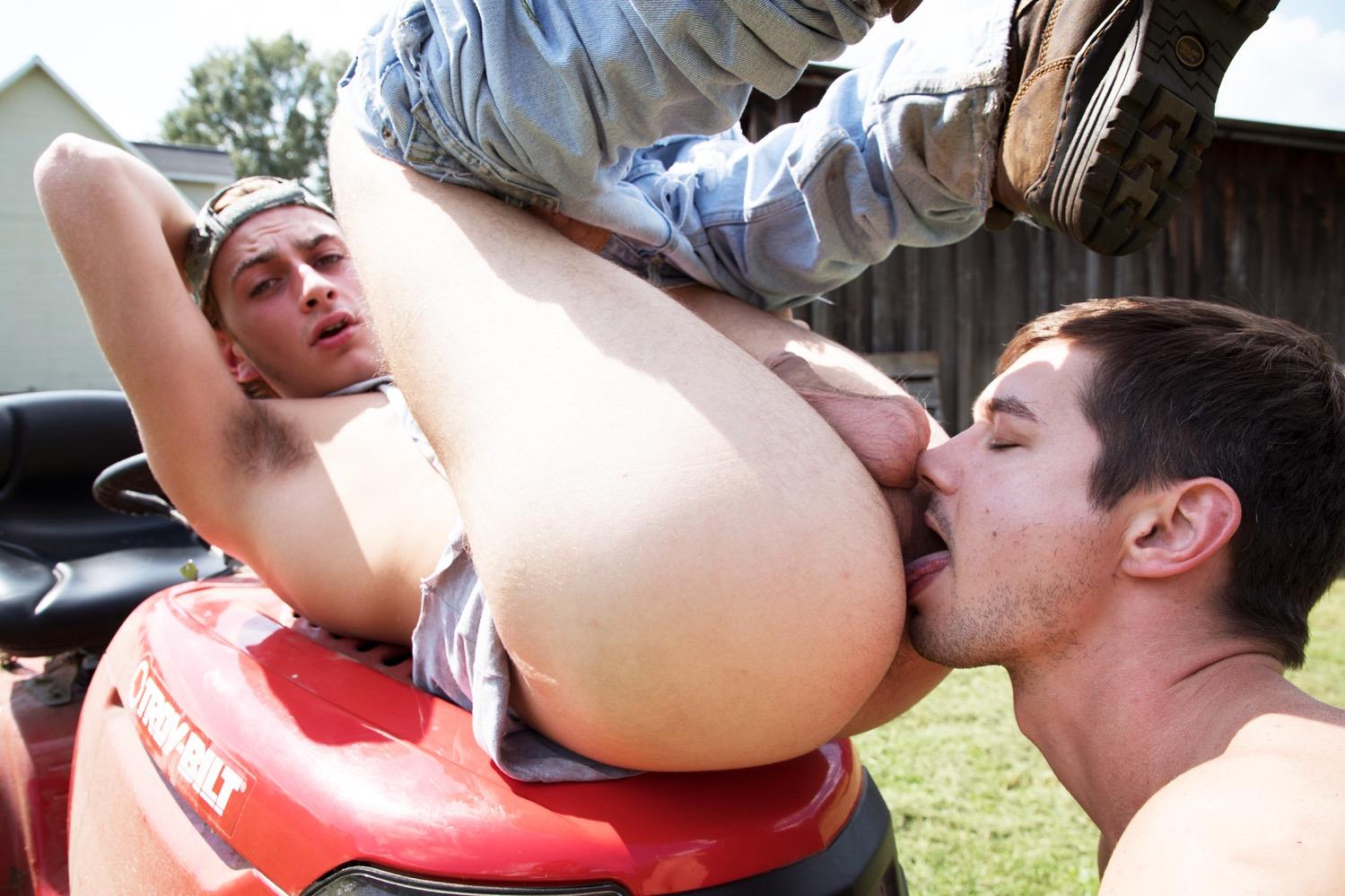 Description
It's another sunny day in North Carolina in this new porn release from ColbyKnox. Colby Chambers and Scotty Knox are making good use of the day, getting some sun and working in the yard. Scotty sees across the property Colby would jump on a break just as quickly as he would jump on some ass. Scotty figures why not offer both? Scotty Knox lets Colby know he's tired of doing yard work for now. He would prefer Colby working his ass over. Colby puts the horny stud on his knees, offering up his sweaty and hard cock. Scotty Knox jumps on the chance, sucking Colby long and hard. Colby can't wait to get a taste of Scotty. He switches places with Scotty, putting his rock and hard dick in his mouth. Colby Chambers sucks on Scotty's front side. Then he flips him over for a mouthful of Scotty Knox's tight and hungry asshole. Licking, and slurping, Scotty's sweaty and young butt hole gets Colby worked up. He throws Scotty's legs over his shoulders, planting his bare cock inside of the boy. Scotty and Colby exchange moans of pleasure, and satisfaction, as they get what they need from each other. Colby Chambers fucks away at Scotty bareback until he busts a deep, and satisfying, load in Scotty's ass. Scotty Knox is not far behind, showing us a big and fat load of his own.
Reviews
a sweaty macho top drilling you hard under the sun.. the smell of colby's fresh sweat is filling up the air.. colby's hard meat drilling scotty until his guts, owning scotty completely. what else can a bottom want? Scotty is super lucky..
18 year old Scotty has the dream Summer job between high school and college working for Colby. Scotty sucks, get sucked, and gets fucked with Colby cumming in his teen ass. Scotty then sucks the cum off Colby's cock. Would have liked the camera to stay on Scotty's ass a little longer to show Colby's cum seeping out. Still a great scene with Colby prepping Scotty's mouth and ass for a great time in college.
Well never a disappointment ! Loved the outdoors & Scotty.. Colby I am sure you have heard it before but, you have a beautiful dick. The close-ups in this scene made me see how perfect it really is. I would decribe it but, not enough room.. I have not seen you bareback anyone but, Mickey. I was alittle shocked! I minded for some reason like you and Mickey could only share that.. ( Its a girl's thinking.) I guess ! I know he was there but, still felt weird.... I still enjoyed two beautiful men in the sunny !!! Thanks again guys. Love you.??
This video is one of the best from this company. Colby Chambers and Scotty Knox are magnetic and electrifying together. They have a unique sexual chemistry. I love seeing Scotty''s armpit hair and when he tells Colby"...I want you to fuck me....fuck you and your big cock..." Colby rimming Scotty is priceless and the anal segment is so sensual, so erotic....I love to hear Colby''s moans as he climaxes inside his partner's hole....this time his moans were more subdued but nevertheless erotic. I was disappointed that I didn't see hardly any cum dripping out of Scotty's anus after decaring Colby had saturated his hole with lots of cum. The final segment when Scotty sucks his cum off of Colby's massive cock was the cherry on this beautiful malt of video.
Join Colby Knox
Get unlimited access to Colby and Mickey's hottest scenes. New videos every week!
Sign In