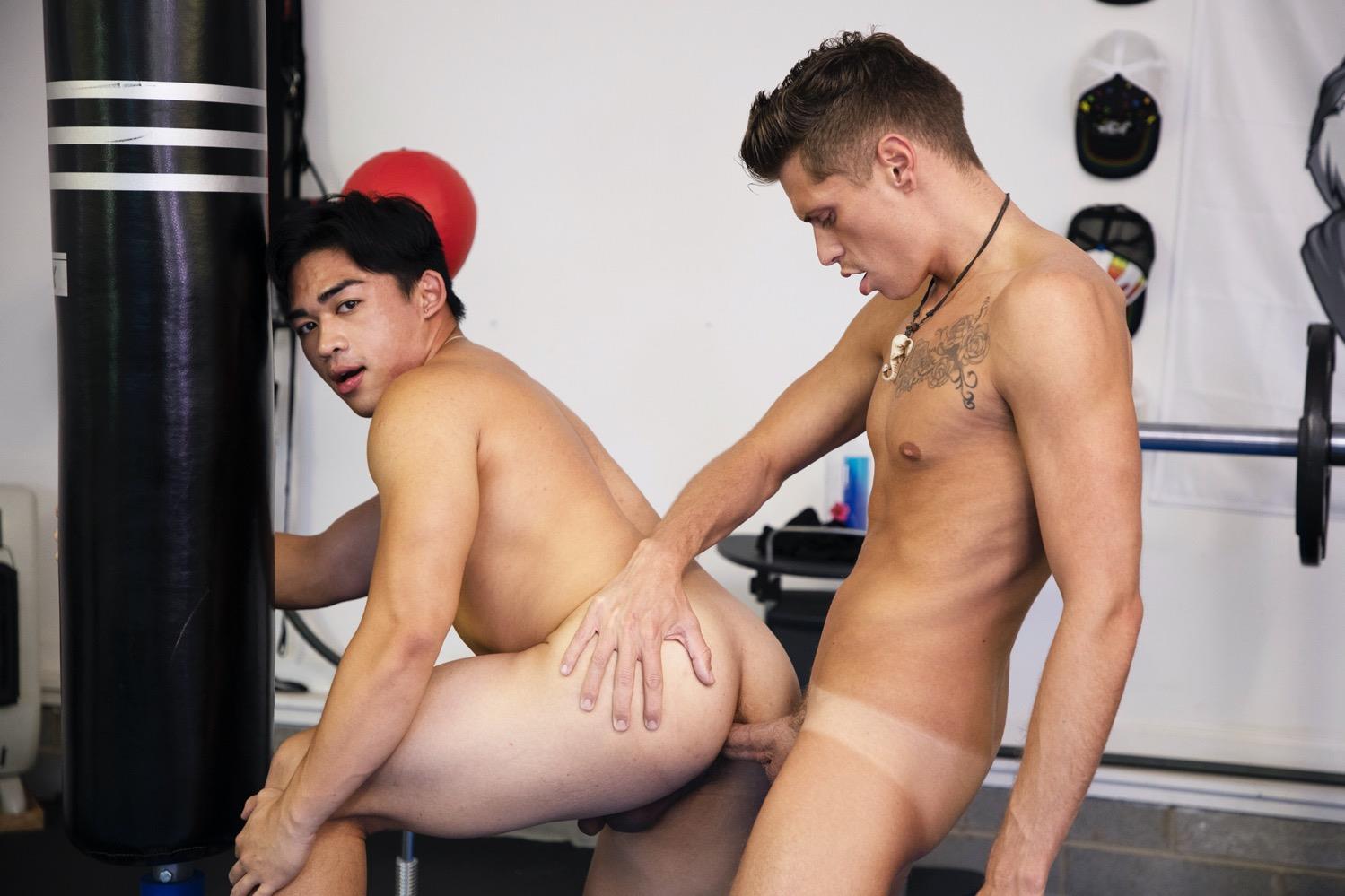 Description
Troy Accola has the best view. He's doing squats in the ColbyKnox gym. Across the way, Sunny D is kicking a freestanding punching bag. He wears green shorts, which give Troy (and us) a perfect view of his tasty thighs and backside. Troy, a tall and tasty treat himself, stops his lifting. He walks over to Sunny and starts a conversation. "Dude. You are fucking that thing up," Troy says. "It's a lot of kicking," Sunny replies. "Kicking builds my legs, my glutes, and my butt." "Why are you trying to built your butt," Troy wonders. "My boyfriend likes it," Sunny responds. "You want to see it?" He pulls down the shorts and Troy reaches out, grabbing some ass meat. He gets on his knees, kissing one of the cheeks. Then he laps at Sunny's hole. Sunny leans against the punching bag, moaning as Troy eats away. Sunny lifts one leg to give Troy better access. He reaches back and grabs the back of Troy's head so he can go as deep as possible. "Oh, yeah. Eat me," Sunny whispers. Saliva dribbles down Sunny's inner thigh. Troy gets up and kisses Sunny. After making out, Sunny gets on his knees. Troy's tool needs oral attention and Sunny is ready for the job. He starts at the head, using his tongue. He then swallows all of the meat. Troy's balls also get swiped by Sunny's tongue. "You going to fuck me," Sunny asks. "Yeah," Troy answers, stroking his dick with pre-cum and Sunny's spit. Sunny leans against the bag again. He sticks his sexy booty out. Troy slowly pushes his dick inside. The fucking is slow and to the balls. "Oh, shit, " Sunny moans. "Fuck me deep." Each stroke is deep, no matter if it's fast or slow. Troy fills Sunny up. "Want to sit on it," Troy wonders. Sunny agrees to this change. He turns his back to Troy, and slowly takes a seat. "That looks so hot," Troy murmurs as his cock is swallowed up. Sunny rides, grinding his ass on Troy's pubes. "Oh, yeah. Ride that dick," Troy commands. "Oh, God. That's so good," Sunny utters. The studs change positions again. This time, Sunny is on his back. Look at his eyes when Troy refills that boy hole. Sunny's spot is getting rammed and he wants all what Troy can offer. "Feels so good," Sunny moans. That ass proves too much for Troy. He cums first, coating Sunny's chest and stomach with milky juice. "I'm covered," Sunny notes. After a few seconds Troy says, "Round two." You all ready to see these two go at it again?
Reviews
Sunny D is without a doubt one of the hottest bottoms to ever appear on this site — and that's saying something. Just gorgeous. Love the scene. Love that it started with rimming. Bring us more Sunny please.
That Troy is one sexy man ! ??-Sherry
What was frankly a half workout, half prick tease of Sunny enticing Troy with his hot ass would up with Troy butt fucking Sunny and decisively bringing the prick tease to an end! Troy shot a huge load of cum all over Sunny's chest, and the video came to an end with Sunny's balls still full of cum and badly needing release! That's a great reason for a rematch part 2!
Join Colby Knox
Get unlimited access to Colby and Mickey's hottest scenes. New videos every week!
Sign In