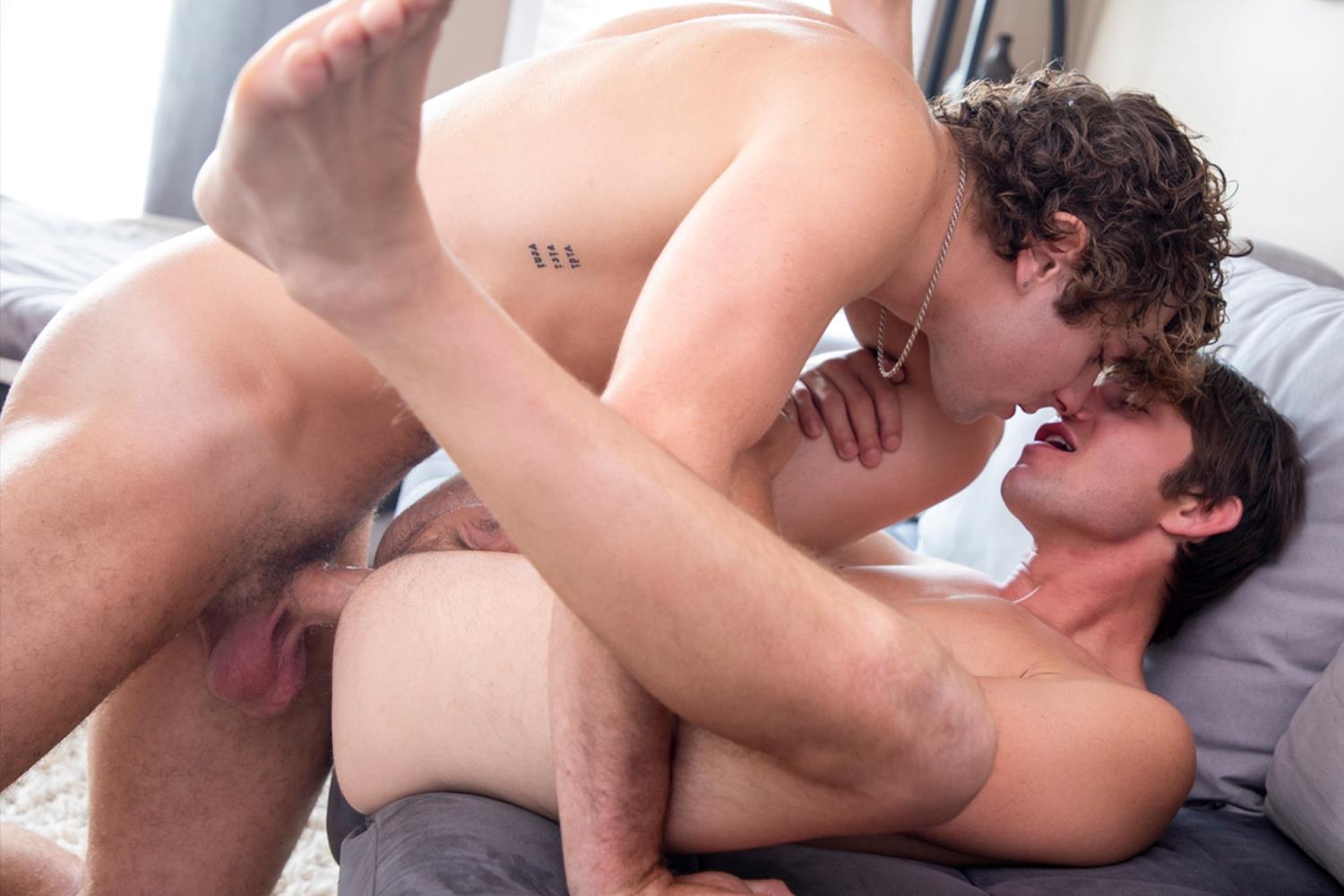 Description
Mickey Knox is always thrilled when Calvin Banks makes a ColbyKnox visit. Calvin is a cool dude. Always up for fun and conversation. He also swings a mighty tool. How could Mickey not love a man with that combo? (He did marry Colby). In today's update, Mickey sits on the couch. Calvin is in front of him. Both are shirtless. Mickey kisses Calvin's stomach. When he pulls the front of Calvin's shorts down, a big ol' treat pops out. And it's ready to frolic. Mickey smiles and swallows. He tries to gulp it all, but that's a lot of beef. "Come on," Calvin encourages. "Gag on it." Mickey does. "Oh, my God," Mickey says, pulling away. That good work earns him a kiss. "You want to be dominated, right," Calvin wonders. Mickey nods yes, returning to sucking. He leans back to be face fucked. Calvin's nuts hit Mickey's chin on each down stroke. "Let me fuck your face," Calvin commands. Mickey pulls his stiff prick out, stroking it as his throat is occupied. Calvin throws Mickey's legs back. He slaps Mickey's hole with his spit-coated head."Open up," Calvin instructs, placing a digit in Mickey's backside. Calvin does some serious butt munching, showing off his oral skills by swallowing Mickey to the root. Fingers never leave Mickey's hole. "I'm going to fuck that fucking hole," Calvin promises. Mickey pulls his thighs up to his chest, giving him full access. "Your fucking dick is big," Mickey groans when Calvin opens him up with some bare meat. "You have a tight hole," Calvin responds. "You can take it? Right? Take it." Mickey does. Right to the balls. "I can feel you opening up," Calvin observes. "Can you feel that?" "Yes. It's so fucking deep," Mickey moans. "Fuck me." His sobs alternate between shock to pleasure, but he takes everything Calvin has. No matter the speed or depth. "Feel that," Calvin quizzes, forcing his finger and Johnson inside that wet hole. Mickey's yelp is the answer. He gets on his hands and knees, making sure to put some spit in his backside. Calvin gets behind him, placing his own wad of slobber where it needs to be. Mickey works his way on Calvin's cock. "That's a big dick, baby," Calvin observes. Calvin takes back control. "Feel those balls slap against your fucking ass," Calvin says. "Your fucking dick is massive," Mickey cries with clenched teeth. He bites a sofa pillow, giving his ass up to Calvin. Not once during the onslaught does Mickey ask for him to slow down or offer mercy. He takes the deep drilling because he wants it. Bad. "You broke my taint hole," he says as Calvin rubs it. When Mickey gets on his side, slapping his perky cheeks, pay attention to how he looks at Calvin. He's wrecked Mickey's ass, but he wants more. Much more. Calvin tells Mickey to play with his ass as he feeds his mouth more dick. Eventually he gets behind Mickey and the groans Mickey makes, when Calvin reenters, are so sexy. "Use that fucking big cock," Mickey whispers. "Unload my whole fucking ball sac in there," Calvin vows. Don't assume all the pleasure is Mickey's. Calvin's eyes roll back when he works that hot rod back inside his host. Calvin uses his finger and Johnson again to stretch Mickey out. "Can you take it," Calvin wonders. All this intense pummeling gets to Calvin. He pulls out, leaving streams of cum on the floor, couch, and top of Mickey's hole. After getting fingered again, Mickey spurts his man cream onto his chest and stomach. The spent studs kiss. "That felt good." Mickey states as the video closes. Hope you all enjoyed it!
Reviews
The kisses the moaning . Great
The length and girth of Calvin's huge cock makes bottoms like Mickey turn submissive! Dominant Calvin took full advantage!
Holy shit! Now that is some fantastic porn. So much passion and energy. It's amazing when both men are so into the sex that they seem to forget they're being filmed. Those moans, and the crazy Mickey noises; the gorgeous kissing; Calvin's huge cock; and Mickey being such a good boy. This scene is seriously one of your hottest! At the end when Calvin pushes Mickey's hair out his face, I swear he just fell in love. I mean who wouldn't. Also, great editing and camera work! (love you Colbs)
This was an unusually sexy dominate lover. Most dominates simply fuck with a rough and rigorous, totally focused on sex approach. Calvin makes love to Mikey, sensually kissing, talking and hot as shit moaning. Love the fact that he fucks Mikey with such passion and Mikey returns the favor with tongue fucking kisses. Not sure wish was hotter, Calvin's eyes rolling back, the nose-to-nose passion, not quite kissing. are the quiet "that felt good" at the end.
As usual Calvin gives an electrifying performance with the always sexy Mickey. They have a great chemistry as seen in previous scenes they've done together. Calvin is fantastic as a top or bottom, but his topping scenes always tend to bring out that fiery, dominant passion that is both sweet and tender all at the same time. Adding this to the growing number of videos exhibiting why he is my all time favorite performer.
Join Colby Knox
Get unlimited access to Colby and Mickey's hottest scenes. New videos every week!
Sign In