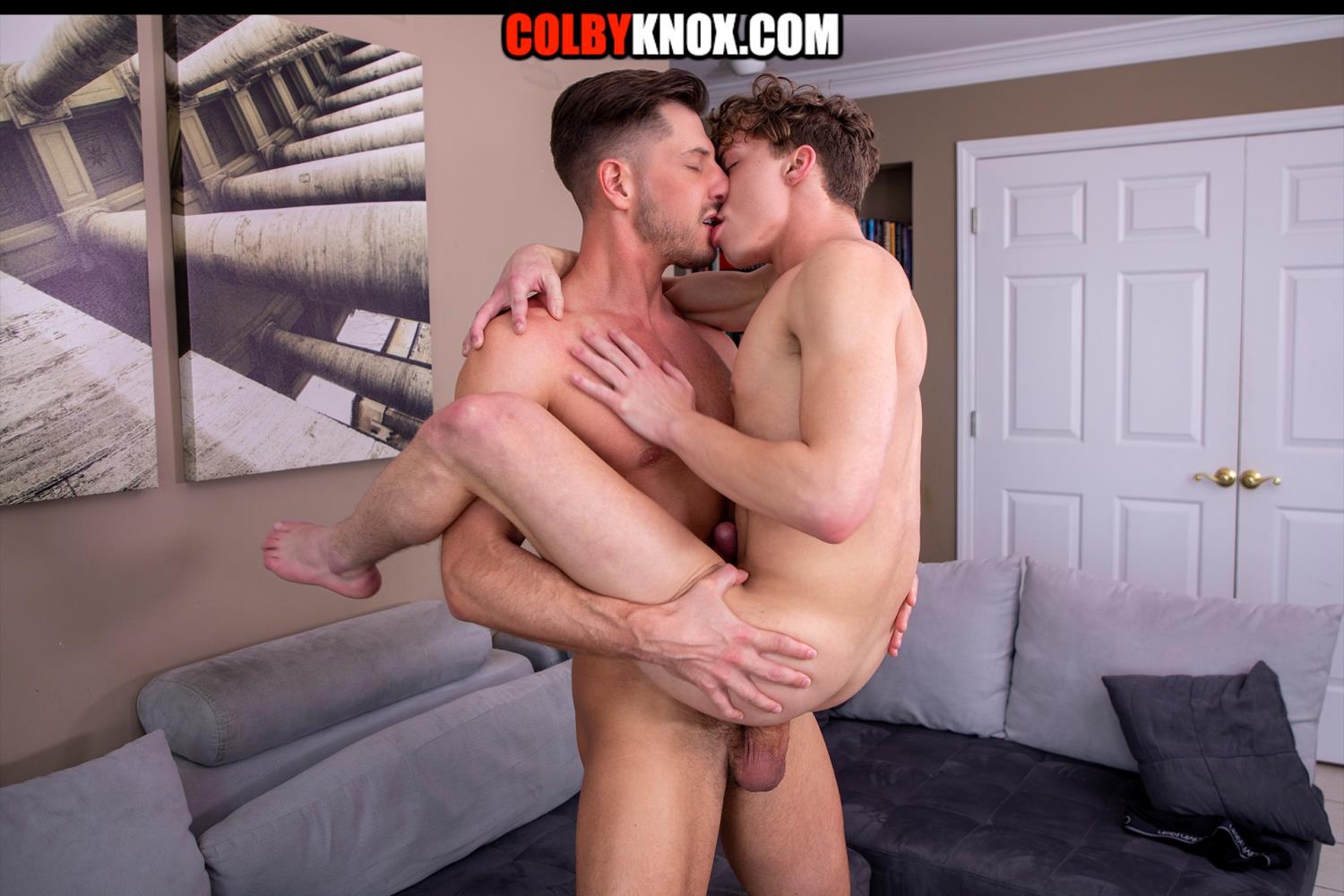 Description
This week's ColbyKnox update begins with romance. Jack Valor and Jordan Starr in their underwear, on the studio sofa, making out. "You going to be a good boy for me tonight," Jordan asks. "Yeah. I am," Jack whispers. Jordan gets on his knees. Jack on all-fours, pulling out Jack's juicy johnson. "That's a good view," Jordan says, leaning over to play with Jack's man hole. "Look at me when you suck it. Let me see those pretty eyes." "It's so big," Jack gasps, coming up for air. As he chokes, Jordan plays with Jack's butt. "Turn around so I can eat that ass," Jordan instructs. When he turns around, Jack gets rid of the jockstrap. Jordan laps and fingers Jack's backside. "I'm going to open it up good," Jordan explains. "Get me stretched for you," Jack wonders. "Whose hole is this," Jordan inquires. "It's your hole, sir," Jack murmurs. Jordan's tool leaks for that hole. He spits on "his" hole, making Jack beg. After making sure Jack really wants it, Jordan slowly enters "his" booty canal. Jack gets used to the raw tool inside of him. He works his ass back, giving Jordan an early pit stop. However, Jack isn't fully filled. Jordan grabs Jack's hips and pushes to the balls. "Take it all," he demands. "Open up." "Fuck. It's so thick," Jack moans. It is and Jordan makes sure each inch is felt. "Pound me," Jack begs. Jordan is a cooperative top, giving Jack everything he wants. And needs. The pounding tempo picks up. Each stroke is still to the balls. The studs change positions. Jordan takes a seat; Jack straddles him, placing the tip of the dick at his ass' portal. He slowly squats. "Show me how much you like it," Jordan says. Jack goes up and down. "You like that dick, huh." Jordan wonders. "Oh, I love it," Jack exclaims. He rides like a cowboy at a rodeo. Jordan picks him up, keeping him impaled on his meat. "Oh, it's so deep," Jack moans as he's fucked midair. Jordan puts his bottom boy back on the sofa. This time on his back. At no time does his shaft leave Jack's hole. Jack spreads his legs to give Jordan as much access as he wants. "Am I a good boy," Jack wonders. "You're so good," Jordan answers. The hammering speed picks up. We hear moans and flesh slapping flesh. "You're going to cum for me," Jordan asks. Jack jerks his johnson as his ass is wrecked. He shoots man juice all over his stomach and inner thigh. Jordan licks some of it up and the two lock lips. "Turn over for me," Jordan instructs. He has to bust too. After a few strokes, he unloads cum all over Jack's backside. He falls on Jack's back and we return to where we started. The two spent studs smooching. Don't go anywhere because there's an interview with the hotties. We learn about Jordan, who has been in the industry for about a year. Jack even talks about his new haircut!
Reviews
I love Jordans kind Dom energy. Being forceful, but encouraging, call jack a good boy. So sexy, would love to see more of that.
At 5'9", 135 lbs., Jack has the perfect hot little ass for bottoming, and Jordan fucked it well! Jack's recent big change was to cut his signature shoulder length hair. But in no way has that affected his bottoming ability much to Jordan's delight!
Been a fan of Jordan from other sites, so seeing him here paired with the gorgeously sexy Jack was a real treat. Jordan is a total stud here, plowing deep into Jack in numerous positions, even picking him up and doing him standing. The chemistry was off the charts here.
First of all, I love kissing, male on male kissing, I love to kiss; I love to be kissed and I really get aroused watching to hot men kiss. The scene starts with lots of kissing and is punctuated with kisses between sucking and fucking. In fact, the interview starts with these two studs kissing and making out. Secondly, like all gay men, I love a big cock. Both these men are well endowed with two of the most amazing cocks ever. I especially loved the close ups of Jordan's massive tool. I love rimming, to be rimmed but more to eat some hot guy's ass. There are beautiful rim jobs here. Troye is beautiful and so is Jordan. More than ten years between them and get their interaction is magic. Makes this slightly older guy happy.
Join Colby Knox
Get unlimited access to Colby and Mickey's hottest scenes. New videos every week!
Sign In