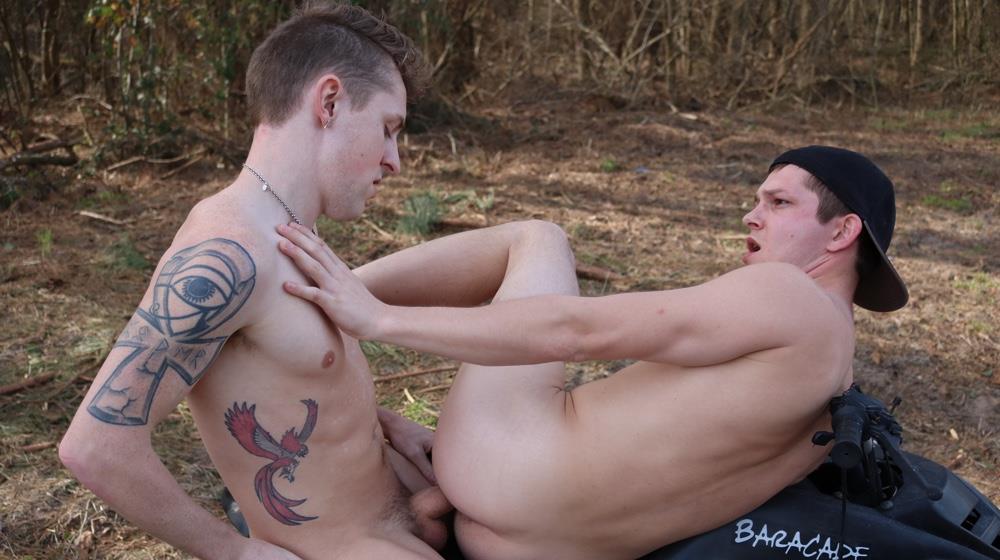 Description
Seth Alexander and Mickey Knox are long-time friends and have planned for an afternoon of 4 wheeling together on some of the trails behind the house. They are all geared up for the ride when Mickey feels Seth's hard cock pressing against his back. Mickey wants to get a better look at that cock and when Seth pulls out his giant dick, he's amazed by what he sees. Mickey decides that riding that cock will be much more fun than 4 wheeling the trails. Seth feeds his nine inch thick shaft down Mickey's throat before he bends him over the seat to make him take every inch. Seth knows how to use that giant cock and Mickey shows that he is more than happy to get used. It wasn't the plan but Mickey was happy to be wearing two loads of cum rather than mud from the trails.
Reviews
This viewer's preference in the ColbyKnox catalogue heavily favors the work they put out together. Their magic lies in their authenticity, but that's not to say their other productions never hit that mark. Nobody, of course, mistakes Mickey and Seth's performance here for the realism that saturates what Mickey and Colby make together, but if you're going to do the straight boy gone gay (or at least curious) song and dance, real, palpable chemistry is priceless, nonetheless. It is the dynamic between Mickey and Seth that sells this scene, no small feat when you're tackling the most trotted out fantasy in the gay canon, and doubly hard to pull off when the very heart of your artistic endeavors is inextricably woven into your real-life love story. That Mickey can tap into this with someone who is not Colby is remarkable, and it's what sets this scene apart from the countless others also swinging for this particular narrative fence.
There are not enough stars to rate this movie. From the opening shot, where Mickey pretends to be an innocent, straight southern boy, to the excellent cum shots, the scene excels. Mickey's "innocence" disappears the second Seth's 9" cock slides into his mouth. Both guys use their skills to every advantage. Multiple fucking positions and Seth's amazing energy level kept the momentum going to the end. The dialog--while not Shakespeare--is appropriate without the histrionics of so much of today's porn. In my opinion, this one belongs at the head of the nominees for best two-person scene. Great job guys!
Join Colby Knox
Get unlimited access to Colby and Mickey's hottest scenes. New videos every week!
Sign In